The Ten Most Typical Christmas Treats In Andalucia
Christmas is here and it is time to start preparing the pantry for the holidays. Whether you live in Andalucia or just find yourself there for a few days to visit, you cannot miss out on trying the famous traditional Christmas sweets that are an essential part of the local cuisine. Below, we present the ten most typical items to sample this time of year that you cannot miss. After months of work and stress, you deserves a break and a treat and there is no better way to entertain your taste buds. Take note and enjoy this surprising journey.
1. Turrolate
This typical sweet of Cordoba is one of the most popular in the run-up to Christmas. As the name suggests, it is a mixture of chocolate and nougat, which is completely handmade from a base of almond, sugar, cinnamon and cocoa. If you visit the Cordoba Subbética this year, do not forget to try the turrolate (usually found in a stick form to ration it) where you'll find this exquisite taste in just about every home.
2. Pestiños
These are the most famous sweets found in Andalucia and are usually prepared for religious holidays. While Easter is the key date for consuming these treats, the Feast of All Saints and Christmas also find Andalucian grandmothers heading to the kitchen to surprise their grandchildren with these delicious fritters. Flour, oil and sugar create this simple combination of ingredients to create this pastry that has become an essential part of the idiosyncrasy of Andalucian cuisine. You can find them at any bakery or pastry store so do not hesitate to take a few for your home with you and enjoy its delicious flavour.
3. Polvorones
No Christmas table is complete without a good shortbread. This little cake is a combination of flour, butter and sugar and contains a particular feature in the form of a powder that melts in your mouth. Sanlúcar de Barrameda in Cadiz and Almeria Fondón are two places where you can witness the craftsmanship of the treat. However, this product can be purchased at any store in Andalucia .
4. Wine Donuts
What Andalucian family does not remember their grandmothers in the kitchen making donuts ? Christmas would not be the same without this round delicacy, a treat you have to try if you are in Andalucia during the holiday season. You can find this acclaimed sweet at any Christmas market and at bakeries all across the region. On the night of Reyes Magos – or Magic Kings – to leave a donut out for each of the Majesties.
5. Chocolate
Chocolate is a sweet that is consumed throughout the year but at Christmas it takes on a special significance, especially in the Cordobesa city of Rute. Here you can find a Bethlehem made of cocoa, as well as life-sized celebrity figures made of chocolate. People travel from across Spain to this Andalucian enclave to sweeten their palates while enjoying a truly original Christmas collection. Don't be the exception – head to the centre of Andalucia to sample this special collection of chocolates.
6. French Toast
French toast is well known in Andalucia  as a part of religious celebrations, including Christmas and Easter. The recipe is simple. It consists of a slice of bread soaked in milk with honey and spices, which after being battered fried egg . This sweet has a humble origin and ingredients inch , so you can easily make yourself a good toast for the holidays.
7. Convent Sweets
Inside the stone walls of Andalucia's convents, one can find the best kept secrets of a local Christmas confectionery preserved. Each year, these religious figures take care to create different snacks that will put anyone on a path to heaven. Sweet egg yolks from Ronda, truffles, almond fritters or chocolates are just some of the examples of treats you can find in these spiritual hideaways, where nuns have poured all of their love and culinary knowledge into their work, much of which has been passed down, unchanged, since the Middle Ages.
8. Alfajor or Gingerbread
Passed down from our Al Aldalus past is one of the most popular sweets: Gingerbread. Used as an everyday treat during the region's Arabic period, this has now become one of the most symbolic treats of the holidays. However, this is not only true in Spain. This snack has crossed over the seas and become a symbol of Christmas across Latin America as well. This is most commonly used to make cookies with a sweet filling and is usually adorned by sugar or chocolate icing. This is truly a treat not to be missed this holiday season.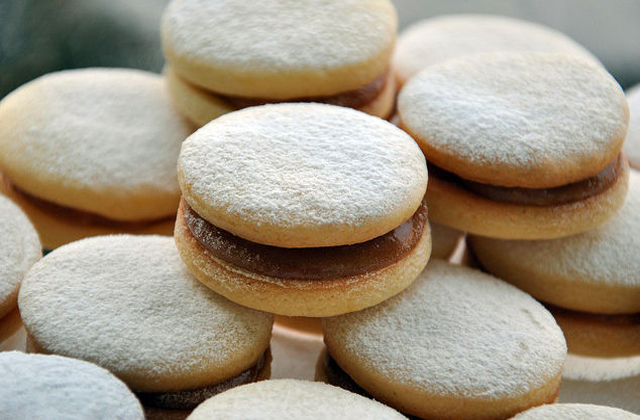 9. Mantecado
Born in the heart of Andalucia, mantecado has spread throughout Spain, becoming a typical Christmas delicacy. The secret? It is kneaded with lard, alongside a wide variety of different flavours. For examples of mantecado's quality, exquisite craftsmanship and elaborate features, one should head to Antequera and Estepa. Both cities receive hundreds of visitors who come to admire the bakeries and sweets, making their purchases each year. Do not miss the opportunity to entertain your stomach with this local pastry.
10. Pan de Cádiz
The Cadiz is a bread dough confection with a marzipan filling. This dish can be found from November and during Christmas, it provides a touch of colour to a table. This typical Cadiz recipe has a soft, nutty flavour that is easy on the digestive system. If you travel to the Cadiz province, you can buy the local bread and prepare it for your Christmas dinner, offering a touch of colour and flavour that will be greatly appreciated by your guests.
Welcome 2014 in the sweetest possible way by checking out these examples of Christmas confectionery. Andalucia is a region full of charm, including plenty to enjoy in the kitchen. If you find yourself here this season, do not forget to include some of these treats while you're shopping for those special dinners, providing colour and typical local tastes to your table.