Typical Christmas sweets in Andalucia
Cold weather is already in this part of the world and, without realizing it, Christmas has arrived and in Andalucia this holiday smells like roasted almonds and sugar, anise, wine and cinnamon … Year after year, people from all over Spain look for the typical Christmas sweets Andalucia has to offer, becoming the undisputed centre of the meetings during this time. Whether you live here or if you only come to visit us for a few days you cannot miss the famous Christmas products of Andalucia, as they have become an essential part of the native cuisine. Estepa, Rute and Antequera are the sweetest destinations of Andalucian Christmas food.
Take note and enjoy this tour that will not leave you indifferent.
ANDALUCIAS´S PASTRY HISTORY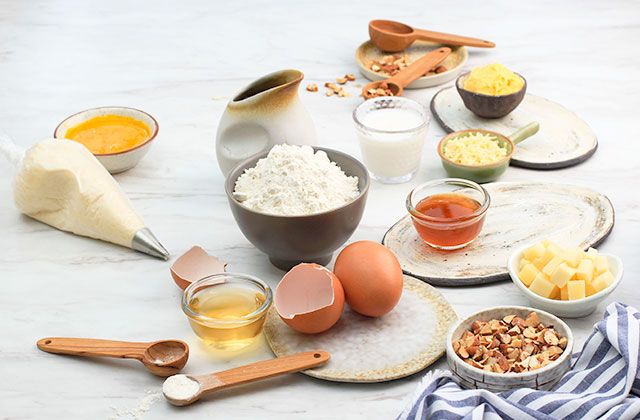 Andalucia´s pastry has deep connections with the gastronomy of the Andalucian era, both in its ingredients and in its preparation, so we would have the use of almonds, sesame, matalaúva, honey, cinnamon …, and Sephardic cuisine, when pastry really goes up both in Andalucia and in Spain. Much of the success of the creation of sweets comes thanks to the convent´s pastry, since for centuries a large part of the recipes evolved in monasteries and convents through secret recipes, sometimes linked to the practice of pharmacy
Traditions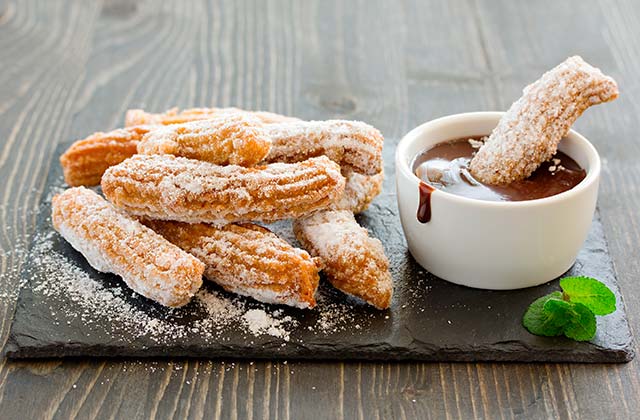 Both in Andalucia and in the rest of the peninsula, it is common to use sweet foods for breakfast, or at the end of meals (dessert). The taste for savoury cakes, or fried dough (churros, pancakes and fritters) is a deep-rooted custom. The celebration of dates with cakes is frequent as it can be: birthdays, anniversaries, etc. Sometimes an assortment of cupcakes performs the same functions. It is also tradition to commemorate certain meetings with a cake, a clear example is the wedding cake.
Christmas pastries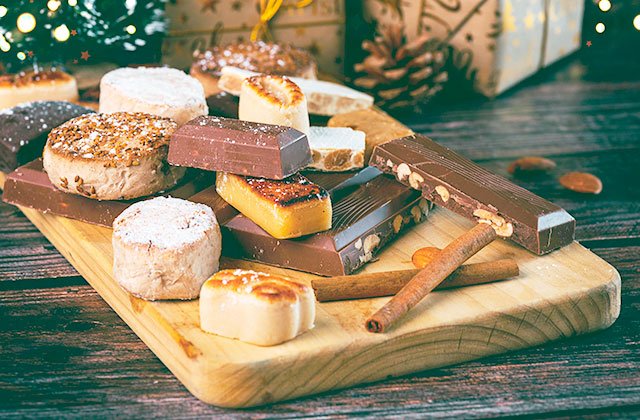 At Christmas the most traditional sweets are nougat and they are divided into two types, those that have almonds (popularly called hard nougat), and nougat with ground and pasty-looking almonds (soft nougat). We can also find other products such as yolk, fruit, coconut nougat, pestiños, marzipan, peladillas, polvorones, etc. And all this is placed in the centre of the table so that family and visitors can taste during the holidays.
We cannot talk about Christmas sweets without mentioning the Rosca de Reyes, a wheat flour bun that contains both a small gift and a bean, according to tradition who finds the bean must pay for the rosca.
Andalucian sweets
1. Turrolate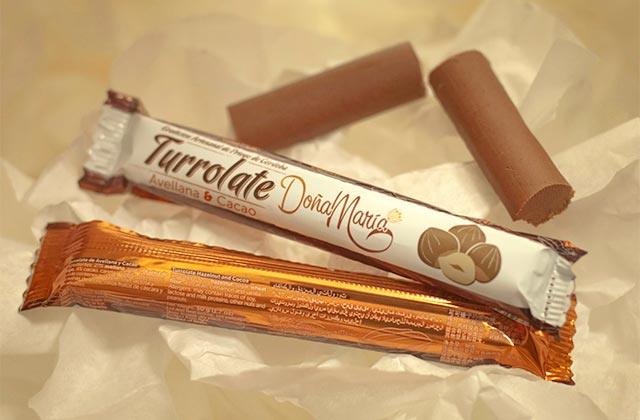 This typical sweet of Cordoba is one of the most popular in the run-up to Christmas. As the name suggests, it is a mixture of chocolate and nougat, which is completely handmade from a base of almond, sugar, cinnamon and cocoa. If you visit the Cordoba Subbética this year, do not forget to try the turrolate (usually found in a stick form to ration it) where you'll find this exquisite taste in just about every home.
2. Pestiños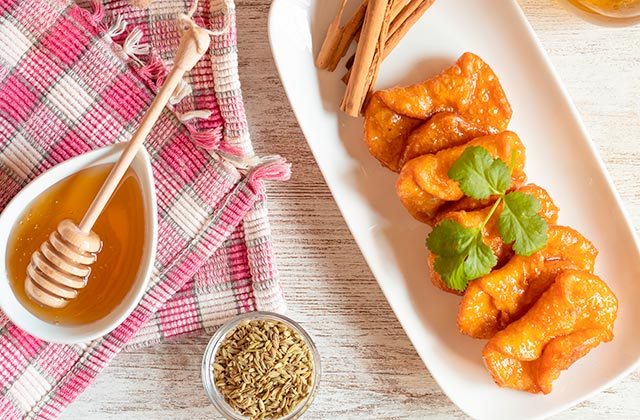 These are the most famous sweets found in Andalucia and are usually prepared for religious holidays. While Easter is the key date for consuming these treats, the Feast of All Saints and Christmas also find Andalucian grandmothers heading to the kitchen to surprise their grandchildren with these delicious fritters. Flour, oil and sugar create this simple combination of ingredients to create this pastry that has become an essential part of the idiosyncrasy of Andalucian cuisine. You can find them at any bakery or pastry store so do not hesitate to take a few for your home with you and enjoy its delicious flavour.
3. Polvorones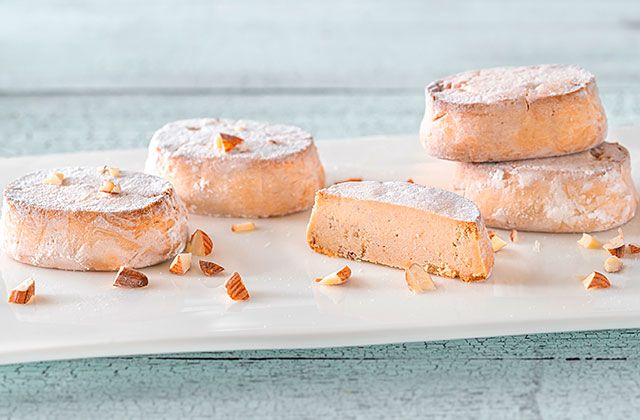 No Christmas table is complete without a good shortbread. This little cake is a combination of flour, butter and sugar and contains a particular feature in the form of a powder that melts in your mouth. Sanlúcar de Barrameda in Cadiz and Almeria Fondón are two places where you can witness the craftsmanship of the treat. However, this product can be purchased at any store in Andalucia .
4. Wine Donuts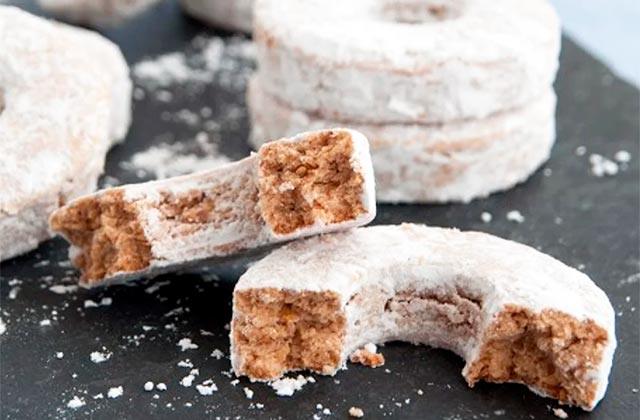 What Andalucian family does not remember their grandmothers in the kitchen making donuts ? Christmas would not be the same without this round delicacy, a treat you have to try if you are in Andalucia during the holiday season. You can find this acclaimed sweet at any Christmas market and at bakeries all across the region. On the night of Reyes Magos – or Magic Kings – to leave a donut out for each of the Majesties.
5. Chocolate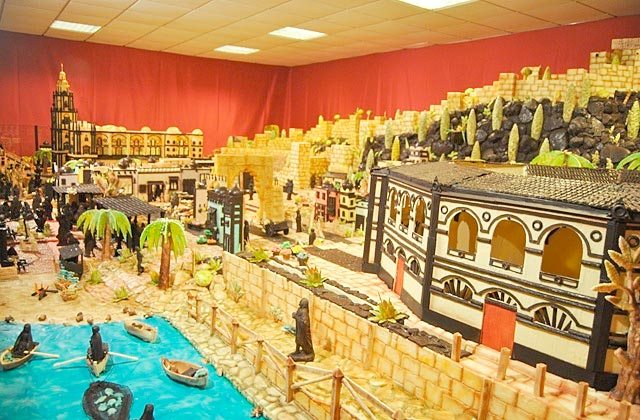 Chocolate is a sweet that is consumed throughout the year but at Christmas it takes on a special significance, especially in the Cordobesa city of Rute. Here you can find a Bethlehem made of cocoa, as well as life-sized celebrity figures made of chocolate. People travel from across Spain to this Andalucian enclave to sweeten their palates while enjoying a truly original Christmas collection. Don't be the exception – head to the centre of Andalucia to sample this special collection of chocolates.
6. French Toast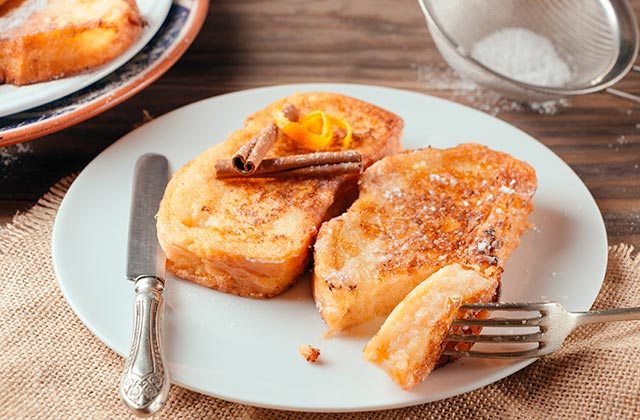 French toast is well known in Andalucia  as a part of religious celebrations, including Christmas and Easter. The recipe is simple. It consists of a slice of bread soaked in milk with honey and spices, which after being battered fried egg . This sweet has a humble origin and ingredients inch , so you can easily make yourself a good toast for the holidays.
7. Convent Sweets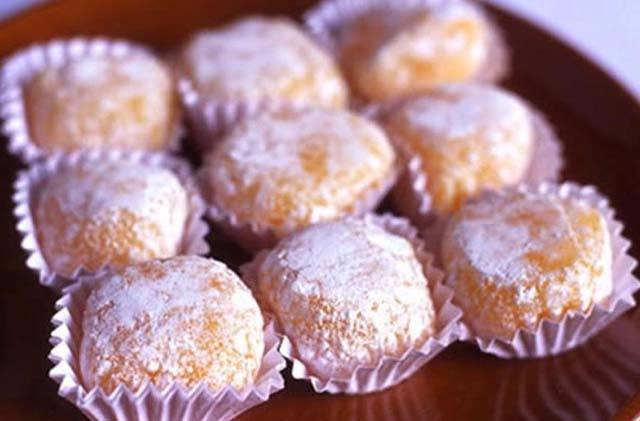 Inside the stone walls of Andalucia's convents, one can find the best kept secrets of a local Christmas confectionery preserved. Each year, these religious figures take care to create different snacks that will put anyone on a path to heaven. Sweet egg yolks from Ronda, truffles, almond fritters or chocolates are just some of the examples of treats you can find in these spiritual hideaways, where nuns have poured all of their love and culinary knowledge into their work, much of which has been passed down, unchanged, since the Middle Ages.
8. Alfajor or Gingerbread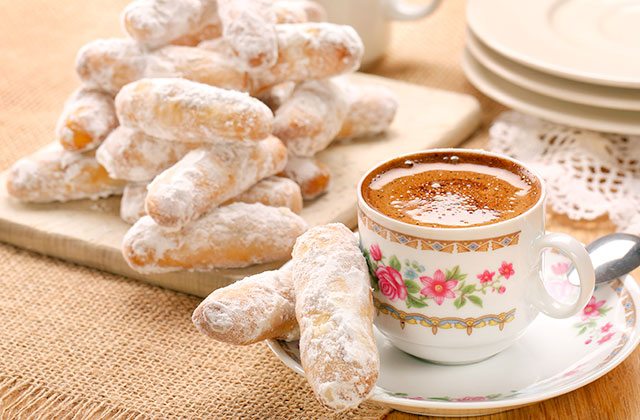 Passed down from our Al Aldalus past is one of the most popular sweets: Gingerbread. Used as an everyday treat during the region's Arabic period, this has now become one of the most symbolic treats of the holidays. However, this is not only true in Spain. This snack has crossed over the seas and become a symbol of Christmas across Latin America as well. This is most commonly used to make cookies with a sweet filling and is usually adorned by sugar or chocolate icing. This is truly a treat not to be missed this holiday season.
9. Mantecado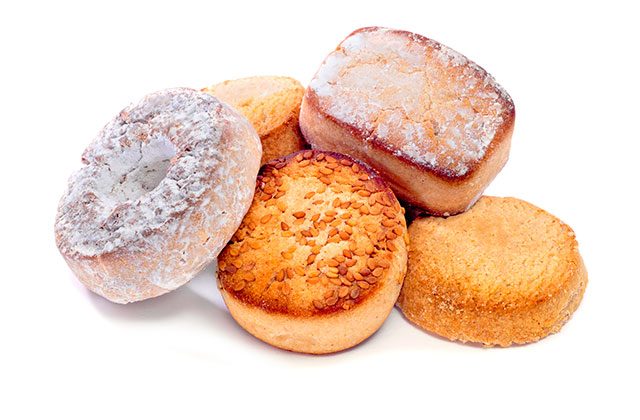 Born in the heart of Andalucia, mantecado has spread throughout Spain, becoming a typical Christmas delicacy. The secret? It is kneaded with lard, alongside a wide variety of different flavours. For examples of mantecado's quality, exquisite craftsmanship and elaborate features, one should head to Antequera and Estepa. Both cities receive hundreds of visitors who come to admire the bakeries and sweets, making their purchases each year. Do not miss the opportunity to entertain your stomach with this local pastry.
10. Pan de Cádiz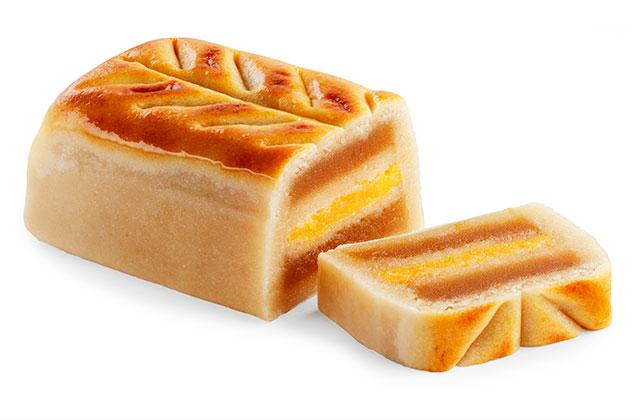 The Cadiz is a bread dough confection with a marzipan filling. This dish can be found from November and during Christmas, it provides a touch of colour to a table. This typical Cadiz recipe has a soft, nutty flavour that is easy on the digestive system. If you travel to the Cadiz province, you can buy the local bread and prepare it for your Christmas dinner, offering a touch of colour and flavour that will be greatly appreciated by your guests.
11. Caramelized almonds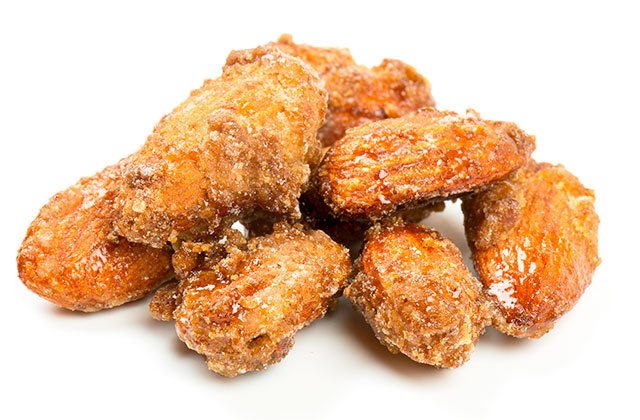 The so-called "garrapiñadas" are made from raw almonds that are coated with caramelized sugar. Thanks to this, the almonds get the dark colour of roasted sugar and the characteristic texture of this famous sweet.
12. Hojaldrina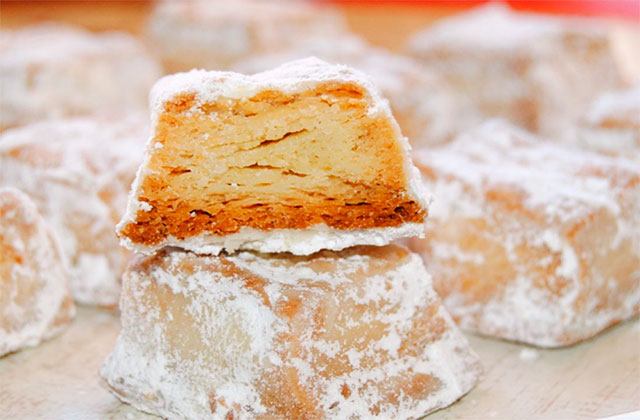 Hojaldrina is another Andalucian classic, it has a texture similar to that of mantecados and polvorones. Its name comes from the puff pastry inside these sweets. In places like Alcaudete, on this date its recipe is extremely valued, something that the rest of Andalucian greatly appreciate.
13. Rosca de Reyes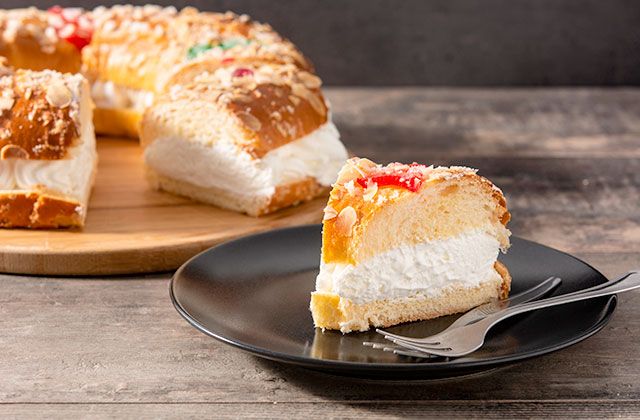 The Rosca de Reyes is a circular cake that can be filled with cream, chocolate, truffle chocolate, whipped cream and caramel, whose name comes from the day of the Magi, when people usually eat it. Normally they also include a bean and a small image inside, while the one that finds the bean has to pay for a Rosca, the one that finds the image is crowned as the king / queen.
14. Coconut balls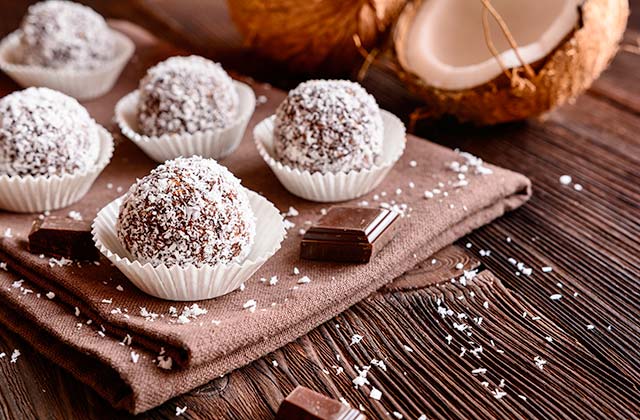 The coconut balls are made with coconut crumbs, condensed milk, chocolate and margarine, and have a round shape.
15. Borrachuelos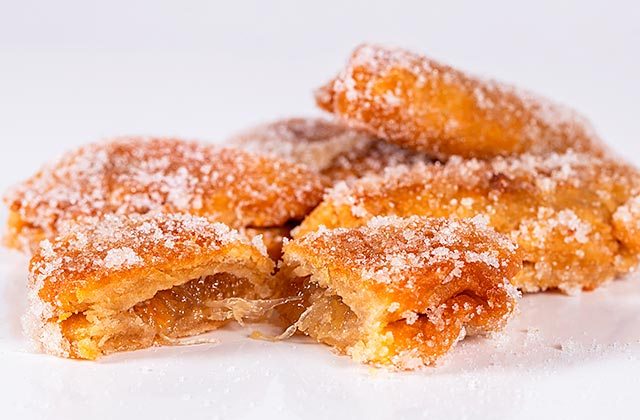 The "borrachuelos" are made with the same mass of the pestiño and are usually filled with angel hair and there are two types, those that are covered with sugar and those that are coated with honey. In addition, this sweet has a very important ingredient, white wine, sweet, and anisette, hence the name of "borrachuelo".
16. Stuffed almonds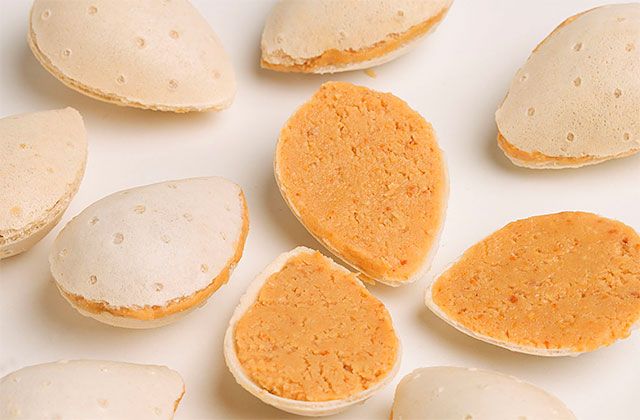 Begin your 2023 in the sweetest way and try these examples of Christmas pastries. Andalucia is a region full of charms and one of them is its cuisine. If you travel to these lands do not forget to make your purchases for the most special dinners of the year and colour your table with these typical quality products.
The Best Markets and Venues to Do Christmas Shopping in Malaga
Andalucian towns with Christmas Flavour
The Route of Mantecado: the sweetest taste of Andalucia for Christmas
WHERE TO STAY
If you want to discover the taste of Andalucian Christmas sweets, do not hesitate to stay in quality hotels, and the best option, without a doubt, is Fuerte Hoteles. The chain has establishments where you can enjoy the best of each point of Andalucsian geography. They are the best guarantee to devote your time to discover these jewellery for the palate. Marbella, Conil, Grazalema, El Rompido or Torrox are some of the enclaves where you can find these incredible accommodations.