Andalucian towns with Christmas Flavor
Christmas is one of the most special times of the year. We start reviving our Christmas traditions, which in Andalucia are many and very magical. Our region is characterised for celebrating these incredibly special Christmas festivities, which each year attract ever more tourists. The Christmas markets are a clear example of our traditions, where artisans and stallholders display their goods and items to fill our homes with flavour, aroma and the prettiest decorations of the year. Another of Andalucia's most ancestral traditions and which most leads us to revive our roots are the Christmas nativity scenes which are done all over Andalucia.
We have prepared a list of the most special ideas and invite you to celebrate the Christmas festivities on our land.
Antequera: Convent Mantecados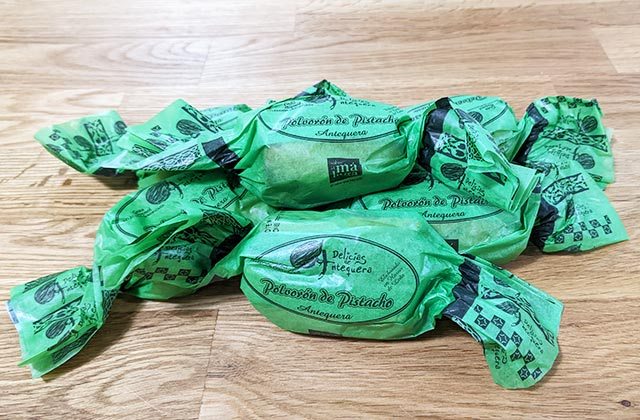 People in Antaquera defend that it was there where the recipe for Mantecado was invented, a Christmas sweet made from flour, almonds and lard. The Antaquera factories that still make this sweet, some from two centuries ago, coexist in two small convents of sisters of the municipality, who handcraft a wide range of products, which are vastly appreciated by locals and visitors.
At the San Joseph Convent, the star product is the so-called "Antequerano", a sweet in the shape of pastry the recipe of which is the most ancient of the city and it remains a secret. The sweets elaborated by the sisters Clarisas from the Belén Convent are also very famous.
Jerez: Flamenco Zambomba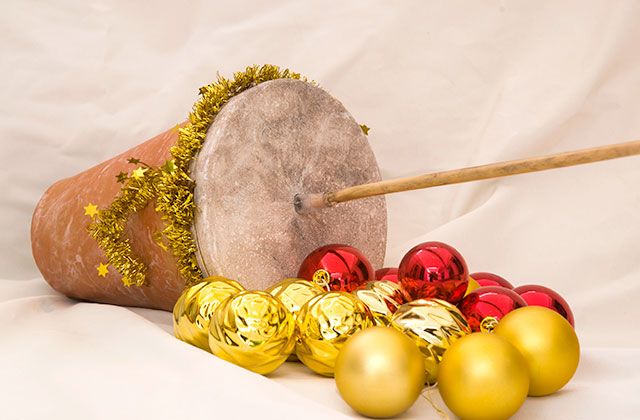 Christmas in Jerez de la Frontera is especially marked by the celebration of the traditional zambombas. Typical parties in which people gather around a zambomba to sing Christmas carols. A zambomba is a Spanish friction drum. There are bars, pubs, flamenco clubs and all kinds of establishments that organize zambombas, where attendees can taste local wines and enjoy desserts and sweets of the season, such as roscos (doughnuts) and pestiños (honey-coated fritters).
Medina Sidonia: Cradle of Alfajores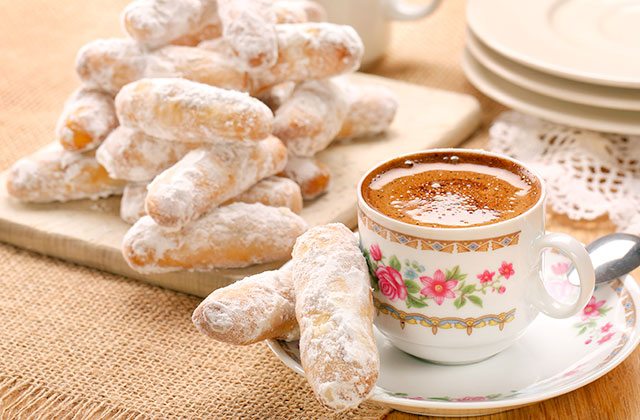 Each year around Christmas, our homes fill with the most traditional sweets and with the most characteristic flavours of this time of the year. There are many mantecados, chocolates and marzipans that fill our shelves during the Christmas festivities… but, have you heard about the alfajores of Medina-Sidonia?
It is said that they are the jewel in the crown of this Cádiz village's sweets, since they have a special flavour with a crunchy texture, in addition to their nutritional and healthy value. There are many families from Medina-Sidonia who have been making them and many workshop that follow this tradition which has denomination of origin.  Without a doubt, a sweet jewel that can't be missed at our Christmas festivities.
Puente Genil: The Light of Christmas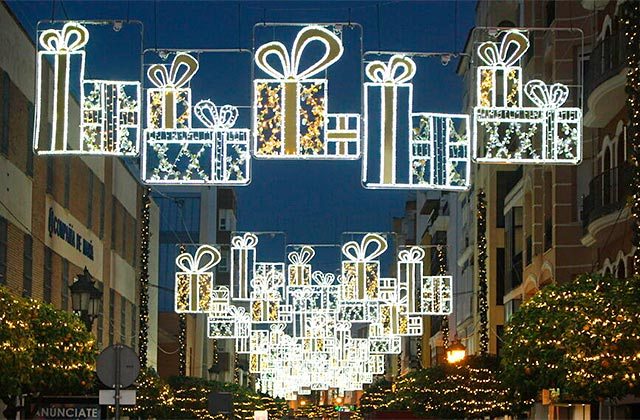 Christmas and Puente Genil are closely related. In this town, there is the absolute flagship of light ornament factories in Spain. One could say that this is the town of Christmas lights. The company called Iluminaciones Ximénez also installs local streetlights, with more than a million and a half led lightbulbs, adding of course the highest Christmas tree in the whole of Spain, raising up to reach 42 meters of height and featuring 400.000 lights. This tree is installed in the entrance to the municipality.
Estepa: The Town of Mantecados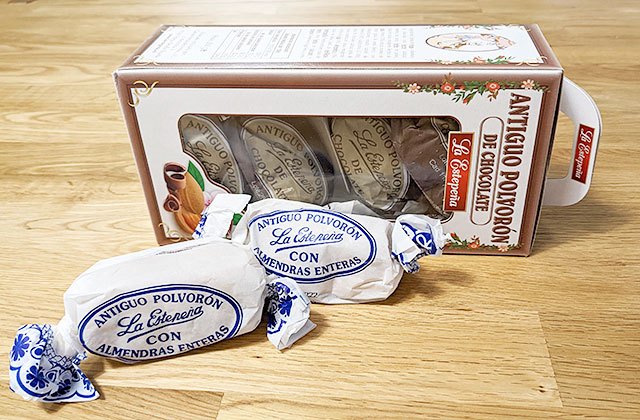 Estepa smells like mantecados even during summer. Their production is so high that they have to start working in August: they make 20 million kilograms in the 24 factories the town has. There is even a Mantecados tour, which allows visitors to discover the secrets behind this delicious treat. There are also guided tours inside the facilities of some of the most traditional factories, such as La Estepeña.
Higuera de la Sierra (Huelva), the oldest parade in andalucia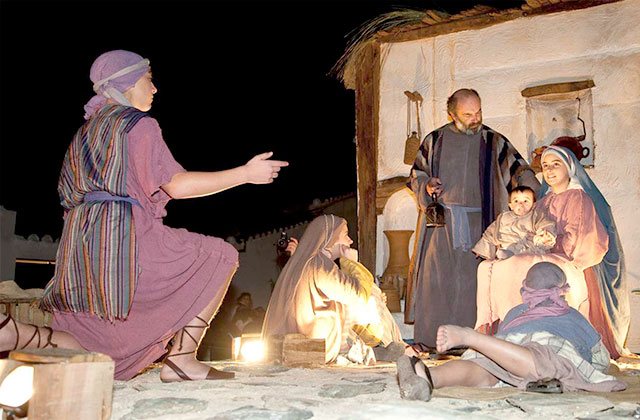 This village in Huelva province is home to the procession with the most history in the whole of Andalucia. It is the oldest on our land and the second oldest in Spain. Over 30,000 people visit this village every Christmas, which has become a point of reference of the Christmas festivities in Andalucia. On 5th January, a 100-year-old procession is held which pays tribute to its history, to Domingo Fal Conde and two more people who entered on horseback dressed as the Three Kings to give sweets to the children. The Christmas traditions are undoubtedly a hallmark of our land and this is a great idea for spending Three Kings Day in an unrivalled setting that also offers the best of local gastronomy, as is La Dehesa.
Lepe, grapes twice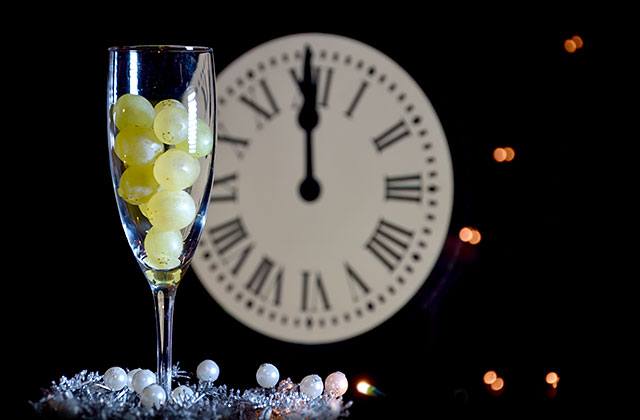 We have no doubt that you will come to know this village, since Lepe is very famous for all the jokes it appears in. However, it is not just the humorous touch that makes this Huelva village famous, but also that it has a very peculiar Christmas tradition: the grapes are eaten twice. Indeed, a few years ago, in 2006, the residents of Lepe had the idea to get dressed up and rehearse New Year by eating grapes on calle Real a day before New Year's Eve. From that moment, this become quite a Christmas festivity which is now traditional in Lepe and attended by thousands of people to celebrate New Year in a very fun way, and which has large audio-visual montages and artificial snowfall.
Almuñécar – start the year with a dip in the sea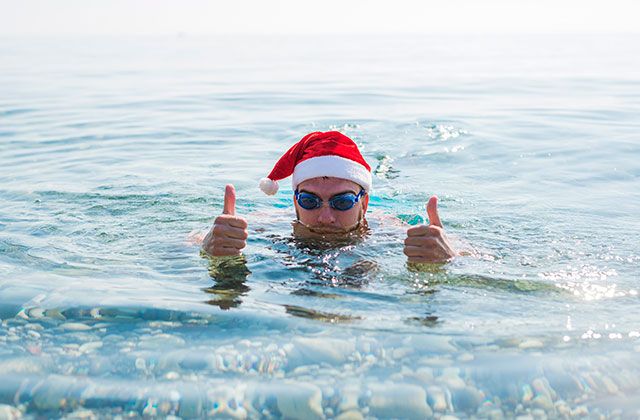 Starting the year with a dip in the sea may sound like a tradition from beyond our borders. Nevertheless, you don't have to go very far if your idea of starting the year is to take a dip in the sea. Almuñécar, a coastal city in Granada, preserves the same tradition of taking a dip as the year begins, namely on San Cristóbal Beach. The idea began thanks to some Swedish people who lived near this beach and wanted to maintain their country's tradition, but in Mediterranean waters.
Would you be willing to celebrate the Christmas festivities with a dip in the sea?
Arcos de la Frontera: Living Nativity Scene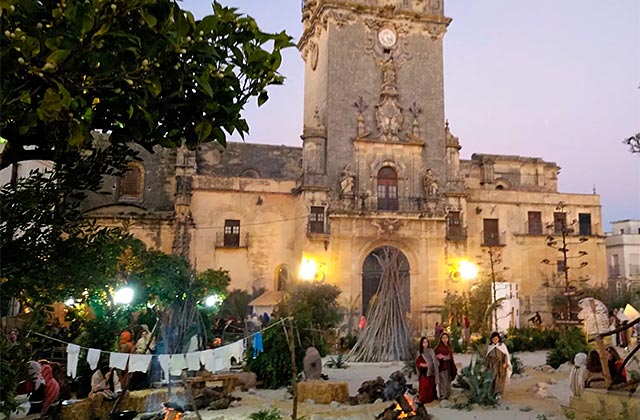 The Living Nativity Scene has numerous stages scattered across the streets of Arcos. A picturesque town that is perfect to portray the birth of Jesus. Streets, corners, and houses lent by neighbors are used for the show. The scenes follow the sequence that start at Gate of Bethlehem, going to the Eastern Palace, Bethlehem Street, the Zoco or market and other scenes that lead to the Birth itself.
Algeciras: Dragging of Cans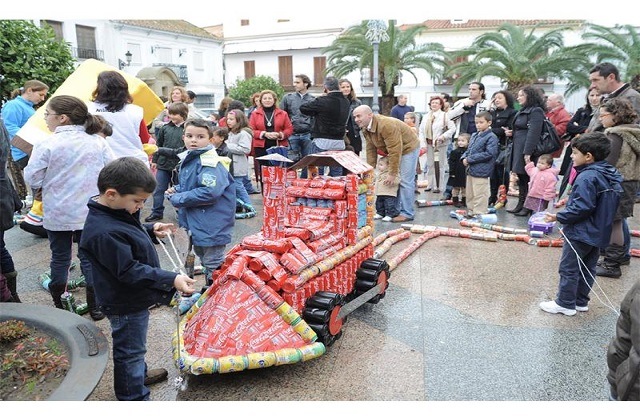 The Dragging of Cans of Algeciras takes place in the morning before Three Kings' Parade. It brings together thousands of people to watch local children run around the streets dragging sets of cans of different shapes, sizes or colors as they try to call the attention of the Three Kings.
Almayate Transforms into Bethlehem for Christmas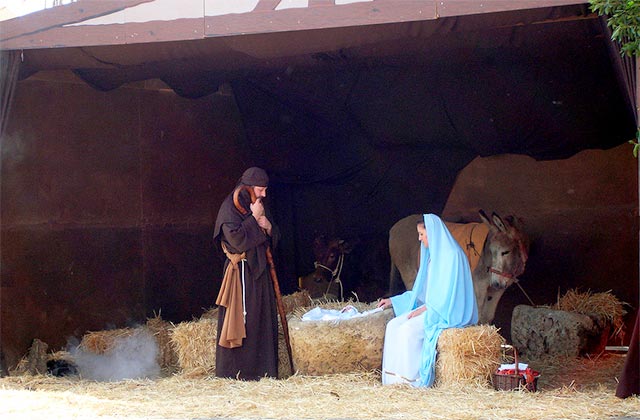 The town of Almayate transforms into Bethlehem for Christmas. Every year, locals commit themselves to a traditional representation that, due to its wonderfulness, has become a Tourist Singularity Celebration. Almost two hundred locals participate in the Living Nativity Scene that seven years ago Paco de Alba fought so hard to bring to this district of Velez-Malaga. A musical show that entertainingly portrays the birth of Jesus Christ. 150 actors and 50 assistants from the town make it possible.
Malaga: An Illuminated Street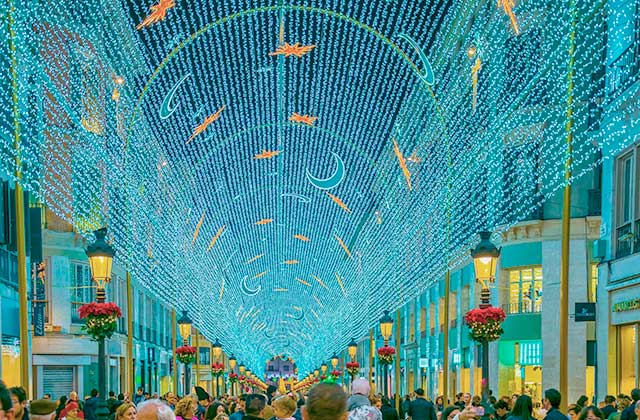 A seventeen-meter high Christmas tree stands on the Constitution square of Malaga, historic center of the capital of the Costa del Sol. When night falls, Larios Street, the most popular of the city, shows a dazzling illumination featuring thousands of lightbulbs. Malaga is, after de Madrid, the most illuminated city of Spain during the holidays. Nativities Scenes Route, concerts in the streets and squares, music from pandas de verdiales, Christmas carols and entertainment for some unforgettable holidays.
Rute: A Nativity Scene to Watch and Taste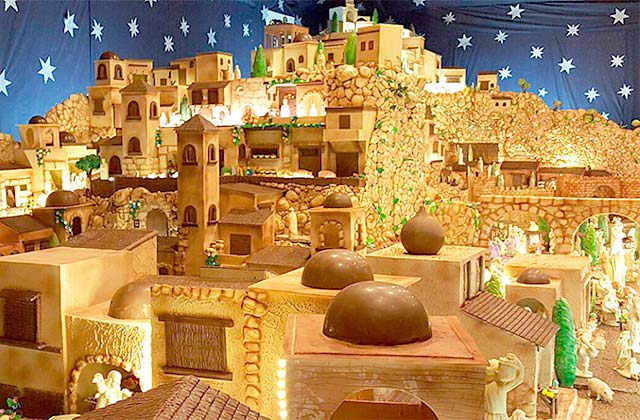 Each year, the Chocolate Nativity Scene becomes the sweet representative of Christmas in Rute. This town is visited by hundreds of people that are looking to enjoy the Spain's biggest Chocolate Nativity Scene.
Seven master pastry chefs from Gallegos Artesanos work in the making of a nativity scenes that occupies a surface of 52 square meters in which they represent the most iconic monuments of Andalucia's main cities and characters and scenes from everyday life at the time Jesus Christ was born.
Typical Christmas sweets in Andalucia
The Best Markets and Venues to Do Christmas Shopping in Malaga
WHERE TO STAY
With the calendar at hand and considering all of the aforementioned cultural manifestations, do not hesitate to choose good lodging. For that purpose, Fuerte Hoteles is your best option to plan the perfect holidays. Marbella or Torrox are places where you can find incredible lodging and all of this typical Andalucian celebrations.