Share this summer vacations with your pet: dog beaches in Malaga
When we speak of family, we refer not only to our parents or our children, but also to our pets. Dogs have become an essential part of our home and it is therefore important to be able to enjoy experiences and sensations with them. This summer you will be able to take them to the beach and between games and fun share a refreshing day as a family. The Malaga coast offers you the possibility, in many enabled coasts, to take a bath with your animal and that your children continue their winter games with their furry friend in the sun. We offer you the best beaches for dogs in the South of Spain so you can enjoy your family holiday to the fullest.
El Ejido Beach, Fuengirola
Fuengirola has a beach for dogs in the part of the coast near the Sohail Castle, which has more than 2.000 square meters. The space is delimited by fences and a series of requirements, for controlling that the animals do not dirty the sand and the use of a muzzle for those that could be dangerous, have been established. Here you will be able to leave your pet to run outdoors and have fun with the sea waves. The adjoining beach, already belonging to Mijas, also has a project to become a canine beach for what next summer the extension dedicated to these animals could be duplicated.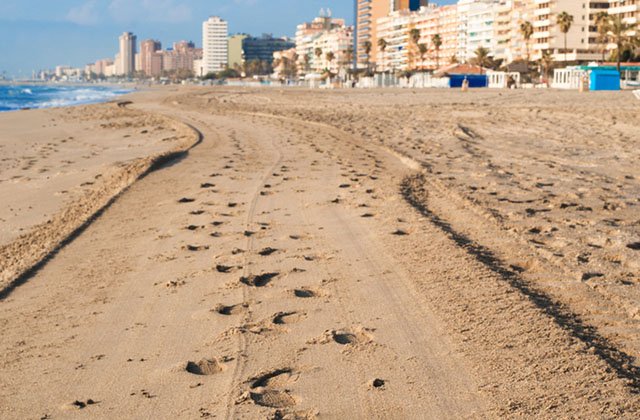 Arroyo Totalan Beach, Malaga
The largest beach for dogs of the province of Malaga is located between the capital and Rincon de la Victoria. The Arroyo Totalan has 14.000 meters for the enjoyment of the animals. Both Councils have contributed their improvements to fit the place so that it becomes a real oasis for families and animals. Do not hesitate and take your pet for a day by the sea. Remember that you have to respect the rules of hygiene to keep the sand and clean the security ones so there is no problem with any of the dogs. After this, it only remains that you play and have a great time.
La Sal Beach, Casares
La Sal beach belongs to the municipality of Casares, near Estepona. It occupies a stretch of 4.100 meters and can be accessed from the promenade of Perla de la Bahía (next to La Sal Tower). This enabled area for dogs is provided with a trash can and with a whole extension so that your animal can run and jump. Don't forget to take the ball to the games, or even put your animal on an inflatable mat next to your children to take, as a family, the most refreshing dip of the summer.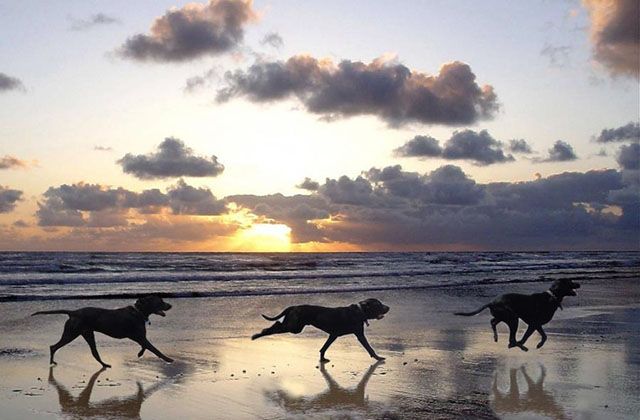 Terms of Use
What you have to keep in mind if you come to the dog beaches is that there are some mandatory rules to be followed. So that there is no problem you must take all the documentation of the animal with you and, of course, he must have all the vaccines stipulated by law. You also have to be attentive to the biological needs of your dog to pick the droppings up when they occur and thus keep the entire coast clean. If it weighs more than 20 kilograms it will have to use a muzzle as a precautionary measure.
Coastal pioneer
The Malaga beaches adapted to the use of animals are pioneers in Andalucia. The awareness of enjoyment of the sea with the animals is already becoming more widespread and other southern provinces already raise enabling part of their coasts for the animals. An initiative applauded by the animal lovers who can finally, legally go with their dogs to take a tumble in the sand or throw themselves into the water for a swim. A unique experience, that you can live first hand, if you spend your holidays in Costa del Sol.
Canine parks
But in the province of Malaga not only can you find beaches qualified for dogs but also parks.Among the best-known Guau Guau in Fuengirola and El Morlaco in Malaga capital stand out.
In Fuengirola the enclosure is delimited by fences so that the animals may be free and do not escape and thus enjoy their walks and their races without a leash. It also has drinking fountains installed so that the dogs can quench their thirst and a fitness area with infrastructures prepared to exercise the muscles of the animal so that they can be in shape.
In El Morlaco Park in Malaga, the most important thing is its length, nearly 170,000 meters of forest are put at the service of the neighbors with drinkers for animals and some pools so that they can bathe.
If you come on vacation with your dog, do not hesitate to take him to these enabled spaces for them where he will have a great time.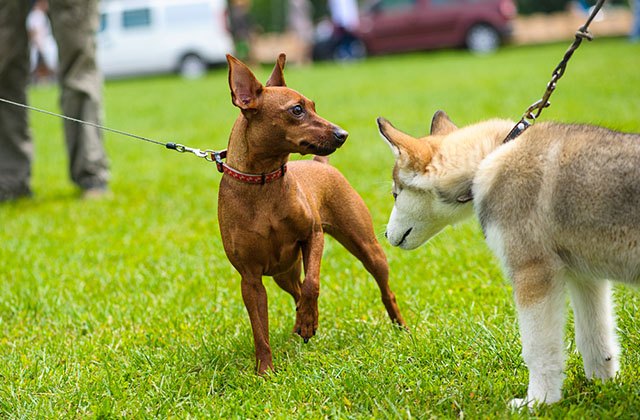 Accommodation
If you are planning a vacation and want to take your animal, of course you have to take into account the accommodation where you can house them in the place of your destination. In the province of Malaga this problem is solved because the chain Fuerte Hotels offers you the chance to enjoy your holidays together with your animal.
So, pets weighing up to five kilograms are welcome to stay in the same room as their owners. But, you must comply with some basic rules to maintain order and they must not be alone in the room or in the common areas of the hotel.
You know, if what you want is a complete family holiday, enjoying your animals, do not hesitate to come to the Costa del Sol where a wide range of possibilities opens up at your feet. Nothing better than having fun on the beach with your pet and be able to take it to the park or to your hotel. Live the Malaga coast to the fullest and take the best memory of your holidays.
WHERE TO STAY
To share your vacations with your pet do not hesitate to stay at Fuerte Hotels. Accommodations with more than 50 years of experience and backed by several quality awards will make you enjoy your hours of rest and fun to the fullest. Marbella, Estepona or Torrox are the enclaves where you can find these amazing accommodations near the canine beaches enabled in Andalucia. An opportunity you cannot miss.