Keep cool! Don't miss these beautiful and original water fountains in Andalucia
The high temperatures the summer brings to Andalucia are easily beaten with a good cooling off! This symbol of life is shared through the streets and squares of southern Spain where locals and visitors can drink and cool off at these fountains. But it is not only an urban element; there are natural places with springs and natural fountains worthy of visiting. Some fountains are said to have healing properties and other are miraculous, but they all form part of the important heritage of Andalucia. Don't miss these fountains below and then make a stop on your way to enjoy them.
1. Fountain in the Botanical Garden, Málaga
Water is one of the central figures in the Botanical Garden of La Concepción, an old building where, throughout the nineteenth century and the first half of the twentieth century, an impressive garden with tropical species was held, being the source of the water thanks to a branch of the aqueduct of San Telmo. You can see a number of items in the entire building such as a precious source close to the Loring Heredia family mansion shaped like a Roman sarcophagus, several ponds, waterfalls, a temple, a branch channel and a branch of the aqueduct of San Telmo. This pleasant walk is unmissable if you travel to the Costa del Sol where you can relax and naturally.
2. Springs at Marbella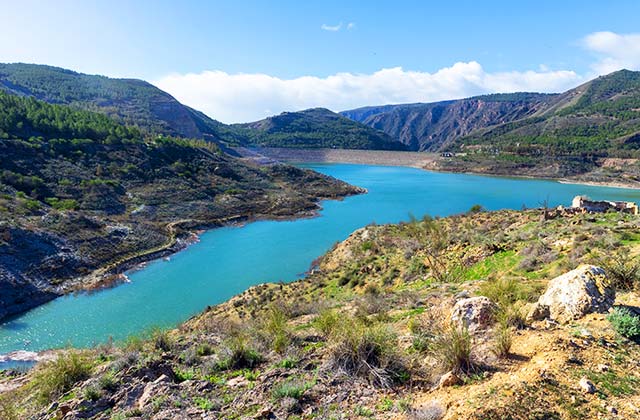 Also on the Costa del Sol, there are other natural springs and Marbella is a good example. It is a spring where water seeps from the reservoir to the Benínar channel arises just after the Verde River Canyon, in the area known as the springs of Marbella.  In the early eighteenth century, they already talked about its healing properties when drunk. The legend says that it is excellent for heart disease and regulating blood pressure. They are also good for increasing fertility and for healing skin problems. If you go to Marbella for your holiday, go here and you can also enjoy the beautiful vegetation.
3. Pontezuela Fountain, Grazalema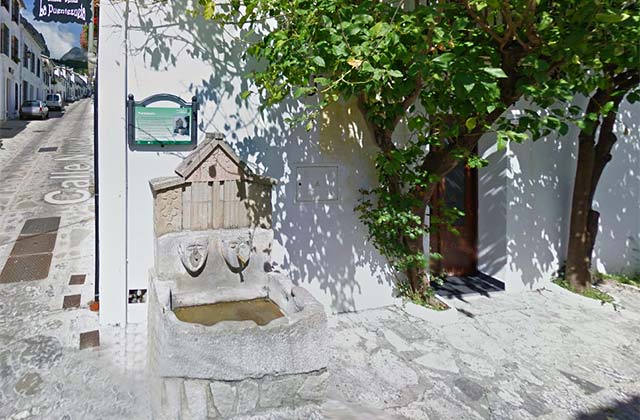 The fountain of Pontezuela is located in the street that bears the same name, it is a cross road dividing the people in the upper quarter (Jopones) and the lower (the Jopiches). It is of Visigoth origin and is a small rectangular stack with a two pipes coming out of two faces carved in stone. It has a front section topped by a tiny gable. This source is part of the ethnological heritage of the town as it was part of the old local water supply network. An interesting place to visit in a village surrounded by unique vegetation. Take advantage of your visit to these iconic Andalucian mountains to find out its history and sip its waters.
4. Fuente de los 100 caños Villanueva del Trabuco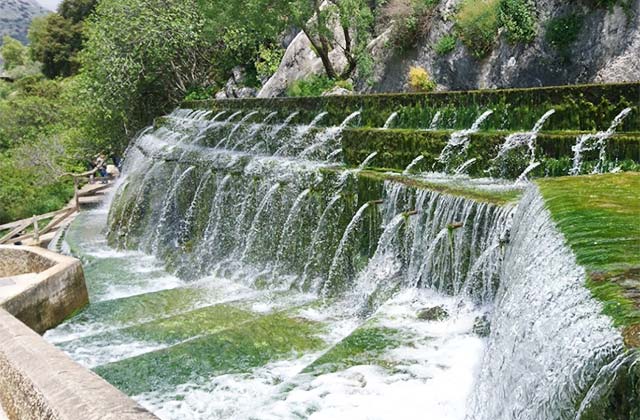 Villanueva del Trabuco is one of the most attractive fountain in the province of Málaga. The famous Fuente de los Cien Caños (Source of a Hundred Pipes) is an impressive size and has beautiful of the jets attached to the limestone wall of the mountain where the Guadalhorce river rises. In its vicinity, many residents of the region to take advantage and have a nice day of golf. Moreover, some walking routes start here and have fairly flat and wide lanes. An ideal place to immortalise using your camera and to cool down in summer.
5. Lanjaron fountains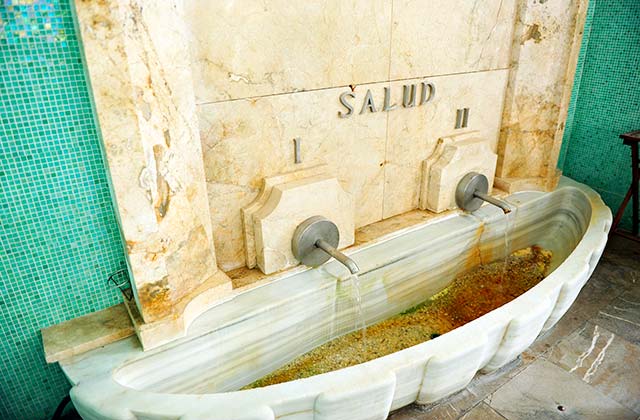 Lanjaron has a number of fountains of fresh drinking water scattered around the streets and squares. Most have a short phrase or poem written on them, generally by Federico García Lorca, and locals and visitors use them to drink and cool off. Its water comes directly from the Sierra Nevada and is known throughout Spain for its quality. Many residents of other provinces come to fill up containers with this precious commodity in the municipality. Feel free to try this for yourself, walking through its beautiful streets and drinking from its famous fountains.
6. Albarracin fountains , El Bosque Cádiz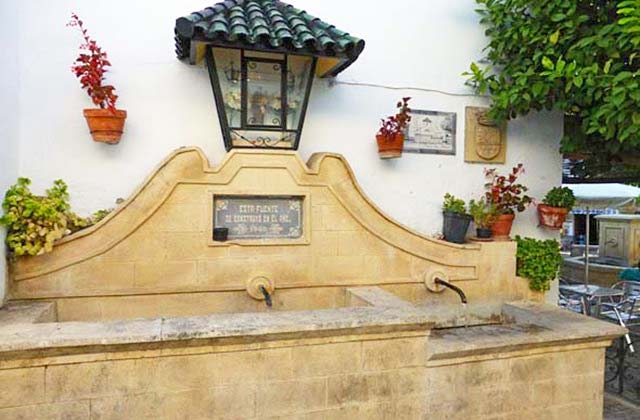 The Albarracin mountain in the Cádiz village of El Bosque has a path with both natural and urban fountains starting at the very source of San Antonio in the heart of the village and ending in the heart of this beautiful natural setting. If you decide to travel around the province, you may consider doing some sport and hiking while you cool down at each of these points. The first stop dates back to 1960 and is in the vicinity of the chapel of San Antonio where the shield of the city can be seen. Crowning the top of the village is the Fuente del Chorro which gushes out and slides down the slope. Now from here, you can continue to discover the natural landscape and walk down the hill where you can find more fountains until you find yourself at the spring where these waters are born.
7. La Fuente del Toro, Antequera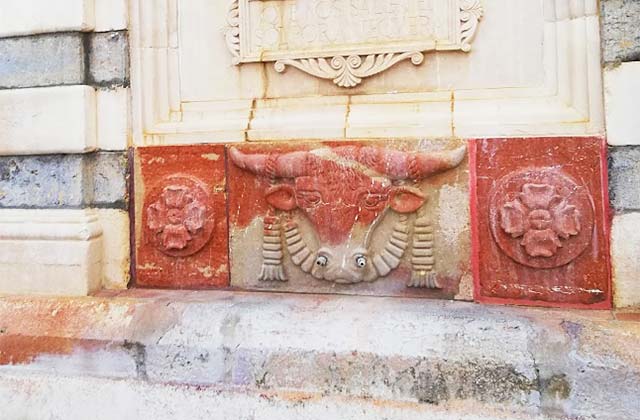 The high quarter in of El Portichuelo in Antequera retains a beautiful fountain with a story behind it. The water flows from the mouth of a bull's head and in the stone, there is an inscription that says "In front of the bull, find the treasure". Many have gone digging in front of the source but came away with nothing. Finally a local was able to guess the meaning of that phrase: the treasure is none other than the beautiful city of Antequera at its feet. The whole town and the famous rock of the lovers can be seen here in a unique atmosphere which you can't miss. Visit Antequera if you are on holiday in the province of Málaga and don't miss the "legacy" that was lost before the eyes of sculptured bull.
8. Fuente de Los Deseos, Huelva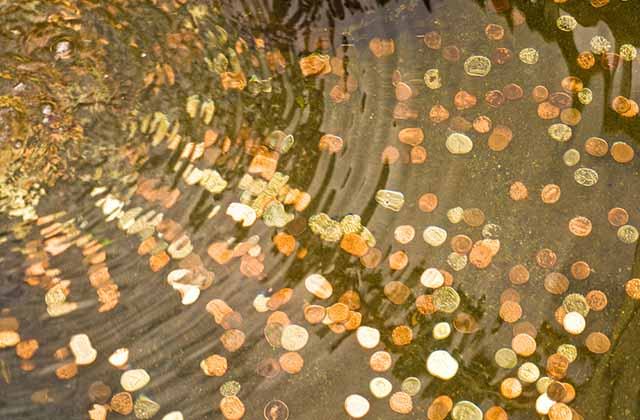 Fountains sprout water, the symbol of life, and therefore have always been granted a magical meaning. They are often the recipients of coins which are thrown in to grant wishes. In Huelva, for example, there is the Fuente de Los Deseos (Fountain of Wishes) in the Parque del 12 de Octubre, which also meets very specific expectations. Couples come here to take give a tribute to the waters and ask for eternal love. If you are on honeymoon or are coming to the south of Spain with your partner, you can visit this found which takes on romantic, soft and warm colours at dusk.
9. Fuente Vieja, Huelva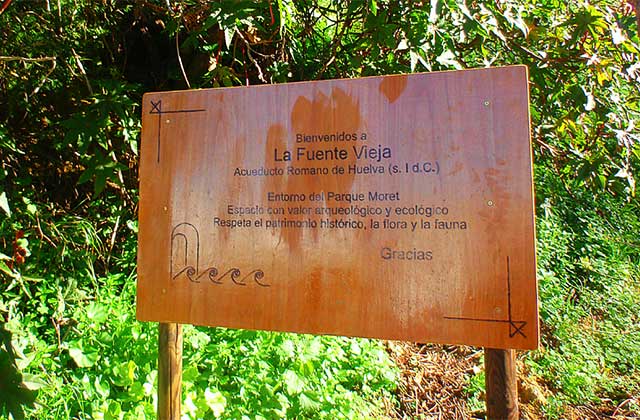 The Old Fountain is located on the slopes of Conquero in Huelva and, as its name suggests, it is a medieval structure which, for the people of the city, existed longer than anyone could remember. Its location, which favoured a greater and continuous flow of water, supplied water to the city even in times of drought. This implies that this source is probably no more than a supplier added to one of the Roman deposits to take advantage of a good situation in which the supply of water was permanent. If you want to enjoy a panoramic view of the capital of Huelva and freshen up, come to this spot filled with mineral water.
10. Fuente de los Milagros, Alora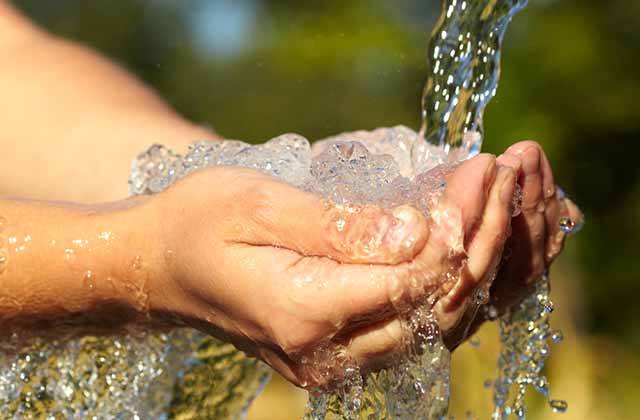 It is also known by locals as the Fuente del Tajillo. Despite being in a very busy place, this fountain often goes completely unnoticed. The nearest population centre is an area of Álora, the Chorro, which has developed around the railway stop of the same name, in a spectacular spot frequented by hikers and, especially, by mountaineers and climbers. The fountain has been reduced to a metal pipe embedded in the rock and water appears from it, forming a stream which is channelled through the cracks in the wall.
For some time, the pipe has been accompanied by the image of the Madonna and some flowers. It is called the "Source of Miracles" because, according to legend, the pipe had always been dry but on one occasion, during a prolonged drought, someone scratched the rock and water came out of it, a fact that was considered a miracle. The area of ​​El Chorro is a real beauty and, apart from visiting the source, you can go to the lake and take a refreshing dip.
11. Fuente de los Ocho Caños, Ronda, Málaga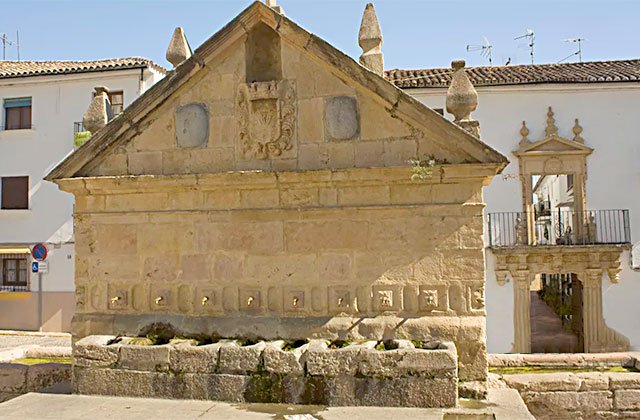 La Fuente de los Ocho Caños de Ronda es un monumento público que data del siglo dieciocho. Construida en piedra, esta fuente se compone de dos cuerpos distintivos. La parte inferior presenta dos frentes notables: uno, que le otorga su nombre, exhibe ocho grifos emergentes de elegantes recuadros decorados con delicadas rosetas, los cuales vierten su agua en una pila. El segundo frente corresponde a un abrevadero para el ganado. El cuerpo superior se destaca por un frontón triangular que aloja un escudo central rematado con pirámides y una cruz, añadiendo un toque majestuoso a este icónico monumento de Ronda.
12. Fuente de los 25 Caños, Loja, Granada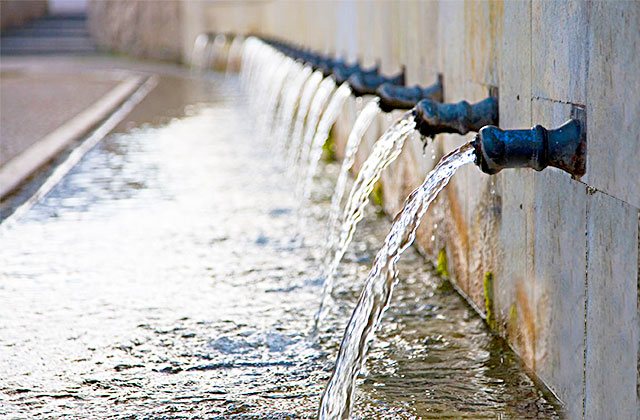 La Fuente de los 25 Caños en Loja, Granada, es una maravilla arquitectónica y una de las fuentes más emblemáticas de Andalucía. Situada en el centro de la ciudad, esta fuente cuenta con veinticinco caños de donde brota agua cristalina en un constante fluir. Su diseño cuidadosamente elaborado y su arquitectura tradicional la convierten en un punto de interés turístico y en un lugar de encuentro para los habitantes de Loja. El sonido relajante del agua que cae y la belleza visual de la fuente crean una atmósfera mágica y refrescante, convirtiéndola en un lugar perfecto para relajarse y disfrutar de la serenidad de la ciudad.
13. Fuente de los Chorros, Ojen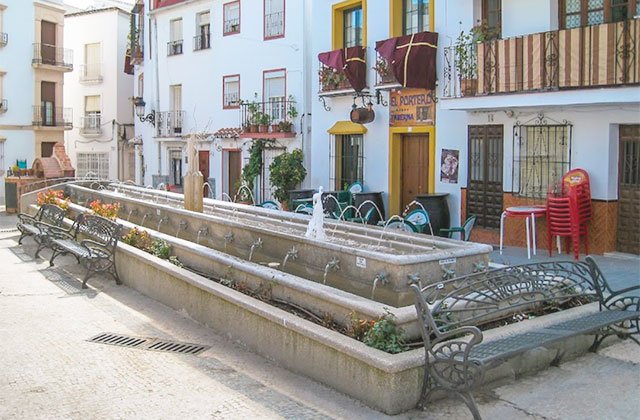 La Fuente de los Chorros, ubicada en el encantador municipio de Ojén, en la provincia de Málaga, España, es un apreciado tesoro natural. Este manantial de aguas cristalinas emana de las montañas cercanas, creando una refrescante cascada que fluye incesantemente. Considerada una de las principales atracciones del lugar, la fuente es venerada tanto por lugareños como por visitantes debido a la pureza y calidad de sus aguas. Su entorno montañoso la convierte en un punto ideal para excursiones y senderismo. Los habitantes locales también acuden a llenar sus botellas con este preciado líquido, convirtiendo la Fuente de los Chorros en un símbolo y punto de encuentro para la comunidad de Ojén.
14. Fuente de la Plaza de la Corredera en Córdoba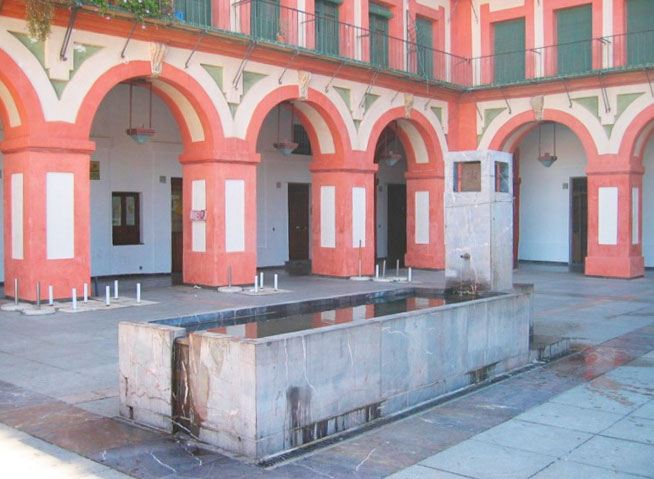 La Fuente de la Plaza de la Corredera en Córdoba es un hito histórico con una rica trayectoria. A lo largo de los años, esta plaza ha sido el hogar de varias fuentes, desde una fuente para el abastecimiento público hasta una fuente artística considerada la primera de su tipo en la ciudad. Aunque esta fuente fue trasladada a otra ubicación, la plaza no perdió su encanto. En la remodelación de 2001, se instaló un modesto pilón rectangular con grifos, brindando un toque refrescante a la plaza. Esta fuente, aunque discreta, es un testimonio vivo de la historia y la vitalidad de la Plaza de la Corredera en Córdoba.
Curiosities about the fountains in Andalucia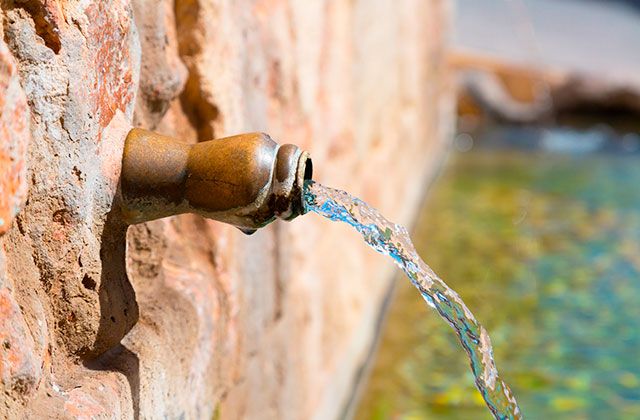 Arab origin: Many fountains in Andalucia have historical roots from the Arab era due to their dominance in the region.
Andalusian courtyards: Typical Andalucian courtyards often include ornamental fountains to provide freshness and beauty.
Public fountains: Andalucian cities have fountains in squares and public spaces, ideal for refreshing and socializing.
Thermo-medicinal fountains: Some locations have fountains whose waters are considered beneficial for health.
Renaissance and Baroque styles: Besides Arab fountains, Andalucia houses fountains of other architectural styles.
Decorative and functional: The fountains serve both ornamental and practical purposes, providing water to the community.
Local festivities: In some cities, fountains play a prominent role in festivals like the April Fair in Seville.
ACCOMMODATION
If you want to see the best fountains in Andalucia, make sure you stay at the best hotels. The most effective option is certainly Fuerte Hoteles. The chain has branches where you can enjoy the best of each area throughout Andalucia, in addition to its services. It boasts over 60 years of experience and gives you the time to discover the essence and heritage of the area. Marbella, Conil, Grazalema, El Rompido or Torrox are some areas where you can find incredible accommodation.