Twelve must-see key points in Marbella's old town: a walking tour with Wikiloc
Often when we visit somewhere we don't know exactly where to go. We get information from the tourist office and the internet. Now, there is a website called Wikiloc featuring routes and activities recommended by users. With this website, we have designed a very special route for visitors to Marbella. We want you to see everything this charming Mediterranean city on the Costa del Sol has to offer. Make a note of all the places we mention and enjoy one of the most significant destinations in the Province of Málaga.
Route Wikiloc: Hotel Fuerte Marbella-Casco antiguo
 1. Hotel Fuerte Marbella
The Hotel Fuerte Marbella is the starting point of this walking tour, which covers the entire historical quarter of Marbella. The establishment is located on the beach front and is a landmark for the city. In addition to the hotel services on offer, you will find a catalogue of "experiences" encompassing a wide range of activities of all kinds, such as Spanish classes, cocktail making workshops, Andalusian cuisine, olive oil tasting or visits to the city and ecological orchard. It is an emblem of Marbella tourism and serves as a starting point for our tour. One interesting fact is that it was one of the first big hotels in Marbella, no wonder it boasted the first lift on the entire Costa del Sol.
 2. Entry gate to the old town
Marbella is known throughout the world for its glamour and for being a European tourist destination par excellence, but is origins were very different. This Malagan town lived from the sea and from Mediterranean agriculture and stockbreeding. Its oldest part still has a seaside atmosphere and its Arab influence is reflected in its narrow alleys. A beautiful walk with so much to look at.
3. Chapel of San Juan de Dios
Our tour includes the Chapel of San Juan de Dios, now known by inhabitants as "Hospitalillo." It was built by the Catholic Monarchs, which is why it boasted the title of "Royal Mercy Hospital." One of the curiosities of this building is that it kept its wood panelling hidden until the mid-twentieth century and possesses a single nave with a Mudejar coffered ceiling. It is well worth visiting this place, which also stands out for its geometric decorative elements.
 4. Museum of Contemporary Spanish Printmaking
Continuing our tour, we arrive at a small Renaissance palace, which now exhibits the graphic art of great artists from the 15th century to date. This museum is home to works by geniuses such as Goya, Picasso, Miró and Dalí. You'll definitely enjoy these lithographs, etchings and stencilled sketches from every era.
 5. Church of the Incarnation
When the Catholic Monarchs reconquered Marbella, they turned the city's mosque into what is now the Church of the Incarnation. Throughout the years it has been renovated and of the three original entries, only one has been preserved. The 18th century ocre stone doorway of the main access was built in an exquisite Rococo style. Have your camera ready because you won't want to miss this photo opportunity.
6. Our Lady of Sorrows
The religious tradition is very visible in many of Marbella's beautiful corners. Such is the case with Our Lady of Sorrows, who stands in a niche on a balcony with a bed of flowers at her feet. This is one of the most beautiful images of the vista of the old town of Marbella. The blue of the wooden window where Our Lady stands evokes other Mediterranean cities and is a distinguishing feature of this narrow alley.
 7. Arab Wall
The urban wall of Marbella is a fortress declared an "Asset of Cultural Interest," which contained the old Arab medina. The castle is the most important Muslim vestige to have been preserved in the city and its construction features different architectural and material methods. It is also a curious superimposition of styles from other eras, for instance its built-in Roman capitals.
8. Santo Cristo Hermitage
On reaching the highest point of our tour we arrive at the Santo Cristo Hermitage. This temple is a clear example of typical Andalusian construction. Its main façade has a stone doorway and the rest is finished in limestone. This sanctuary is the oldest in the city and is a point for local pilgrimages, which you cannot miss during your visit.
9. Montenebro Street
As we descend to the starting point of this beautiful tour through the old town of Marbella, we mustn't miss Montenebro Street. Here you can enjoy the typical Andalusian vista of white houses with façades decorated with colourful flower pots. A beautiful image which attracts all the tourists and is always accompanied by the warmth of the locals.
10. Town Hall
The building housing Marbella's Town Hall was constructed in the 16th century and has a Renaissance style typical of other parts of the city. The façade boasts a sun dial, coats of arms and headstones bearing inscriptions in Old Spanish commemorating the taking of the city by the Catholic Monarchs.
 11. Naranjos Square
This is the emblem of the city and its most famous and most characteristic corner. Plaza de los Naranjos or Orange Tree Square, as its name suggests, is full of these trees whose fruit releases an aroma of orange blossom, enrapturing all who come close. There is nothing better than stopping here to have a drink in the sun and inhale the natural perfume of Andalusia. Its construction dates from the time of the Catholic Monarchs and is today a must-see for anyone visiting Marbella.
 12. Victory Square
This small square has a special feature, which is that you can find the "shade". When the sun is very strong in Marbella, a little darkness is much appreciated to cool down. In the centre there is a fountain surrounded by trees and plants, which give the square a florid colourful look. This is the last stop before arriving at our starting point.
If you visit Marbella, make sure to take our tour. It's a beautiful walk which will take you through the alleys of the old town, as well as its history and artistic heritage; charming places and corners where you can make a stop on the way to enjoy its beauty and the warmth of its people.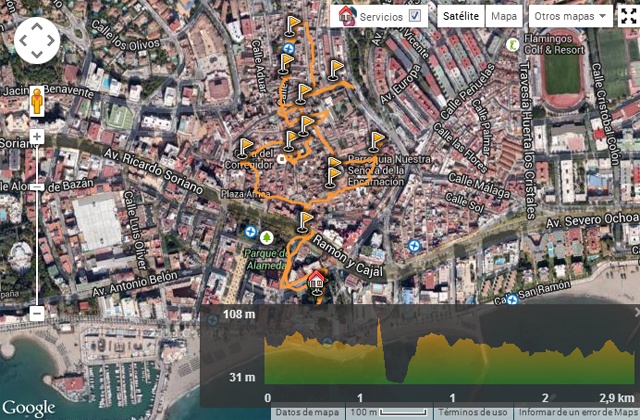 Where to park in Marbella without dying in the process
30 things to see and to do in Marbella
WHERE TO STAY
If you decide to come to Marbella do not hesitate in staying in Fuerte Hoteles. Fuerte Marbella Hotel is a symbol for the city with more than 60 years experience at your service. The hotel has 263 rooms, all soundproofed and equipped with air conditioning, satellite TV, wireless Internet access and private bathroom with free amenities and hair-dryer, among other services. It is also surrounded by gardens, with superb sea views and 2 outdoor pools.