Torremolinos: What to see and do in this sun and beach paradise
Torremolinos has always been one of Spain's most famous summer tourist resorts. Its good climate and geographical location on the Mediterranean Sea made it, in the 50's, a destination par excellence for families and national and international tourists looking for a place to spend a few days on the beach and relax. The wide range of restaurants, leisure facilities, and activities in Torremolinos has meant that the town has continued to grow and offer a variety of attractive activities for tourists.
Torremolinos is not only the ideal place for sun and sea lovers, but also for those who want to discover the historical, natural, and cultural heritage of this Costa del Sol town. Torremolinos is a combination of beaches, water sports, cultural activities, history, restaurants, and nightlife. There is no doubt that this coastal town has everything it takes to remain a destination for families and young tourists alike.
HOW TO GET TO TORREMOLINOS FROM THE AIRPORT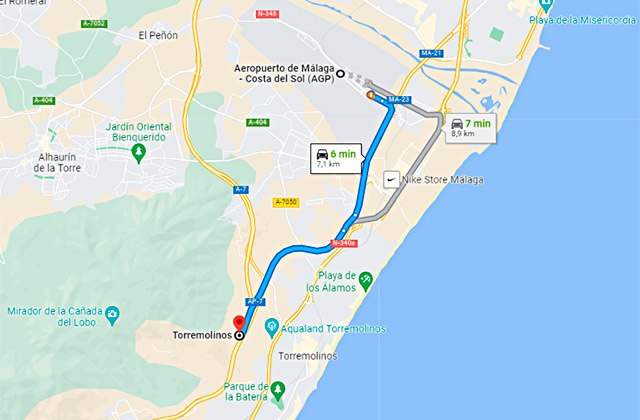 Due to the location of Torremolinos, Malaga airport is a place that is quick and easy to get to.
Once you land at the airport, you have several options to get to Torremolinos, but here are the most recommended.
By train: From the airport you can take the train to Torremolinos, which takes 11 minutes. This is the cheapest, fastest, and most recommended option.
By taxi: It takes about 9 minutes to get to Torremolinos by taxi, but it is one of the most expensive options.
By bus: This is one of the cheapest options, but it takes about 30 minutes to get there.
By shuttle bus: another quick option (9 minutes) but one of the most expensive.
Car hire: This option will take you to Torremolinos in 9 minutes, although it is the most expensive.
HISTORY OF TORREMOLINOS
The history of this town in Málaga is linked to the passage of the Phoenicians, Romans, and Arabs through these lands. The origin of its name is due to the fact that at that time there was a watchtower and 19 mills used to grind wheat, hence the name "Los Molinos de la Torre".
Torremolinos has changed over the years, so much so that in 1988 this town, which was united with Malaga, separated to become a completely independent town.
It was in the 70's when Torremolinos began its tourist boom and since the last century, this town has been a destination for families, nationals, and especially from England, Germany, or Nordic countries, although its influence was worldwide. It is said that George Lagworthy, who settled in the town and bought the Hacienda de Santa Clara with his wife, was the driving force behind tourism in Torremolinos.
Since then, beach tourism has been the main driver of this town, although history shows that there are many things to see that add to the richness of this town. In addition to the 7 kilometers of coastline, Torremolinos has a historic center where you can stroll and visit one of the busiest and most famous streets, Calle San Miguel, where there are many shops and restaurants.
Its seafaring tradition is still evident in some of its most famous neighborhoods, such as Carihuela or Calvario, where you can still breathe its atmosphere. Pescaíto frito (fried fish) is the typical dish served in the beach bars and restaurants of Torremolinos.
This city of sun and beach, also keeps many traditions that are an attraction and one of the things to do, such as celebrating some of its most representative festivities as the tribute to the Virgen del Carmen or its patron saint, San Miguel, where locals enjoy their most famous pilgrimages and festivals.
Pescaíto Day and Tourist Day are marked in the Torremolinos calendar in October and September respectively, where two important days are celebrated for Torremolinos and for the tourism that comes to the city to celebrate these important dates.
WHAT TO SEE AND DO IN TORREMOLINOS
The main attraction of Torremolinos is the sun and beach tourism and every summer since the 70's this city is flooded with families and young people from all over the world. However, Torremolinos also has very special places that enhance the history and culture of this city, as well as natural spaces.
The nightlife is also of great interest for young people and this city has spaces and leisure for everyone.
Beaches of Torremolinos
The beaches of Torremolinos are the main destination for tourists who want to visit the city. The beaches of Bajondillo and Carihuela are the most popular with families and tourists who want to relax and enjoy the sun. They have a variety of infrastructures and a long list of restaurants and beach bars where you can enjoy traditional dishes and the legendary fried fish.
Los Alamos beach is more of a destination for young people looking for a day of sun and beach combined with the leisure of some of the clubs and pubs that we can find. From chill out music to the most commercial converge in Los Alamos, along with beach bars and restaurants and water sports such as paddle surfing or beach volleyball.
Playamar is a beach in Torremolinos, located in an area of shopping centers, very well connected and with endless places to enjoy the gastronomy.
Cultural and Historical Heritage of Torremolinos
Beyond the sun and beach tourism, one of the things to do in Torremolinos is to get to know its old town and get lost in its streets full of shops and beautiful corners. Calle San Miguel is par excellence the busiest street in the city.
Torremolinos Pueblo is a place where peace and tranquility reign and the hustle and bustle is far away. This oasis of whitewashed houses, whitewashed on a hill and surrounded by flowers, geraniums, and orange trees around the Plaza de España is one of the things to do in Torremolinos.
The cultural heritage of Torremolinos is headed by the Casa de las Navajas. It is a Neo-Mudejar style mansion with Mozarabic touches built by the Luque-Navajas family, next to the Bajondillo, with a very unique architecture of the 20's and 30's and that today is a palace with free entrance and that takes us to a time of splendor when the wealthiest families chose Torremolinos as a place of second homes.
Natural areas in Torremolinos
For nature lovers, this city offers real natural treasures, such as the Botanical Garden of Molino de Inca – Conjunto los Manantiales. This area has almost a thousand species of plants, a variety of bird species and springs that are still in operation.  This natural space is an oasis of peace and a jewel of more than 15,000 square meters that has a history that set it in motion, which were the mills that moved by the force of water used to grind flour among other things. This huge botanical garden, where you can see unique species of birds of the country, has a replica of the original Inca mill and a beautiful Japanese garden.
El Morro, or Punta de Torremolinos, is a natural spot that separates the most famous beaches, La Carihuela and El Bajondillo. Few promenades can boast such a special route and the extension of the promenade makes it a unique place where you can walk along the beach and this special natural spot.
The Cañada del Lobo is the ideal place for hikers and nature lovers. This natural area, full of Mediterranean species such as wild olive trees or pine trees, is an idyllic place to walk along ascending paths and get to know the natural wealth of Torremolinos and enjoy one of the best views from its viewpoints. Here you will also find the sculpture of a howling wolf, a tribute to the name of the area.
The Senda litoral (coastal path) is one of the most famous in Málaga, as it runs along the coast from Estepona to Nerja.  Torremolinos is part of it and is a place to practice sports or walk quietly listening to the sea and observing the beautiful nature that surrounds us as cliffs, beaches, and landscapes.
Family Plans
One of the things you can do with the little ones and not so little ones is to visit the Parque la Batería. It is the most famous one in Torremolinos and it has more than 74000 square meters. With a layout facing the sea, this park is a place for families, for those looking for a bit of peace and quiet, or to play sports.
Its vastness gives us a variety of things to do, such as seeing the artificial lake, running on the track, observing the views of the city, visiting the children's playground, or lying down to watch the more than 1000 trees, among which there are more than 25 species, which have become the lungs of Torremolinos.
Spending a day at Aqualand of Torremolinos is another of the essential things to do in summer in this city with the little ones of the house.
It is a water park with attractions for young and old, mini golf areas, a multitude of slides, a wave pool, and a large Kamikaze, where you can enjoy a different and adrenaline-filled day with your family.
Nightlife
Torremolinos is par excellence the heart of the nightlife of Malaga. Since it became a reference point for tourism in Spain and worldwide, the nightlife of Torremolinos has been a real attraction for young people from all over the world. Nationals and foreigners came to Torremolinos to party in its discos, pubs, and beach clubs.
Although the nightlife has been on hiatus for some years, it has been reborn and has once again become the perfect destination to go out.
Playamar and Álamos are currently the two places where nightlife in Torremolinos is booming. Here you will find a large number of discos of all styles, clubs open all day and night where the best DJs are concentrated, as well as restaurants where you can eat and enjoy good tapas in front of the sea.
The area of La Nogalera, in the center of Torremolinos, is the main place to party in the city and find bars and nightclubs, especially for LGTBI tourism. The gastronomic offer in this area is also very extensive and you can enjoy a good dinner followed by a drink and the nightlife offered by the city.
Restaurants
Botticelli Resto
Av. de los Manantiales, 25, 29620 Torremolinos, Málaga
Tel: +34 951 02 46 04
Google Maps
A Casa Nostra
P.º de Maritimo Torremolinos, 69, Playamar, 29620 Torremolinos, Málaga
Tel: +34 623 20 80 70
Google Maps
La Favorita
Av. del Lido, 11, 29620 Torremolinos, Málaga
Tel: +34 654 92 72 18
Google Maps
Caruso Bar Ristorante Italiano
Lugar Playa de la Carihuela, 9D, 29620 Torremolinos, Málaga
Tel: +34 602 57 95 83
Google Maps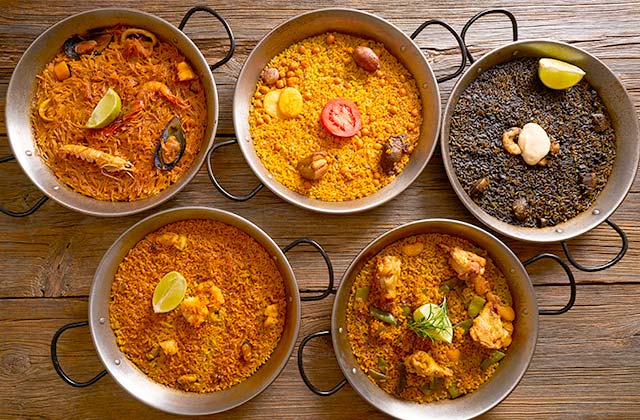 Joseph's Curry Hut
C. Salvador Allende, 60, 29620 Torremolinos, Málaga
Tel: +34 632 40 71 33
Google Maps
Kyomu Málaga
Plaza de la Independencia, 12, B, 29620 Torremolinos, Málaga
Tel: +34 671 42 69 35
Google Maps
It's Vietnam Beach
C. los Perros, 16, 29620 Torremolinos, Málaga
Tel: +34 633 37 77 13
Google Maps 
Taberna Mis Vinos
Av. la Riviera, 78, 29620 Torremolinos, Málaga
Tel: +34 620 80 16 53
Google Maps
Toro Azul
C. San Miguel, 17, 29620 Torremolinos, Málaga
Tel: +34 665 70 92 88
Google Maps 
The charm of the Málaga interior: the 22 prettiest towns in the province
The most beautiful villages in Andalucía
WHERE TO STAY
If you decide to come to Torremolinos, do not hesitate to stay at Fuerte Hoteles. El Fuerte Marbella a historic establishment on the Costa del Sol, now transformed to 5 stars, is the Marbella hotel that best combines casual luxury, an exclusive and welcoming atmosphere and the sheer comfort offered by its location on the city centre's beachfront, which offers stunning sea views right across Marbella's seafront promenade.