THE 20 MOST BEAUTIFUL VILLAGES IN ANDALUCIA
The list of towns in Andalusia with charm is increasing in time. Every day there are more Andalusian towns that bet to put in value their historical, natural and cultural heritage. The objective is to attract national and international tourists. The attractiveness of these charming Andalusian villages does not always lie in their religious or civil monuments. Although there are many who have beautiful old churches and remains of medieval castles, among other buildings of interest. The urban structure of these Andalusian towns is usually typical of the old medieval towns with narrow and steep streets, dotted with white houses.
There are beautiful villages throughout our geography, here we have only included 20, but Andalusia has many more, either coastal or mountain. We discovered the 20 most spectacular places!
1. NERJA AND FRIGILIANA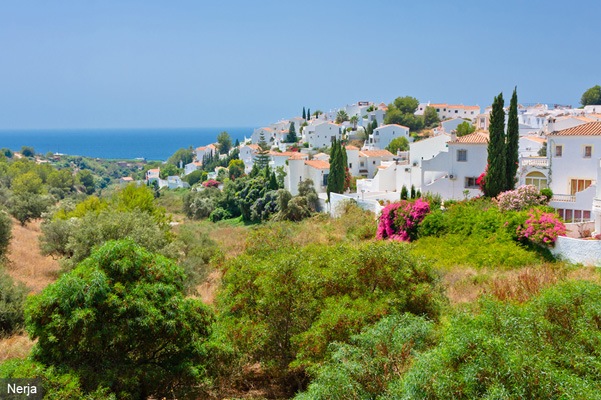 The eastern Costa del Sol is home to towns like Nerja, Torrox and Frigiliana. Its beaches can be enjoyed throughout the year thanks to a climate that is considered to be one of the best in Europe. Spectacular beaches, such as those found in the Maro Natural Park, combine with the typical charm of whitewashed houses and narrow streets of local villages, to make this place a paradise of sea and mountains.
2. SANTIPONCE, SEVILLA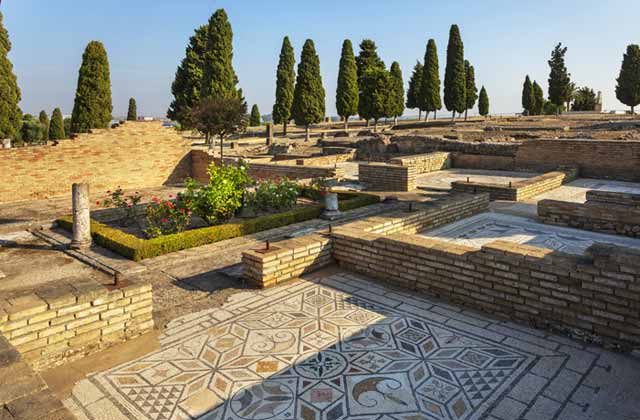 Located just 7km outside of Sevilla, Santiponce is not to be missed. Built on the ruins of the Roman ancient city of Italica, this town was founded in the second century BC and was declared an archaeological site of interest by the Cultural and Historical Heritage Society, making it wonderful for lovers of history and culture. Its amphitheater and the Monastery of San Isidoro del Campo, were declared National Monuments in 1872.
3. CONIL DE LA FRONTERA, CÁDIZ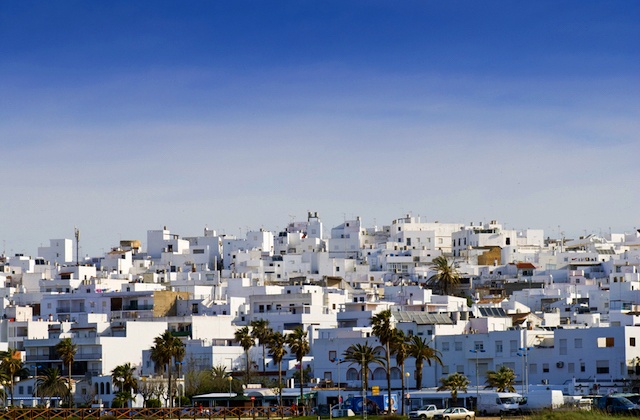 When following the White Villages of Cadiz route, the picturesque town of of Conil is the perfect stop for fried fish, seafood and sherry, all while enjoying the fabulous beaches known as El Palmar. Here, visitors are sure to applaud one of the most beautiful sunsets in Andalucia and a stunning example of a  historical centre of typical maritime life.
4. MOJÁCAR, ALMERÍA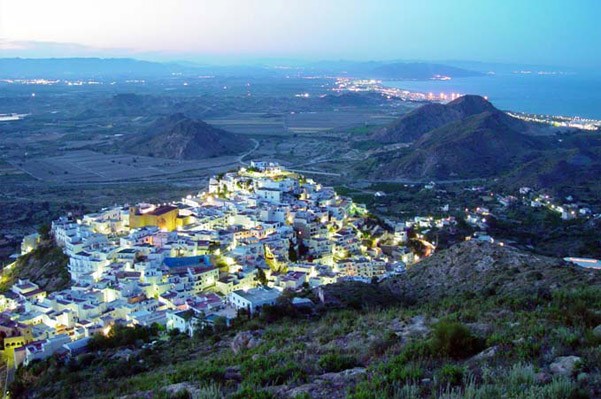 5. EL ROMPIDO, HUELVA

The fishing village of El Rompido, Huelva, is located in the natural setting of La Flecha in the Costa de la Luz. Here lies one of the most precious jewels of Spain's natural beauty, Nueva Umbria Beach, a strip of fine golden sand located between the Atlantic and the Piedra Rivers. An ideal place for lovers of pristine beaches and serenity even during the month of August.
6.ÚBEDA AND BAEZA, JAÉN
Travelling to Ubeda and Baeza in Jaén is like being transported back in time to a chivalrous era of the Renaissance. Declared a World Heritage Site by UNESCO, its monuments are of extraordinary beauty and together form a collection of magnificent, stately homes, churches and singular, charming squares, surrounded by three national parks. An ideal place from which to visit the Cazorla Natural Park.
7. PRIEGO DE CÓRDOBA
Along the Route of the Caliphate, Priego de Córdoba captivates visitors thanks to an extraordinary Baroque monuments and its prime location in the Subbéticas Natural Park. It is a charming village that highlights its typically Andalucian appearance and is surrounded by the ancient walls and towers. Another of the town's strengths is its cuisine, made with their famous olive oil.
8. MARBELLA, MÁLAGA
On the Costa del Sol is Marbella, home to the most luxurious marina in Europe, Puerto Banus. Marbella is a paradise for beach lovers and glamour, but do not forget the old town and the famous Plaza de los Naranjos, accessible by narrow, white streets. This corner gives a glimpse of the tiny, typical Andalucian village it once was.
9. RONDA
Ronda is one of the most popular villages in Spain because of its spectacular valley and is located next to Grazalema, one of the most beautiful villages that make up the region's White Village Route. This offers a chance to wander through its cobbled streets and enjoy whitewashed houses decorated with geraniums, near the Natural Park of Grazalema, which is designated a Biosphere Reserve by UNESCO.
10. LANJARÓN, GRANADA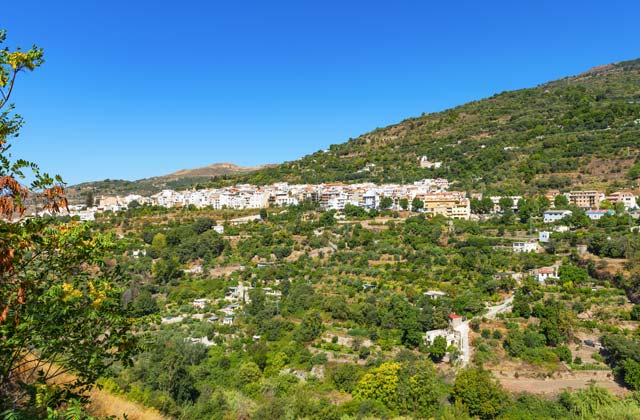 Lanjarón is located in the only place in Spain chosen as candidate for one of the seven natural wonders of the world, the National Park of Sierra Nevada in Granada. The most characteristic feature of this town is definitely its water springs, which are fed by the snows of the Sierra Nevada, offering with medicinal properties discovered in the late eighteenth century. No tourist should miss its Mudejar-style spa.
11. VEJER DE LA FRONTERA

Vejer de la Frontera has been showing off for being one of the most beautiful villages in Spain. It was declared Historic Artistic Complex in 1976. Its historical centre is a beautiful network of steep and narrow streets. An ancient Arab castle crowns the walled enclosure of the old village.
Vejer de la Frontera also has one of the few virgin beaches that are preserved in Andalucia, Playa del Palmar.
12. ZAHARA DE LA SIERRA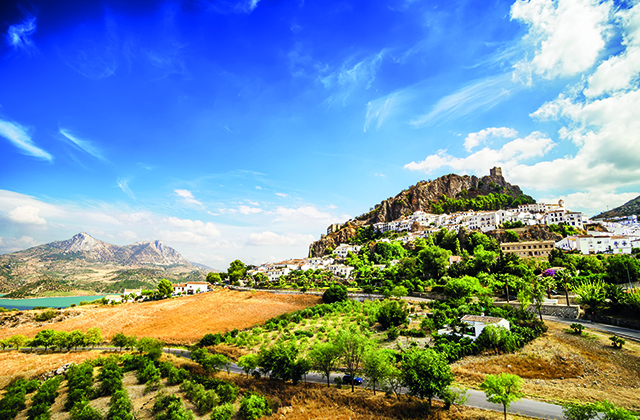 Zahara de la Sierra is one of the Andalucian villages in the mountain range of Cadiz whose urban helmet is declared Artistic Historical Complex. Another Andalucian village crowned by an old castle; in this case, Nazari a castle of the 13th century. Its narrow and steep streets are dotted with white houses, occupying the skirts of the Jaral mountain range. You will also enjoy contemplating its surroundings, declared Natural Park.
If you want to experience one of its most emblematic festivals, visit Zahara de la Sierra on the day of the Corpus, a festivity of National Tourist Interest.
13. SETENIL DE LAS BODEGAS
Setenil de las Bodegas is another of the charming Andalucian villages in the highlands of Cádiz. One of the main attractions of this town is its hamlet built in the rocks, which is an example of a type of housing called "shelter under rocks". The rocks make of roof or seat of the houses located at different levels.
In the highest part of the town is located the tower of the homage of an old castle.
14. GENALGUACIL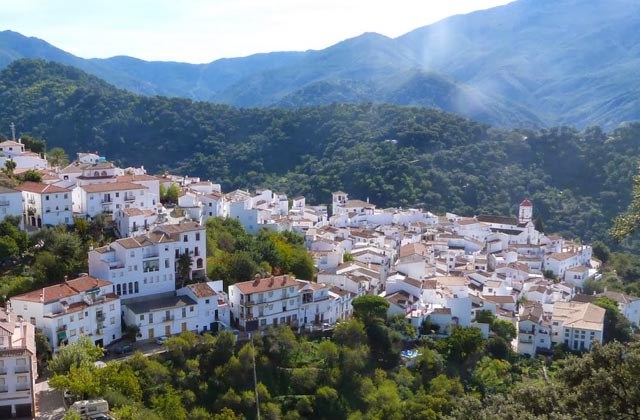 Genalguacil is one of the many beautiful villages of the Serrania de Ronda. The singularity of this Andalucian village lies in its original works of art distributed between the streets and squares of its urban centre. They are the result of the Art Encounters of the Genal Valley. An event held in the village since 1994.
Artists from different disciplines gather in the village to work and share ideas, during the first two weeks of August. The works they do in those days stay in the village, to be part of their heritage. There are also other cultural and leisure activities; musical performances, theatrical performances, parades, conferences and workshops.
15. CAZORLA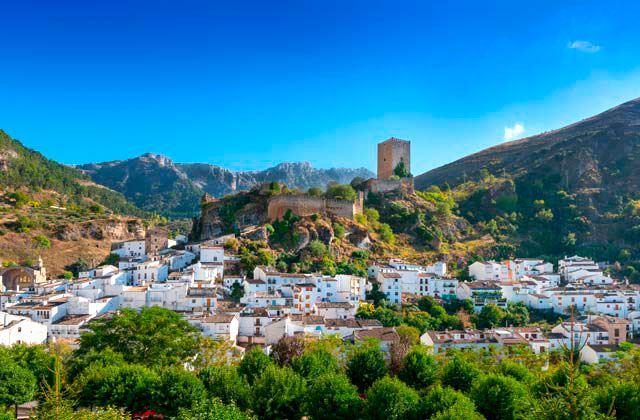 The charm and beauty of this Andalucian village is the result of nature and the men who have populated it over the years. It is a paradise for lovers of rural and active tourism. Its natural heritage is part of the Natural Park of Cazorla, Segura y Las Villas, in the province of Jaén.
You will be able to contemplate wonderful landscapes from the viewpoints located in strategic places of its urban helmet. The Castle of Yedra (or the Four Corners) crowns the village. The Palace of Chains is another of the outstanding monuments of Cazorla.
16. ARCOS DE LA FRONTERA (CÁDIZ)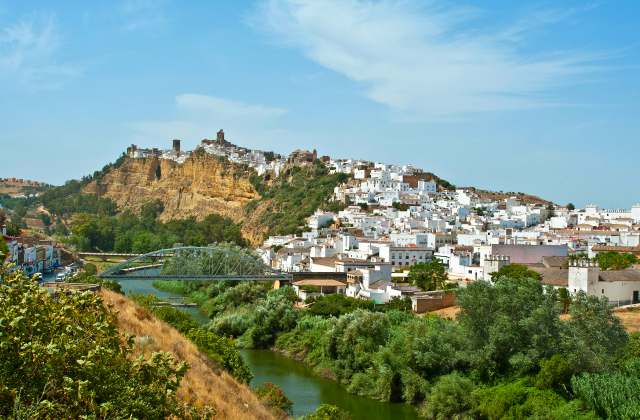 Arcos de la Frontera is a beautiful town in the province of Cádiz. One of the most attractive elements of this town are its spectacular views because it is settled on a large plateau. In addition all its streets are narrow with the traditional slopes so characteristic of Baroque, Renaissance, Muslim and Gothic art.
17. ARACENA (HUELVA)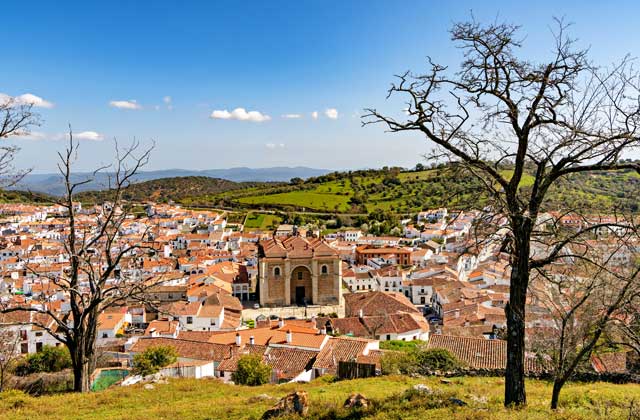 Aracena, besides being the capital, both of the mountains and of the natural park that bears its name, is one of the most beautiful villages in all of Huelva, not for nothing its historical centre is considered as cultural interest. If you decide to visit this town, you can delight with its 13th century castle, between whose walls is located the prioral church of Our Lady of Greater Pain, which still treasures today the sight of the mosque that was before the reconquest.
To mention Aracena is to speak of an indisputable protagonist, the ham, because this delicacy is the king of Huelva gastronomy, so visiting Aracena without tasting this delicacy is a mortal sin.
18. ANTEQUERA (MÁLAGA)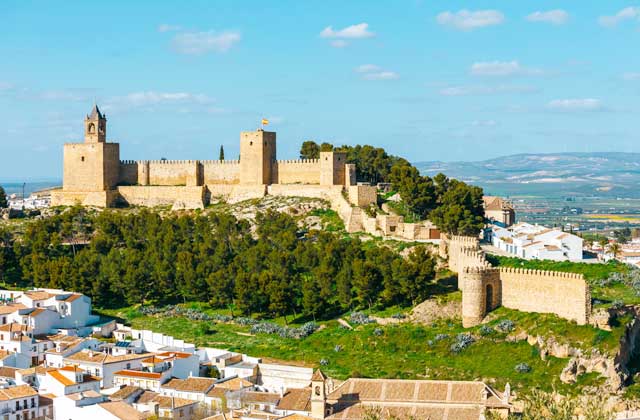 Antequera is one of those charming little towns full of white houses and emblazoned palaces that show their importance. But also, Antequera hides between its narrow streets a beautiful citadel and a collegiate church, Santa María la Mayor, which is one of the maximum exposition of the Andalusian Renaissance.
But we must be honest and say that the maximum attraction of this city is not found in its streets, it is found in its megalithic monuments: the dolmen of Menga or Vieral, or in its natural monuments the Torcal de Antequera or Peña de Enamorados, something you cannot miss.
19. TORROX (MÁLAGA)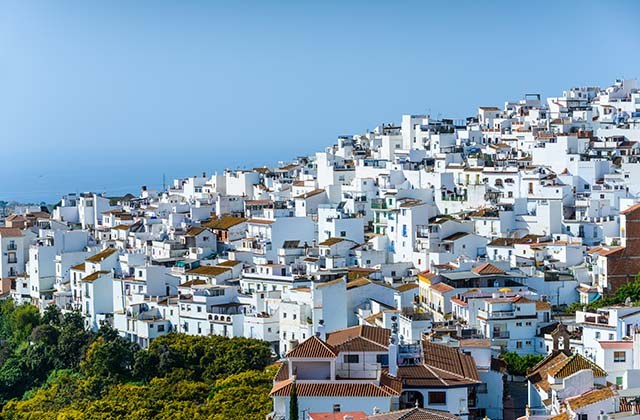 The town of Torrox is considered the village with the best climate in all of Europe. But this town is much more than that; only here you can find monuments of an importance such as the Roman site of the Lighthouse or the church of Our Lady of the Incarnation. It is also 44 kilometres from Malaga and less than 10 km from Nerja and its famous cave.
20. NIEBLA (HUELVA)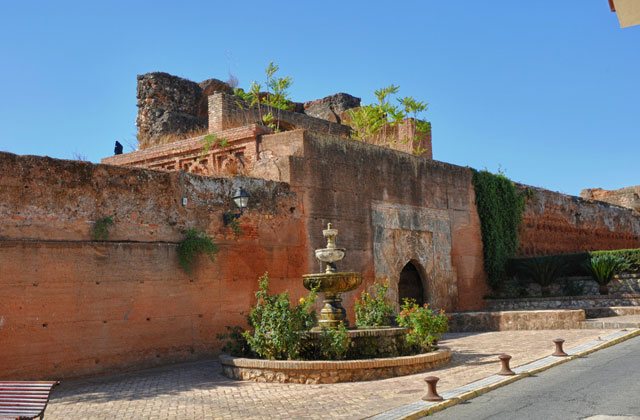 Niebla, is a town in the province of Huelva that is located on the banks of Tinto, and it is spectacular to see how it stands surrounded by reddish walls of Muslim origin. If you decide to visit this town, you can be sure that you will not be mistaken, because in addition to its white houses, picturesque streets and cosy squares, its historic centre has been declared of Cultural Interest, you can enjoy seeing the church of Santa María de la Granada, a spectacular construction described as a strange mudéjar work of the thirteenth century that rises on an old mosque. Simply beautiful.
WHERE TO STAY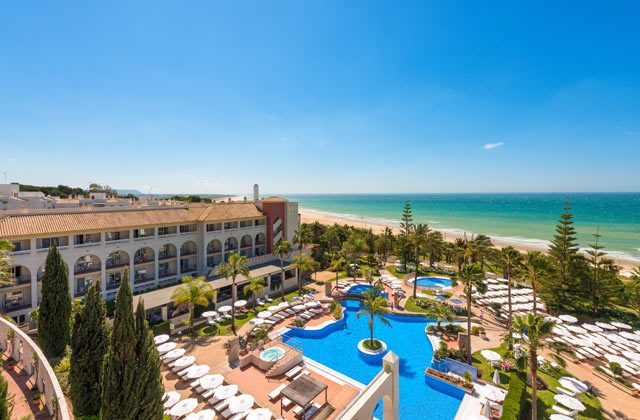 If you wish to discover this unusual  side of Andalucía, don't hesitate to stay at the best hotels. Without a doubt, the best option is Fuerte Hoteles. The chain has facilities where, apart from the regular services, you can enjoy the best of each spot in the Andalucian geography. Its over 50 years' experience is the best warranty so you can devote your time to discovering these unusual corners. Marbella, Conil, Grazalema, El Rompido, Estepona or Torrox are some of the places where you can find amazing accommodation facilities near the spots we have recommended for you.