THINGS TO SEE AND DO IN VEJER DE LA FRONTERA
Vejer de la Frontera is one of the most beautiful towns in the region of Cádiz, Spain. It was declared Historic-Artistic Grouping in 1976 and it was awarded the I National Prize for Town Embellishment and Improvement in 1978. It is so attractive, touristically speaking, that it was also awarded the distinction of Zone of Great Tourism Influx in several occasions.
The urban hub of Vejer de la Frontera, home to its emblematic old town, is located up in a mountain 200mts high. A few kilometres away, there is another population hub that is better known for tourism reasons than Vejer de la Frontera is; we are referring to El Palmar, which is the favourite place for those who enjoy the sun and beach tourism in this municipality.
The natural scenario of Vejer de la Frontera also offers visitors an interesting proposal for those who trekking and aquatic sports such as surf.
Another tourist attraction of Vejer de la Frontera is its gastronomy. Under the motto "Vejer, saboréala" (Vejer, taste it), the numerous bars and restaurant of the city offer a wide range of tapas and delicious dishes; culinary creations made with locally grown products, based on local tradition, and with an innovative touches inspired by nouvelle cuisine.
Any time of the year is perfect to fully enjoy Vejer de la Frontera. If you wish to enjoy a wider leisure agenda, visit it during the months of July and August.
What to see in Vejer de la Frontera
There are different tourism routes in Vejer de la Frontera, all of which are designed for you to know the historic, cultural and natural heritage of this beautiful town in Cadiz. There are routes such as the artistic old town route, route of the patios vejeriegos, route of the surroundings of the old town, evening routes, sang and hosted routes.
Here is a list of things to see in Vejer de la Frontera:
Iglesia Parroquial del Divino Salvador. An old church built over an old mosque with the artistic characteristic of the Gothic-Mudejar styles of the nineteenth century and the late Gothic style of the fifteenth century and the early sixteenth century. The altarpiece in the main altar stands out.
Castle of Vejer de la Frontera. It is located on the highest part of the city. It was built in the tenth and eleventh centuries over the base of another castle. From its weapons' courtyard, battlements can be accessed to enjoy beautiful views of the town.
Convent of the Conceptionist nuns. Home to the Customs and Tradition Museum of the Municipality of Vejer is. It is located next to the most emblematic street in the municipality; the Arco de las Monjas- this is a group of buttresses that support the sidewall, which was built after the earthquake of the eighteenth century.
Casa del Mayorazgo. A baroque house that has a tower, big walls and patios.
Palace of the Marquees of Tamarón. It is located next to the Arch of Segur, in the external walls of the Recinto Amurallado of Vejer de la Frontera. It is the headquarters of the House of Culture and the Library of the Municipality. It also houses the Centre of interpretation of the Historic-Cultural Heritage of Vejer, which offers a didactic tour focused on the history of the town (it uses informative dashboards).
Plaza de España. This square features a Seville tile fountain and is known as the Plaza de los Pescaítos. This is where the city hall is located. During the sixteenth and the seventeenth centuries, bullfighting celebrations were held here.
Windmills. Ancient rehabilitated flourmills. Out of the seven mills located along Vejer, you can visit the one located in the Av. San Miguel.
Sanctuary of Virgen de Oliva. It was built over a Visigoth basilica, right in the centre of a settlement that once was a Roman. It is located in the Vejer-Barbat road, 5 kilometres away from the town. It is the place of celebration of the romería (traditional pilgrimage) of the Virgen de la Oliva, patron saint of Vejer; every May 7th.
Roman Aqueduct. It is located in the rural area of Santa Lucía. It was declared a Natural Monument for its landscape richness. Next to it, there are seven water mills from the fifteenth century.
Museum of Contemporary Arts of the NMAC Foundation. It is located in the Dehesa de Montenmedio, 5 kilometres away from the town, in the middle of nature. Besides its natural beauty, you can contemplate the beauty of the displayed artwork. The museum features sculptures, photographs, paintings, among other artistic works.
What to do in Vejer de la Frontera
In Vejer de la Frontera, there are plenty of interesting and fun activities, besides visiting its beautiful streets and squares, and contemplating its monuments.
If you like sports such as surfing, windsurfing, water-skiing, or fishing, El Palmar is the place to visit. This is the rural hub of Vejer located in the coastline of Cadiz, home of its magnificent beach, one of the few still virgin beaches of the area, with fine sand and clear waters. From the beach, you can gaze upon one seventeenth and eighteenth century watchtowers present in the Andalusian coast, the Torrenueva.
For trekking lovers, Vejer has different routes. There are companies that will help you practice adventure sports such as paragliding, hand gliding, etc.
You could also enjoy the rich and diverse gastronomy of Vejer. The seafood rice, fried fish, retinta ecological meat and traditional pork by-products (such as the famous lomo en manteca) are some of the delicacies that you can try in the bars and restaurants in the city.
Here is a list of the most interesting bars and restaurants in Vejer:
Restaurante El Poniente
In a privileged location, at the highest point of Vejer de la Frontera, where magnificent views of El Palmar can be enjoyed, this restaurant sits within a glazed mill and features a large terrace.
From its menu, the dishes made out of Retinta meat, Bluefin tuna and the typical shrimp tortillitas stand out.
It is a magical place, with a large terrace and a paragliding runway.
La Bien Pagá
The building that houses this establishment used to be the stable of the House of the Marquees of Tamarón. A unique place with its owns signature, where people can enjoy an exquisite wine selection, as well as Iberian ham cured meats, salzones and conservas. They also serve long glasses of wine and specialties such as their mojitos and sherrimojitos.
Another great feature of La Bien Pagá is that it offers its live shows, which are mostly related to flamenco as well as other popular traditions of Cádiz and Andalusia.
La Brasa de Sancho
This restaurant-rotisserie specializes in roasted meat and fish, mostly cooked with wood from olive trees and cork oaks. It also stands out for its seafood specialties such as steamed mussels, with French touch.
This restaurant is located in the old town of Vejer, in a pedestrian street, at the foot of an old wall. It also has a magnificent terrace with a view of Plaza de España. This is the perfect place to enjoy the beauty of Vejer and try the best meat and fish.
Peña Cultural Flamenca Aguilar de Vejer
The Peña is located in the old Iglesia del Rosario church. This is the perfect place to enjoy live flamenco shows, while trying roasted meat and Bluefin tuna, among other delicacies.
It is the location where the flamenco competitions organized by the city council of Vejer and the Peña itself take place.
Going shopping is another thing to do in Vejer de la Frontera. Here is a short list with a selection of stores:
La habitación de Lula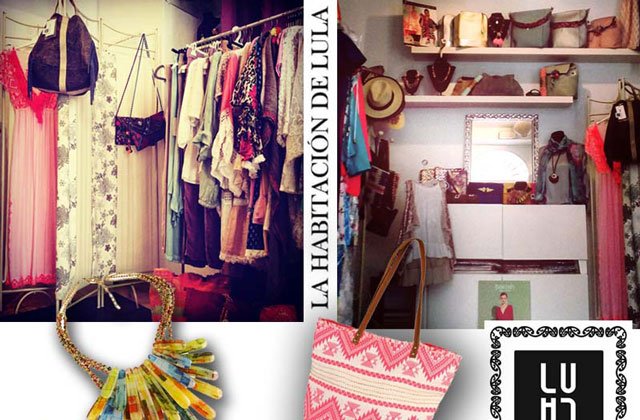 This store specializes in clothing and accessories for today's stylish and sexy women. This store offers designs and trends from Spanish brands. Among their most famous brands we can mention Tonalá and Lola Casademunt. These creations have spectacular and elegant stamped designs to be combined with accessories, scarves and jewellery. They also have hand painted fans, designed by Lola Blay, and watches by Bilyfer.
Bodegas Etu-Vino
This is the perfect place to buy signature wines of traditional, ecological and limited production. They offer white wines, red wines, and pink wines made with the grapes seen when visiting the cellar. During the visit, the winemaking process is explained and you can also enjoy a wine tasting.
Colmado Selecto Palomita
A modern and innovative grocer's shop that has recovered the best tradition of these old establishments. They only sell select products that can also be enjoyed on site by the delicatessen counter, along with a good wine or a fine beer.
This is the perfect place for gourmet product lovers. They have Iberian ham products, extra virgin olive oils, wines, spirits, chocolates, canned food and cheese in a welcoming environment.
Ya en tu casa. El sabor de Andalucía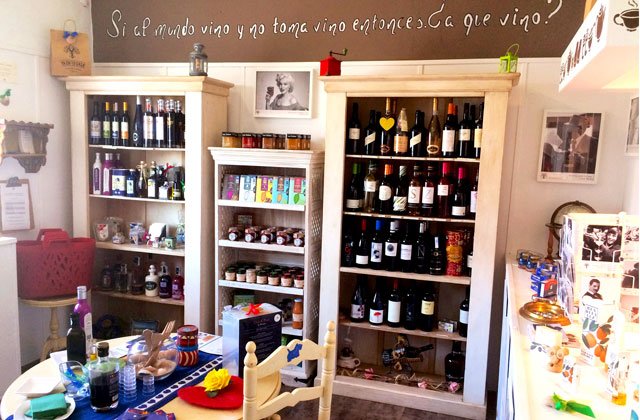 A physical store with on-line presence that is specializes on selling food products from Andalusia. Wines and spirits, olive oils and vinegars, delicatessens and cheese, sweets and honey, sea salt, among others. It also includes a selection of body-care items, such as its chocolate, cinnamon, and thyme soaps.
Our last proposal of things to do in Vejer de la Frontera is to enjoy its celebrations.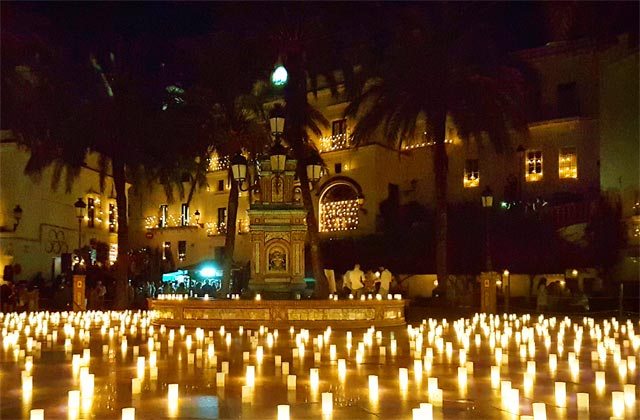 Saint John's Eve. On June 23rd, bonfires are lit up in different parts of town. Dolls made by the communities and associations are burned in the bonfire located in Av. San Miguel. The celebration ends in Plaza de España, with 3 fire bulls and music.
The Spring Fair. This is the typical Andalusian fair, celebrated from Thursdays to Sundays, two weeks after Easter. Casetas y cacharritos, sport competitions, regional dance competitions, bullfights, and horse rides take place along those four days.
Toro embolao. A celebration that has been taking place since 1976, every Easter Sunday. Between noon and 4:00 p.m., two bulls are released in the streets of the town. The celebration starts the night before with a popular street party.
Noche de las Velas. It is celebrated during the first weekend of June. The old town of Vejer is lit up by the numerous candles set in the streets. In addition, Plaza de España becomes the stage for a classic music concert.
How to get to Conil from Vejer de la Frontera
The distance in between Vejer de la Frontera and Conil is a little more than 16 kilometres, through the A-48 road. The estimated time, by car, from one city to the other is 19 minutes.
Villages in Cadiz with a special charm
Cadiz and Huelva white villages
WHERE TO STAY


Fuerte Hoteles is always the best choice to stay in Andalucía, get to know its cities and look for the best shops. The chain has establishments where you can enjoy, besides its services, the best of each point of the region, a good example is  hotel Fuerte Conil which is located in front of one of the most beautiful beaches in Spain, beach La Fontanilla. It stands out for its exclusive Andalucian style, its 25.000 square feet of gardens, 4 outdoors swimming pools, Jacuzzi, tennis court and a complete equipped Spa.