Cadiz and Huelva white villages: the charm of west Andalucia
Visiting Andalusia fills your eyes with beauty on every corner you walk through. White villages with narrow streets, bougainvillea and geraniums decorating every corner, natural viewpoints, traditional markets, good cuisine and polite and friendly locals. The south of Spain is unique. For this reason we do not want you to miss it. Cadiz and Huelva are two regions that keep a large amount of that beauty. We have designed a route through these white villages for you that you will never forget. Open your five senses and do not miss a detail:
1. Conil de la Frontera (Cádiz)

Conil is a small coastal town in the province of Cadiz that has the typical landscape of Andalucia, added to the politeness of the locals. White villages with geraniums pots hanging from the façades are the most common sight, not to forget the fact that many locals invite tourists to their own homes so that they can observe the famous Andalusian patio. Here you will be able to taste the famous cone of fried fish and a delicious almadraba blue fin tuna.
More information: Things you cannot miss in Conil de la Frontera
2. Olvera (Cádiz)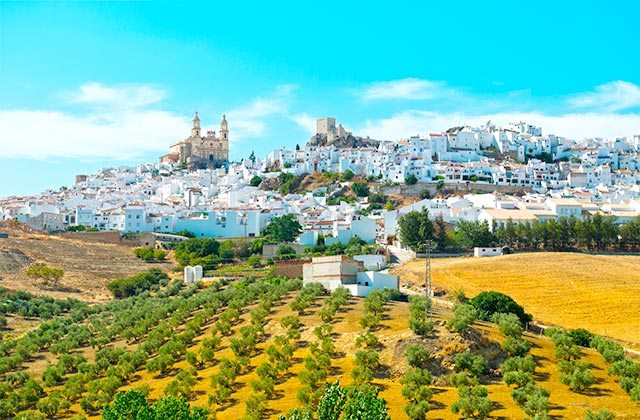 Among Cadiz's white villages, Olvera is one of the most famous. It still keeps that historic atmosphere inherited from Al Ándalus and this is seen in the historical village. The Andalusian style, popular architecture and its monumental beauty make this area stand out within our route. You cannot miss the Villa Neighbourhood, where we find the Encarnación church, a neoclassic jewel, and the castle, a Muslim fortress dating from the XII century which still keeps its walls, towers and homage tower. In Olvera you can also ride a bike, a horse or walk through the Vía Verde de la Sierra, an old railway path that used to join the town with Puerto Serrano, another charming town of the area, and where you will be able to visit the Natural Reserve of Zaframagón Rock.
3. Setenil de las Bodegas (Cádiz)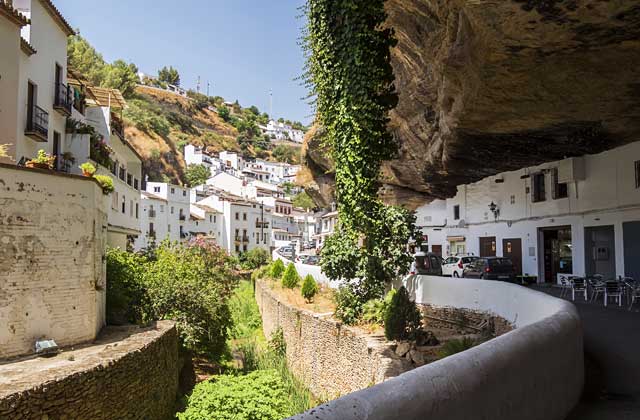 Hidden among rocks we find the picturesque town of Setenil de las Bodegas. The town has a medieval castle that dominates the town, with the homage tower and a well still intact that you will love. Do not forget to try the olive oil produced there as well as the cosmetic products that the locals manufacture with this liquid oil. On the other hand, the vine has always been one of the most predominant crops, hence the name of the place "de las Bodegas" (winecellars) Drink a good glass of wine together with some local pork meat and enjoy this lovely town in Andalusia.
4. Grazalema (Cádiz)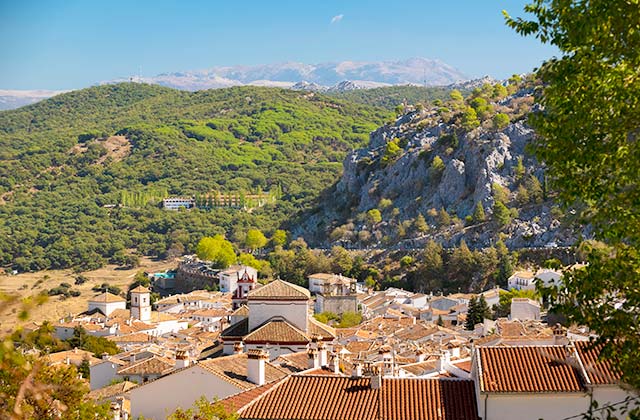 Grazalema is one of the most beautiful white villages in Andalusia, located in the mountain that bears its name. It is characterised by its rich nature, specially its Spanish firs, and local firs from the Cenozoic Era. This will give you the chance to carry out a great number of outdoor activities if you wish to. Trekking, bird watching, mycology sessions, etc. make up a long list of things you can do in the mountain. On the other hand, it would be a good opportunity for you to visit the town's historical centre, since it has been declared a cultural and historical heritage site, and it a god example of popular architecture with monumental richness. To complete the excursion you should try the exquisite payoyo cheese.
5. Zahara de la Sierra (Cadiz)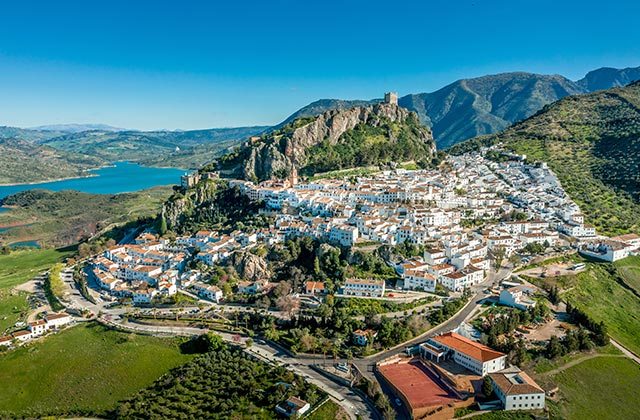 To many Zahara de la Sierra is the prettiest village in the province of Cadiz, mostly because of its settlement. In the highest area and dominating the town as happens with many medieval stories, a XIII-century castle stands out, with its remaining walls and its Arab style falling from the mountain with its shiny white coat. As far as gastronomy is concerned, it is important to remember this town is a great producer of olive oil. In this sense, you will be able to visit the oil mill at Oleum Viride to see the elaboration of this tasty mountain oil first-hand, as well as to try the different types of oil with a good slice of bread.
6. Fuenteheridos (Huelva)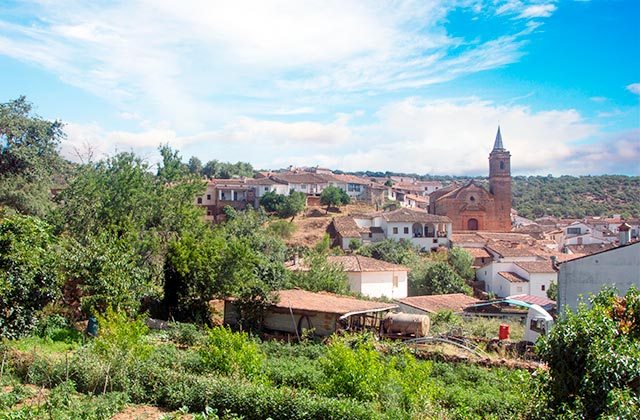 Fuenteheridos has narrow and steep streets, Arab heritage that forms a harmonious and cosy atmosphere, considered a Cultural Heritage site. The Espiritu Santo curch, Plaza del Cosa with its fountain Twelve Pipes and the farm "Villa Onuba" with its own botanical garden are specially interesting. Do not leave without trying the exquisite season mushrooms the local restaurants offer.
7. Alosno (Huelva)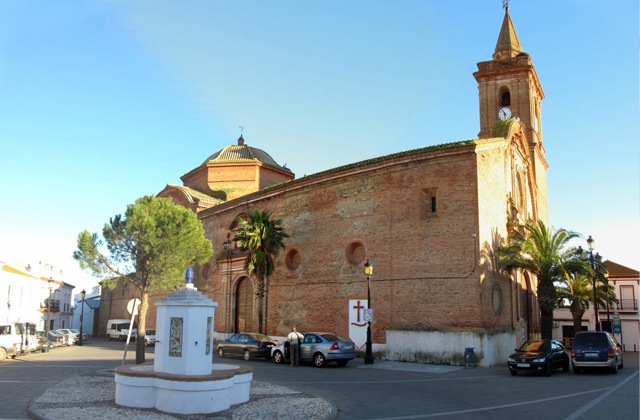 The white village of Huelva is very important, not because of its architecture or natural areas, but because of being the birthplace of fandango. This palo from flamenco is internationally known and one of the most popular singers, Paco Toronjo, was born in this area, which has paid tribute to him by placing a bust with some of his song lyrics reflected on tiles. Here you can also enjoy some tapas and specially try the pork meat, famous in the area.
8. Alájar (Huelva)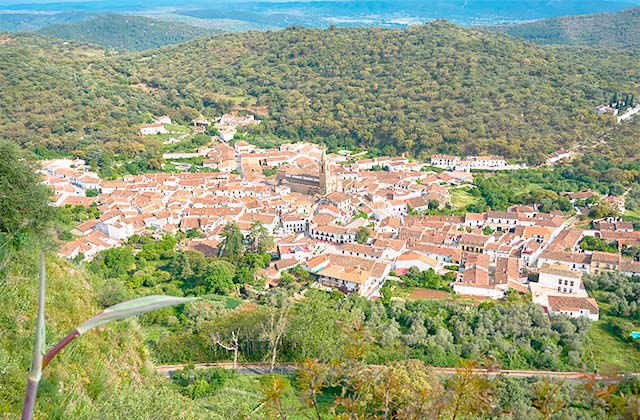 A spectacular settlement with white houses surround the impressive Natural Park Sierra de Aracena and Picos de Aroche, one of the most important protected areas in Andalusia, which occupies all the north part of the province with its meadows and small hills covered mainly by holm oaks and cork oaks. Here you can do some trekking and fill your lungs with pure air. You'll also find El Caserío, declared Historic and Artistic Heritage site, which is a settlement of quiet work-class houses and narrow streets, perfectly integrated to the landscape and dominated by a church with its tower, located in the slopes of Peña de Arias. From here you will enjoy an amazing panorama of the place.
9. El Rocío, Almonte (Huelva)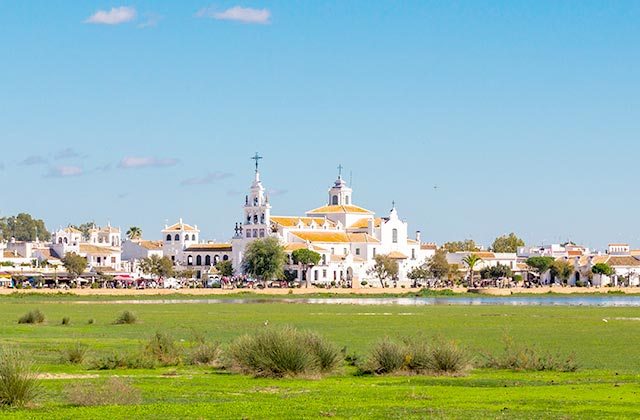 El Rocio is a town that belongs to the municipality of Almonte and it is located at the entrance of Doñana National Park. Surrounded by nature, it is internationally famous due to its annual celebration Rosemary Virgen del Rocío, the most important in the country, where hundreds of pilgrims go to the church every May to see the worshipped image. The Blanca Paloma Shrine stands out, a temple dedicated to the Virgen, with a colonial style, which contrasts with the rest of the white houses. It is quite small but you should visit it, since on the sand that paves the way, the foundations of Andalusian passion and folklore are forged.
10. El Rompido, Cartaya (Huelva)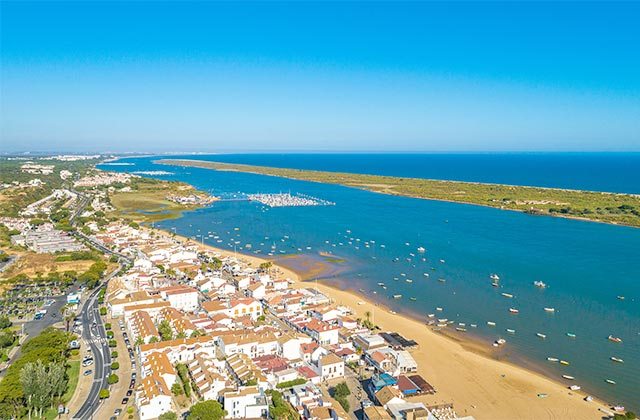 Born as a small settlement of fishermen on the mouth of the Piedras river, El Rompido is a marine neighbourhood with two lighthouses (one of them from the nineteenth century) belonging to the official limit of Cartaya. Here you will be able to dive into a very typically Andalusian setting and enjoy, above all, the combination of beautiful white houses and unique beaches. There is no better place to wonder and relax than El Rompido beach. The wild vegetation, dunes and pine trees surrounding the beach make it a dreamy setting to seek peace and tranquillity. One of the distinctive features of this coast is known as Flecha de El Rompido, a singular sand formation that opens towards the Atlantic Ocean in the shape of a tongue from an untouched beach you can access by boat. Do not forget to try the tasty prawns or spawns of Huelva.
The charm of the Málaga interior: the 22 prettiest towns in the province
Villages in Cadiz with a special charm
Huelva: 15 beautiful villages with a special charm
WHERE TO STAY
Fuerte Hoteles is always the best option to stay in Andalusia, visit its cities and rest. The chain has places where you can, in addition to its services, enjoy the best of each part of the region. With more than 60 years experience, Fuerte Hoteles is the best starting point of your perfect trip or journey. Fuerte Conil and Fuerte El Rompido are two of these exceptional hotels, where you can stay while you visit the white villages Route to the east of Andalusia. However, if you prefer to enjoy the rural charm, Fuerte Grazalema is your hotel, located in the middle of a natural park with a fantastic outdoor swimming-pool.