Churros, the most traditional recipe in Andalucia
What traveller visiting the south of Spain has not ever wondered where to eat churros with chocolate? And it has always been said that there is nothing more native than a good and warm cup of chocolate with a good jelly bean "pá mojarlos". Sugary, with cinnamon, stuffed or with chocolate, churros are one of the favourite products of those who visit this land, so many wonder where to eat churros in Andalucia. And although its demand decreases in the summer months, during the winter and on dates such as Easter or Christmas are the star products of coffee shops, there are many places to eat churros in Malaga, Marbella, Ronda or Cádiz. And they are so common that from the early hours of the morning, we can see people on the way to a churrería to taste this delicacy accompanied by the first coffee of the day.
If you decide to give yourself a vacation in these lands do not forget to start the morning with energy and try one of their most traditional products.
The History of Churros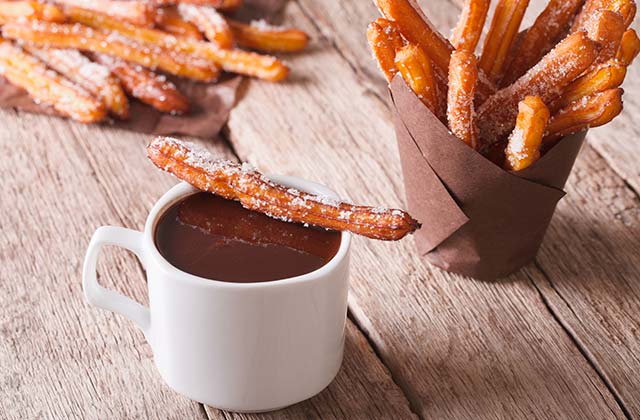 Churros are a dough based on wheat flour cooked in oil and is sometimes called a 'fruit of the frying pan". Its origin dates back to the days of Al-Andalus although during the Christian Reconquista of the Arabs, they were adopted into their Catholic culture. The pastors of the time and over the years became addicted to this "fruit of the frying pan" as they were easy to prepare and had the advantage of eating them when it was cold as they grazed their flocks of Churra sheep, hence the name adopted by this product: churros.
This union of cultures also created the famous "hot chocolate with churros". After the Spanish Reconquista and the discovery of America, products began to arrive from the New World including cocoa. Gradually, liquid chocolate, flavoured with sugar and cinnamon, became a favourite drink, first in secret by the ladies of the Spanish royalty and then publicly in European high society. In Andalucia, this exotic blend of Arab churros with American chocolate was a sign of distinction in the seventeenth century.
Finally, in the late eighteenth century, cocoa arrived into the hands of the people and churros came to the cities from the suburbs which were first marketed in carnivals. Currently this product can be eaten in any churrería or breakfast bar in southern Spain although they are  widespread in other parts of Spain and other countries.
Churro Recipes
As with all cooked foods, new features and specialties are added over time which enrich the products even further. This has happened to churros which already have a wide variety of recipes. If you travel to Andalucia for a few days, try all options at your disposal.
Each churro is a dough consisting of flour, water, sugar and salt which is introduced into an apparatus similar to a pastry bag where it is pushed out by extrusion into cylindrical strips the thickness of a finger. They are fried in oil and then, sometimes, coated in sugar or bathed in chocolate.
There are many other varieties, not only sweet and salty but when it comes to cooking them. The churros can be made into rolls, loops or thicker. The first type are the most popular in Andalucia. The end result is a little wider. The churrero drops the dough into the oil and uses some pincers to form it into a wheel. It is tradition for one family member to go to the churrería to buy a wheel for breakfast together at home on Sundays.
The thicker ones – porras – are also a very Andalucian element that require a variation on the traditional recipe. The dough is left to sit and has a higher proportion of flour, leaving the churros with a thicker rounded shape. Another recipe is churros in a loop, though this is more popular in Madrid than in southern Spain. In any case, don't leave without trying them, especially dipped in hot chocolate.
International Churros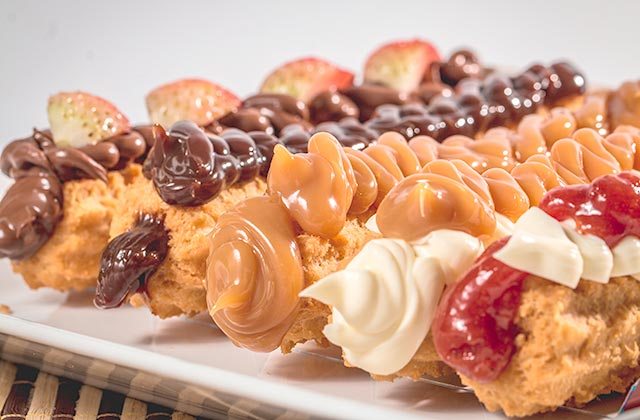 Despite its simplicity, the recipe for churros is well praised. Since its origins, they have been often consumed and exported. In colonial times, these delicacies crossed the pond and settled in countries such as Mexico, Chile, Argentina, Venezuela and Cuba, among others. But Europe wasn't to be left behind and this Spanish delicacy is now spreading through its most emblematic cities like London, Paris or Berlin.
But there are certainly some curious "adjustments" that some countries have made to our churros. In Australia, for example, they are accompanied by tomato sauce, avocado or scrambled eggs and in Japan they are eaten with cheddar cheese.
The Americans also didn't want to miss out on this Spanish recipe but, equally, have made some changes and innovations coupled to the American palate. There we can find churros stuffed with vanilla, mango cream, pistachios, breaded with coconut or Turkish hazelnuts. This universe has opened internationally but its birthplace and its essential flavour are stil found in southern Spain.
Curious facts about churros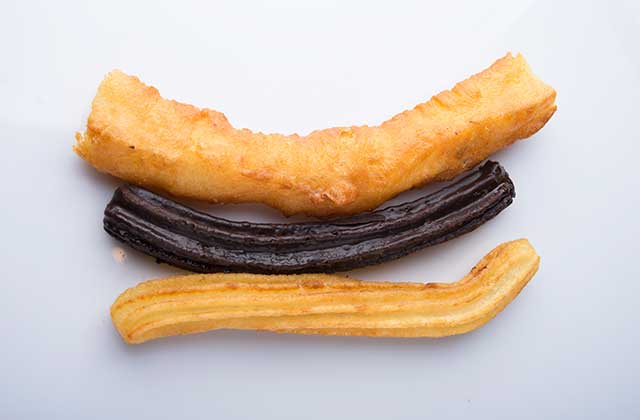 The origin of the churro
This product does not have a clear origin, what is certain is that the country where they became more important was in Spain. Some say it was from China, where some Portuguese merchants tasted the youtiao, which is a kind of fried dough that was eaten at breakfast. However according to other sources they would be introduced by the Arabs as a variant of the so-called zalabiyya (buñuelos).
In any case, the reality is that they are delicious and we thank who introduced it to our country because it gave us the opportunity to delight us with a whole delicacy.
Churros or porras?
The name churro comes from the shepherds who consumed so much this product, since the form that was obtained when cooking this was very similar to the horns of the churras sheep.
In the case of the porras, its name comes from its resemblance to leek, porrum in Latin.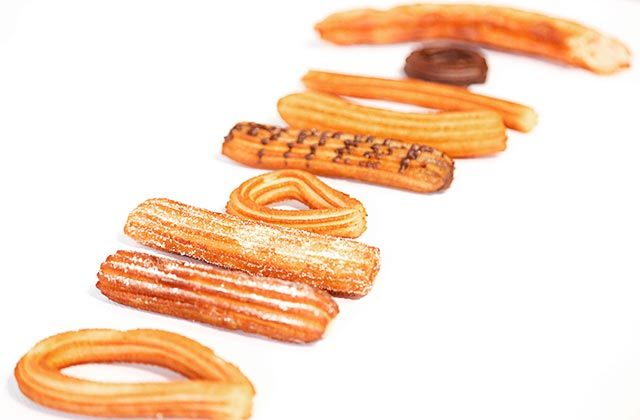 A salty churro?
In several regions of the world churros are not sweet, for example in Uruguay they are cooked salty and filled with cheese.
Explosive churros
Although the recipe for churros seems harmless, sometimes it may not be, because in a supplement of the newspaper La Tercera de Chile it was indicated that the churros filled with dulce de leche had to be fried with the oil at 250º. The result was that explosions were produced at such a temperature so strong that the splashes reached the ceiling.
Churrerías in Malaga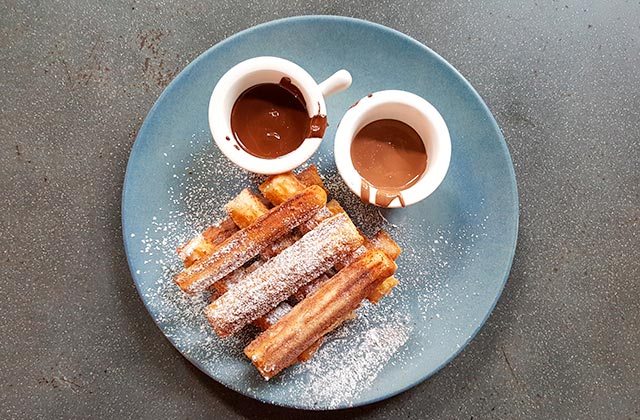 Casa Aranda, Málaga
Another example of a quality churrería is located in Malaga. Casa Aranda is the most famous and visited in the city, a unique site over 75 years old.
Street Herrería del Rey, 1 Málaga
Bar El Caracol, Málaga
Open from 5:30 to 14:00, this iconic bar serves the most authentic breakfast in Málaga. Many people say they have the best churros in the capital, not to mention their famous muffins.
 Street Cristo de la Epidemia, Málaga
La Malagueña, Malaga
Churros-lovers are fortuned because at the heart of the city of Malaga they will find a churrería which will take them to the 60s, when churros were made with a syringe and served in bunches. This churrería based its product in local products because they want to retrieve the roots and defend the most native traditions.
Calle Sebastián Souvirón, 6, 29005 Málaga
Churrería Migui, Malaga
This churrería is located in the neighbourhood of Palo. It is a familiar churrería where to eat churros in Malaga. Here, Miguel Rodríguez continues with the business his father founded in 1956. They place a special emphasis in the use of clean and good oils, the production of their chocolate is not far behind, where they use the brand Santa Maria, a chocolate from Malaga.
Calle Almería, 5, 29018 Málaga
Churrerías in Ronda

Juan Alba, Ronda
If you travel to Andalucia we offer a list of churrerías that will give you the best impression. In Ronda, John Alba churros are what take the cake. Excursions full of tourists come to this point to dip their churros in hot chocolate in the establishment of this type in Tajo.
Street Espinel no. 44, Ronda (Málaga)
Cafetería-Churrería Naranja
In this coffee shop you can enjoy some traditional and homemade churros both the wheel-shaped churro and potato churro, which are called "madrileños", special mention in Orange has "chocolate bombs" that you can choose or filled with nutella or white chocolate. Awesome, you're going to suck your fingers.
Calle Santo Domingo Savio, N° 7
Churrerías in Nerja

Bar Las Cuatro Esquinas, Nerja
Another option is to eat good churros hotcakes is in Nerja, in the Bar las Cuatro Esquinas. A small local but extremely well loved and famous in the city.
Calle de la Pintada, 53, Nerja
Churrería La Rambla, Nerja
La Rambla is one of those neighbourhood cafes that is always full, its interior is comfortable, quite wide, and with a friendly and attentive staff. It is located in Almeria Street, practically in the heart of the city.
They place a special emphasis in the use of clean and good oils, the production of their chocolate is not far behind, where they use the brand Santa Maria, a chocolate from Malaga.
Calle Almería, 29780 Nerja, Málaga
Churrerías in Marbella

Churrería Ramón, Marbella
Plaza de los Naranjos (Marbella) 
Churrería Ramon has become a 'must' in Marbella with crispy roscas in the historic centre of the city (their secret lies in the dough). This place is also famous for its natural juices.
Churrería Marbella, Marbella
This place is a must for anyone that comes to visit the old town of Marbella. Sitting on its terrace and enjoy their exquisite batons along with a cup of chocolate will delight the entire family. It's a great spot where to eat churros in Marbella.
Plaza África y plaza de la victoria, 29601 Marbella
Churrerías in Cadiz

La Guapa, Cádiz
Cádiz holds some of the best churros in the world. The "La Guapa" stand was founded in the late nineteenth century at the side of the Supply Market. Don't miss it if you travel through the province.
Plaza de la Libertad or del Mercado de Abastos, stand number 1, outside, Cádiz
Churrería El puesto de Ana, Cadiz
If you don't know where to eat churros in Cadiz this is one of the most popular churros spots in the market. In fact, two spots, each one managed by one of the brothers. Both make the so-called fat or pope churros (with a lighter and puffier dough, very hard to find in the province) and the thin, which are the most common. Manuel is one of the few churros makers that still puts the dough into the fryer in the traditional way by pressing the baking mould on his chest.
Plaza Libertad, S/N, 11002 Cádiz
Churrerías in Conil

Churrería La Chana, Conil
Eating churros in this Conil churrería is a pleasure, not coincidentally it exists since 1940. A peculiarity of this place is that they only and exclusively have churros, no coffee or chocolate, nothing, only the best churros that you are going to try. However, you can enjoy them in the bar which is right beside it since they have a tacit agreement where you buy their churros and they serve whatever you want to accompany them.
Calle Pascual Junquera, 5, 11140 Conil de la Frontera, Cádiz
Churerría Juan Luna
Juan Luna's churros are very appreciated since they are made with olive oil, so it is not unusual to have to wait in line to buy them, as well as to consume them right there. They are also made daily and traditional style.
Calle Solera, 1
Wherever you go in Andalucia, you will find good churros. Don't hesitate: dip these peerless delicacies in your hot chocolate.
Breakfasts in Andalucia, the healthiest way to start each morning
WHERE TO STAY
Fuerte Hoteles are always the best place to stay in Andalucia, see its cities and taste the best churros on the planet. The chain has hotels where you can, in addition to their services, enjoy the best of each area in the region. Its more than 60 years' experience are the best guarantee and an exceptional starting point for each experience you want to undertake in the region.