Restaurants in Marbella Old Town
'Conmpasion,' 'La Niña del pisto,' 'El Estrecho' and 'Altamirano' are just some names of bars and restaurants in Marbella Old Town that, while not on the lists of haute cuisine restaurants in Marbella, are enclaves where traditional cuisine reconnects with the most authentic of the Malagan people. There you will find this concentration of places where fried fish, stews, skewers and sandwiches are embellished.
Places where you can occasionally see chefs of the stature of Dani García or Diego del Río, or magnates, aristocrats, royals, elite sportsmen and women, celebrities, etc…, since they know and recognize how well you can eat at local bars and if you also decide to go to Marbella Old Town, this becomes an unforgettable experience.
Entre Limones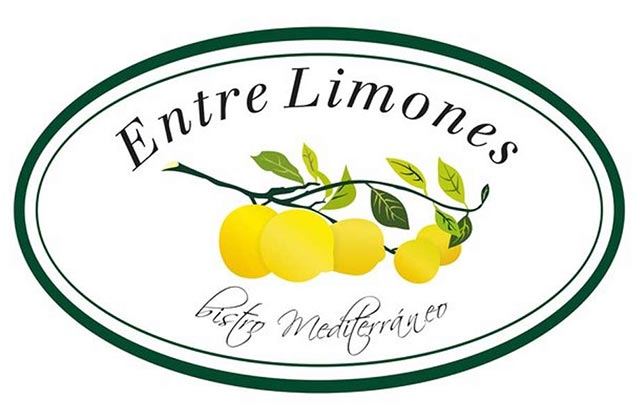 At Entre Limones you will find fresh, tasty and very creative dishes. The best thing about this Marbella restaurant is the amazing combination of flavours. Dare to delight in its traditional market cuisine with international notes. You won't regret it.
Conmpasion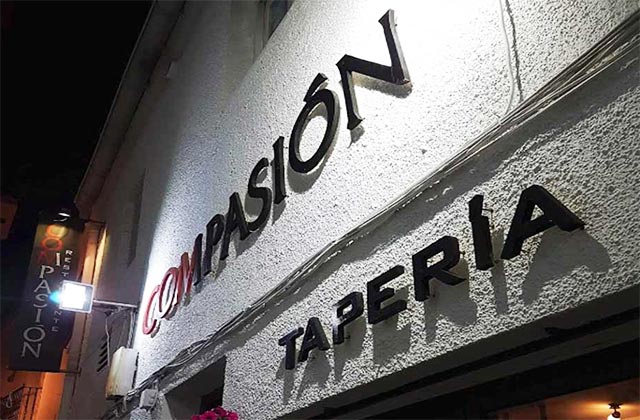 Conmpasión Restaurant and Tapas offers typically Andalusian dishes and tapas (fried fish, skewers, Olivier salad, tossed tomatoes, etc…) in a traditional and relaxing setting. Although its menu is not particulary wide-ranging, all its produce is fresh and high quality. It is also worth pointing out its pleasant service.
La Niña del Pisto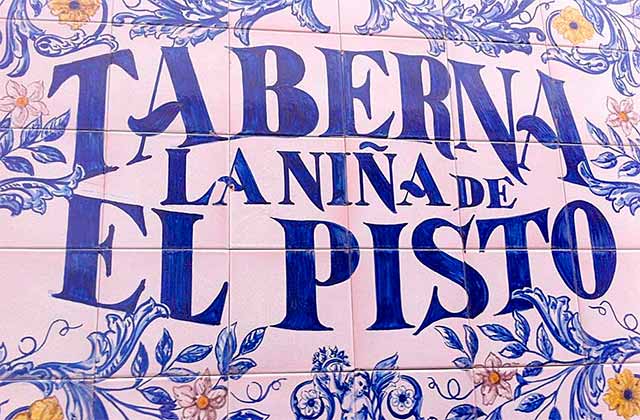 This tavern is one of the most original restaurants on the entire Costa del Sol. It is decorated in traditional Córdoba style and its gastronomic proposal is based on offering traditional Mediterranean dishes, so you can be sure of whatever you choose.
El Estrecho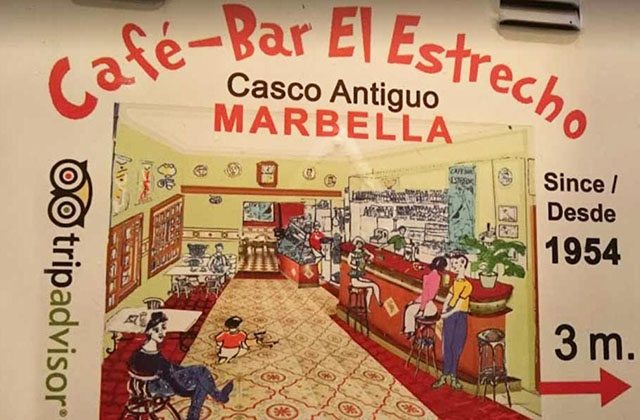 This restaurant is a temple dedicated to Mediterranean cuisine and its numerous proposals include traditional anchovies marinated in vinegar, moules marinières, homemade meatballs, octopus salad, tripe with chickpeas, sardines with lemon, seafood salad, pil-pil king prawns and the famous fried fish.
Zozoi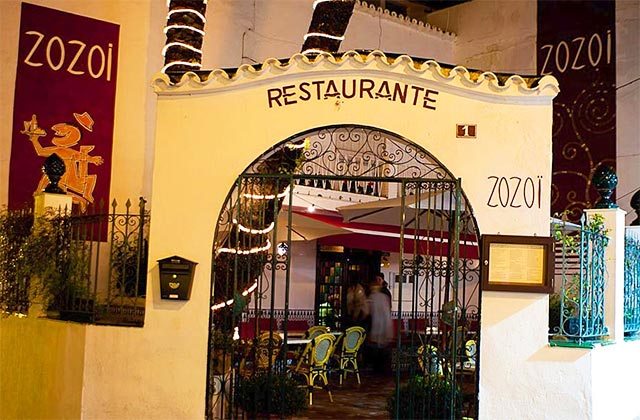 Zozoi is a restaurant that fuses 0 mile seasonal produce with the creativity of its chef. Its culinary proposal is filled with risottos and tasty pizzas. It has to be said that its decor is the most colourful and it probably has one of the terraces with the most privileged view of the whole of Marbella.
Stuzzikini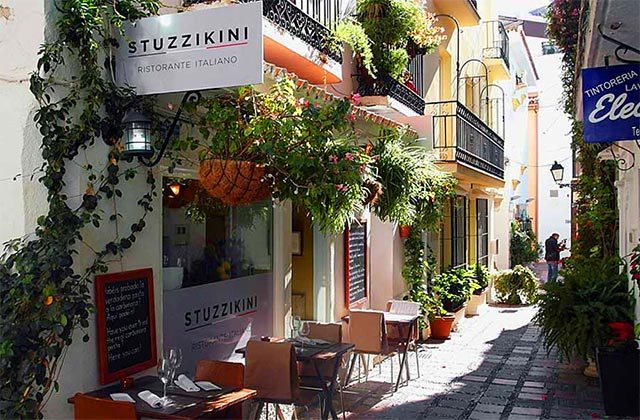 At this restaurant, you can enjoy traditional Cerdeña gastronomy. Its menu includes dishes such as focaccia, fregula sarda, homemade pizza and caponata, although bear in mind that there are new and delicious recipes each week. So, let yourself be transported to deepest Italy.
Casa Curro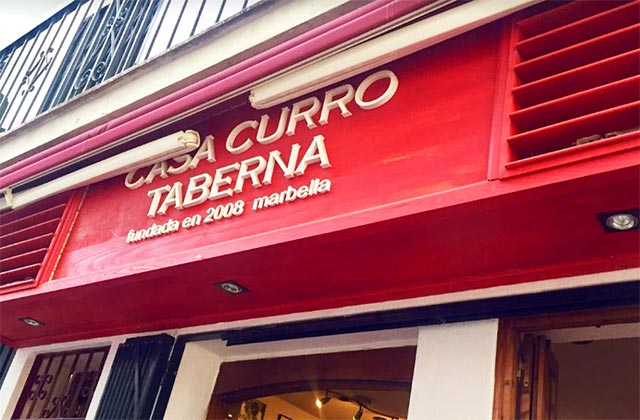 This tavern is a small bar that, while hidden away on Calle Pantaleón, is very famous, so it is always lively and also offers all kinds of tapas at a price that is very hard to beat, not to mention its very pleasant service.
El Patio De Mariscal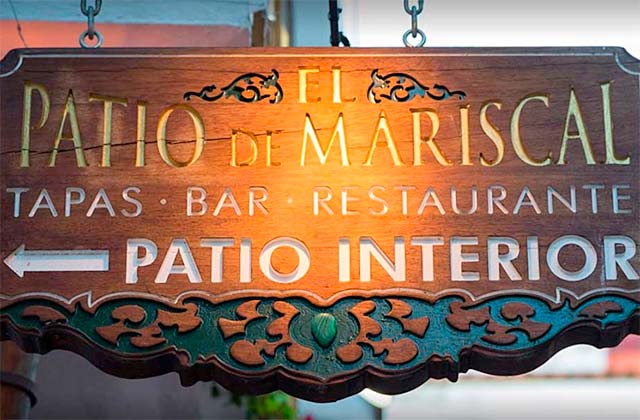 El Patio de Mariscal is a restaurant where you can savour the best Mediterranean cuisine in a privileged place, a traditional Andalusian courtyard that is over 200 years old. We recommend you try its delicious seafood cocktail, fresh salads, Andalusian gazpacho or fried fish Malaga style, and continue with a stuffed tiger mussels tapa or some pil-pil prawns.
The Orange Tree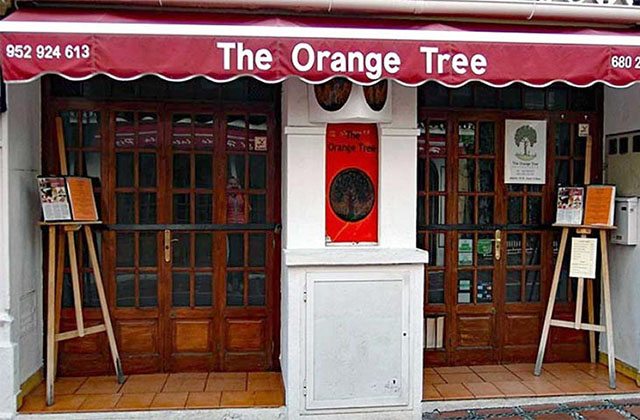 This restaurant is located near the emblematic Plaza de Los Naranjos. Its menu is based on the use of seasonal produce to prepare traditional Mediterranean dishes (salads, seafood and fish and delicious meats), but inspired by international cuisine. Here you will enjoy a unique gastronomic experience with all your senses.
Casanis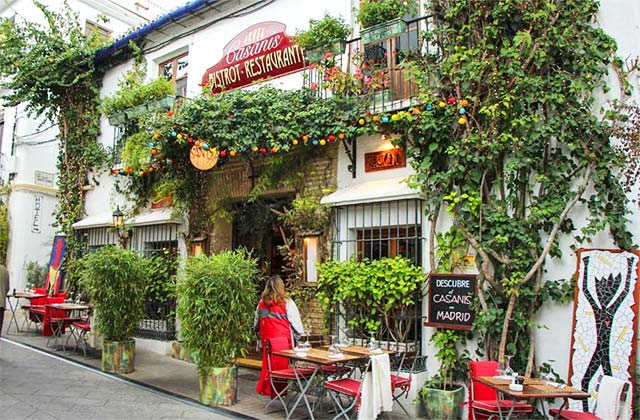 This is a cool gastrobar that fuses traditional gastronomy with the most innovative culinary techniques, so you can indulge in some truly original flavours.
Skina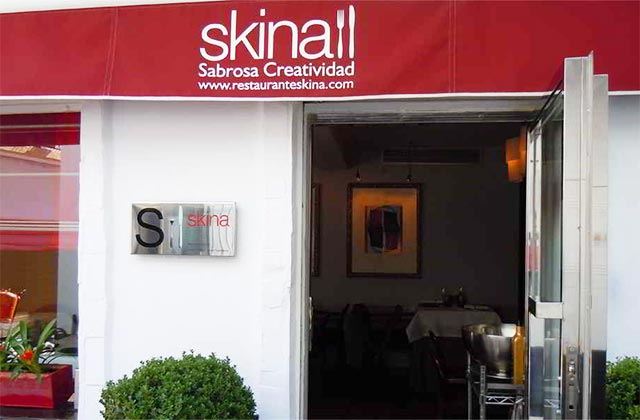 Skina is a restaurant that can boast that it has had a Michelin star since 2008. Its menu fuses the most traditional Mediterranean cuisine with the most creative gastronomy. Although it is a relatively small restaurant, it is very cosy, so we recommend booking a table in advance.
Altamirano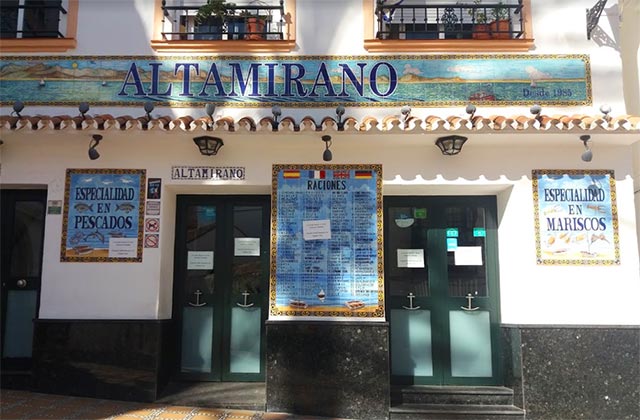 This restaurant is a real institution among Marbella's fish and seafood restaurants. Bar Altamirano has, for over 25 years, been offering tapas and dishes featuring fresh fish brought from Bajadilla fishing port. Its menu offers traditional Malagan dishes, such as fried fish, and its price is unbeatable based on the quality it offers. We also recommend you book a table, or go early.
Casa tua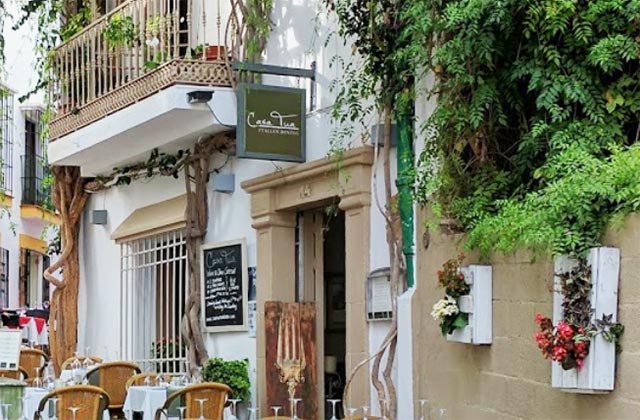 Casa Tua offers Italian style cuisine with fresh seasonal produce. Its fresh pasta, select meats and fish and seafood will delight the most discerning palates. Special mention must be made of its menu that includes some specialities, such as ravioli of the day, fagottini di bresaola and its exquisite black rice risotto. You won't regret it.
Témpora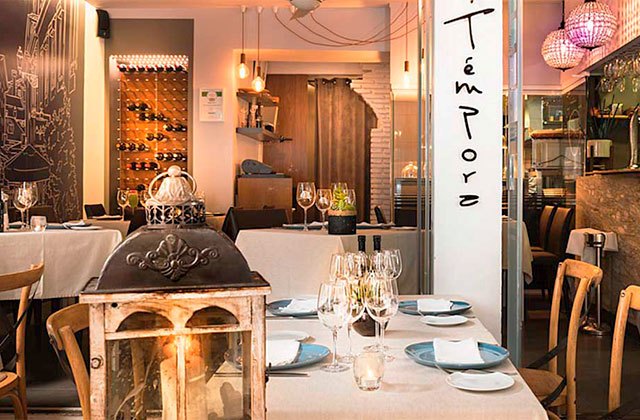 Located in the historic center of Marbella, Témpora offers a creative and international gastronomic proposal that uses local ingredients. The friendly and efficient service complements the romantic and cozy atmosphere, making it the perfect spot for a pleasant and intimate dinner. Here, you can savor dishes fused with high-quality ingredients and seasonal gourmet recipes from different countries.
Marbella Patio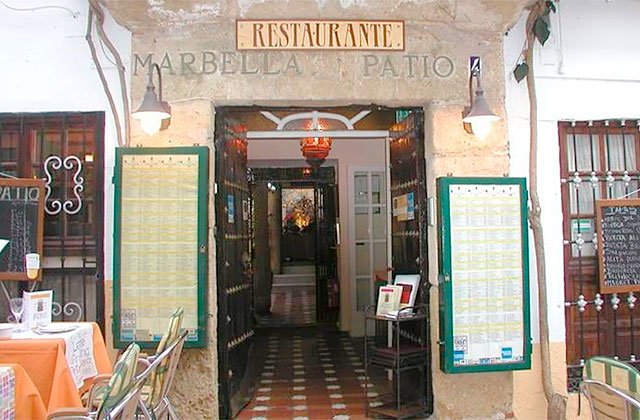 Right next to the castle wall, Marbella Patio specializes in mixing delicious Andalusian cuisine with innovative touches, all prepared with the highest quality ingredients. In addition to exquisite food, you will enjoy a warm and welcoming atmosphere. You will also find options for any type of diner, including those who prefer gluten-free or vegetarian options.
El Balcón de la Virgen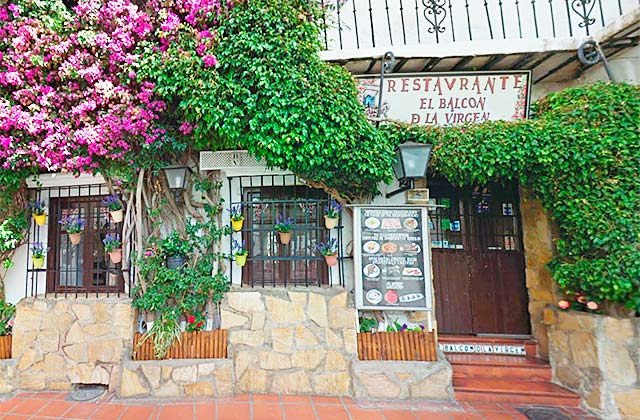 For those seeking an intimate atmosphere and delicious food, El Balcón de la Virgen is the perfect restaurant. Their continental menu offers a variety of dishes, but their specialty is grilled meats. You also cannot miss out on their fresh fish from the Costa del Sol. We guarantee that you will love it!
The Farm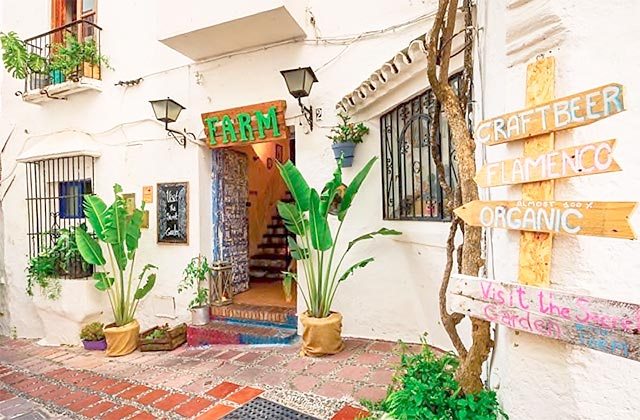 The Farm uses local, fresh, and seasonal ingredients to create a unique culinary experience. Their philosophy is "slow food," km "0," organic, with a focus on creating a cozy and vibrant environment to enjoy life's most pleasant moments.
Il Tartufo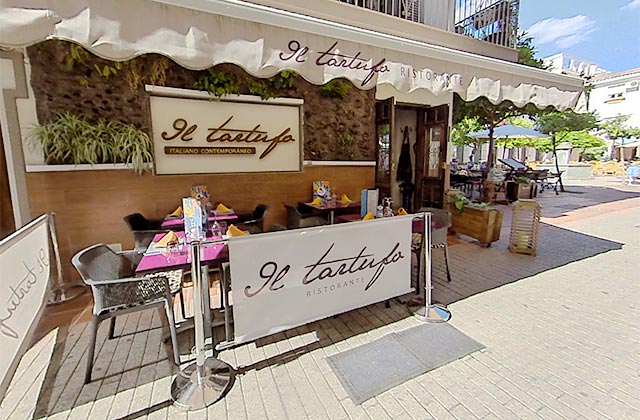 At Il Tartufo, you can enjoy a unique experience where the best of Andalusia fuses with delicious Italian cuisine. Their gastronomic offering will take you on a journey of the most exquisite dishes made with fresh and high-quality ingredients, such as risottos, fresh pasta, delicious starters, meats, and fish. Their star dish is the white truffle, which you simply cannot miss out on.
The 18 Michelin Star restaurants in Andalucia
Where to eat? essential beach bars, restaurants and terraces for this summer in Marbella and Estepona
Marbella and the Best Paellas of the Costa del Sol
WHERE TO STAY
If you decide to come to Marbella do not hesitate in staying in Fuerte Hoteles. El Fuerte Marbella a historic establishment on the Costa del Sol, now transformed to 5 stars, is the Marbella hotel that best combines casual luxury, an exclusive and welcoming atmosphere and the sheer comfort offered by its location on the city centre's beachfront, which offers stunning sea views right across Marbella's seafront promenade.