The 14 Michelin Star restaurants in Andalucia
There are more and more Michelin star restaurants in Andalucia; the result of chefs trained in haute cuisine. Professionals who perfectly combine the best of tradition and gastronomic innovation.
Obtaining a Michelin star is no easy task. There are many requirements to get one. The design of the dishes, their presentation, the flavours, the textures, good service, suitable premises… and the best produce on the market. Everything counts when it comes to becoming a Michelin star restaurant.
The Michelin star restaurants in Andalucia offer us a wide range of fine dining, and each one has its own philosophy. They research old and new products, rework traditional recipes, and invent new flavours and textures. The aim is for their patrons to have a multisensory experience; for their appetite to be satisfied by good taste, delicacy and flavours that enter through all the senses.
Here is the list of the 14 Michelin star restaurants in Andalucia:
1. Restaurant Dani Garcia with chef Dani García, Marbella (Málaga)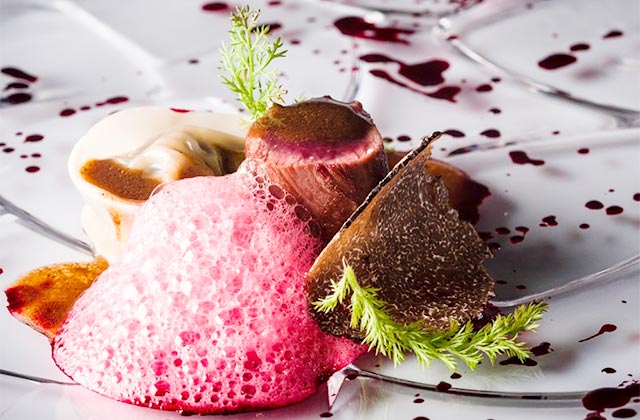 The intimate decor with floral motifs creates an elegant atmosphere mixed with the fantasy of Alice in Wonderland in this Marbella restaurant. "Once Upon A Time" is the name of the menu with both new dishes and updated classics by chef Dani García, blending Andalucian tradition and current trends. You can try its famous cherry gazpacho, Málaga suckling goat, gazpachuelo with whiting and sea snails, ajogazpacho with crab and cochifrito, among other delicacies. If you prefer to experience a variety of tastes, you can opt for the tasting menu which includes the chef's new dishes for 2014 where the finest palates can try stew with mint and caviar, Motril shrimp, citric gazpachuelo with cauliflower and sea snails, and a "non-birthday" cake to put the finishing touch to an unforgettable evening.
Puente Romano Beach Resort, Marbella
Bulevar Príncipe Alfonso von Hohenlohe, no number, 29602 Marbella.
2. Restaurant Abantal with chef Julio Fernandez, Seville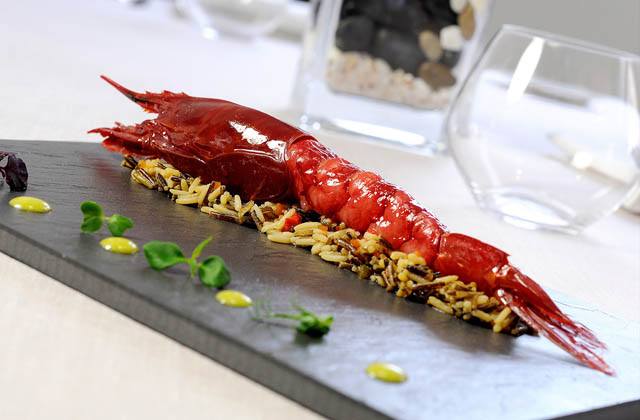 In the beautiful city of Seville is the restaurant Abantal, a minimalist modern space made with cold materials, such as granite and steel, in combination with warm and noble ones, such as oak, all of which makes this a lovely place to be. But the really important place is the kitchen under the management of chef Julio Fernandez which mixes traditional ingredients with other more daring ones, evoking sensory Arabic experiences. If you come here, you can try the Iberian pork and acorn salad marinated with cherries, walnuts and raisins, or carpaccio of red tuna belly with roasted vegetable gazpacho and Xerez vinegar ice cream. Unusual Andalucian dishes which provide a tribute to your palate which you can round off with an exceptional dessert: foie yoghurt on peach compote.
C/ Alcalde José de la Bandera, no. 7 y 9
41003 Seville
3. Restaurant El Lago with chef Diego del Río, Marbella (Málaga)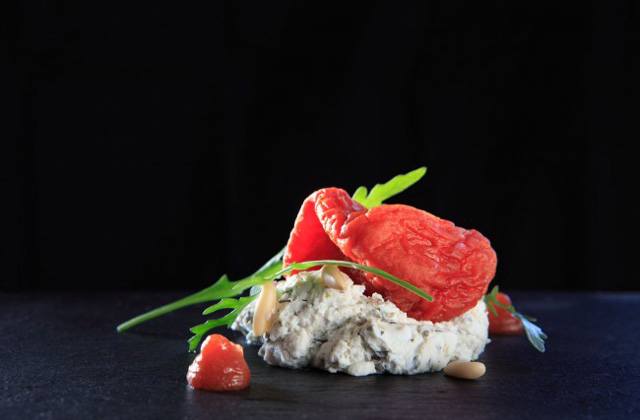 Under the guidance of chef Diego del Rio is the restaurant El Lago in Marbella which, in addition to the exquisite cuisine which has been awarded a Michelin star, boasts amazing views. Located in the area of Elviria, it is surrounded by a beautiful lake and golf course which are easy on the eye and clearly demonstrate the essence of the Costa del Sol. At night, lighting plays an important role in this delight for the senses. The kitchen continuously mixes Andalucian products where the most appropriate preparation technique is applied for each different texture and flavour. On this Michelin route we offer, we invite you to try the tuna tartar with ajoblanco de Kimchi and crisp apple and quinoa, as well as shoulder of suckling lamb, vegetable tabbouleh and soy and orange yoghurt. As for desserts, the selection of Andalucian cheeses will not disappoint.
Urb. Elviria Hills, Avda. Las Cumbres, no number, 29600 Marbella, Málaga
4. Restaurant Choco with chef Kisko García, Córdoba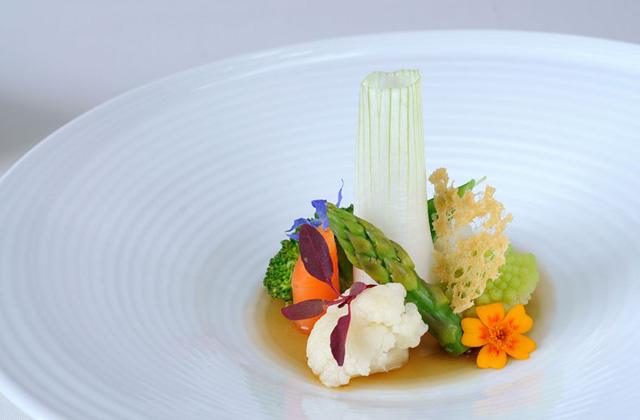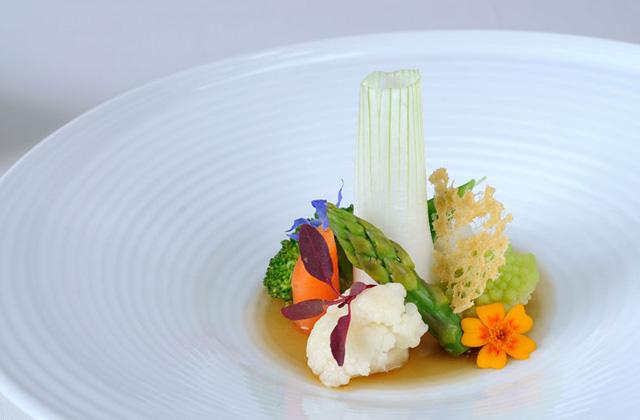 Kisko Garcia's technique is his restaurant Choco is based on highly-developed skill. The façade of the building is made of wood which gives it an atmosphere of warmth, and lets you imagine quite vividly the signature cuisine inside. The Cordoba spirit is reflected in dishes like local mazamorra with Huelva white shrimp and flying fish roe. Mazamorra is another Andalucian cold soup, a tradition in Córdoba, which differs from the local salmorejo as it has no tomato; it is made with bread, garlic, vinegar, oil and salt. The Iberian oyster with ham broth and Moroccan lemon is another dish that you can enjoy if you like seafood. This locale has its own workshop and they even make the bread consumed in the restaurant. A wise culinary choice if you decide to travel to the south of Spain.
C/ Compositor Serrano Lucena, 14, 14010 Córdoba 
5. Restaurant Jose Carlos García, Muelle Uno, in Port of Málaga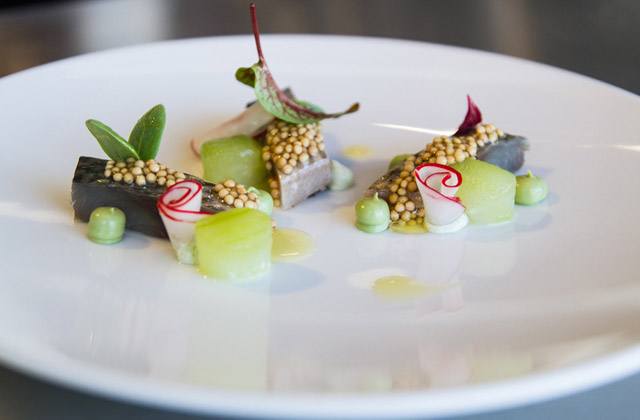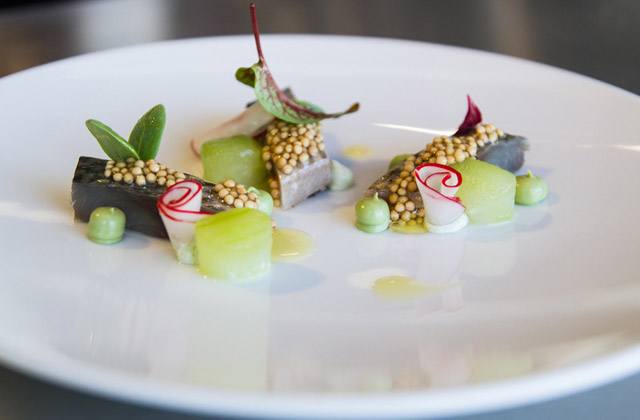 For chef José Carlos Gracía, good cooking runs in the family. Since childhood, he has used the cookers his parents used, and has managed to run his establishment with the essence of the traditional and the cutting edge of new techniques in the kitchen. An imaginative creative force constantly looking for new flavours with a restaurant nestled in the privileged port of Málaga overlooking the boats and the beautiful Mediterranean Sea. Feel free to stop by this place and give a treat to your palate. Do not miss the egg with potato foam and nuts, often recommended by the top food magazines.
Paseo de la Farola, 10, 29016 Málaga
6. Restaurant Skina with chefs Marcos Granda, Hideaki Yoshioka and Jaume Puigdengolas, Marbella (Málaga)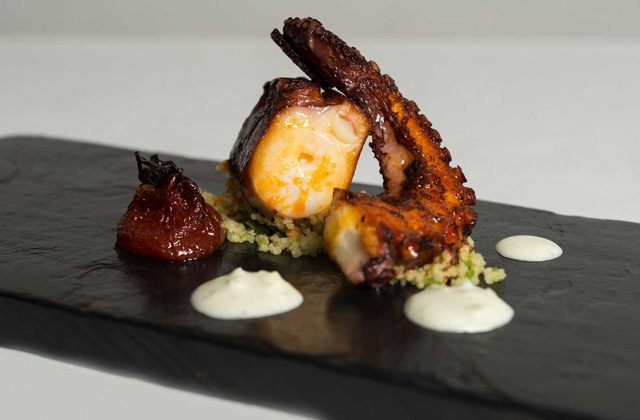 Also in Marbella is another Michelin star restaurant which is an genuine treat for the senses. It is Skina, under the management of chefs Marcos Granda, Hideaki Yoshioka and Jaume Puigdengolas. This establishment in the historic centre of the city has an intimate nature with room for only 14 diners. Its cuisine is based on a mixture of contrasts between Andalucian cuisine and the latest tastes. If you come to Marbella, eat at this restaurant and try its traditional Andalucian menu where you can enjoy, among other dishes, white Málaga garlic with white shrimp and figs, Málaga cuttlefish with dried rice, or the classic French toast with banana ice cream.
C/Adúar 12 – 29601 Marbella (Málaga)
7. Restaurant Aponiente with chef Ángel León, El Puerto de Santa María (Cádiz)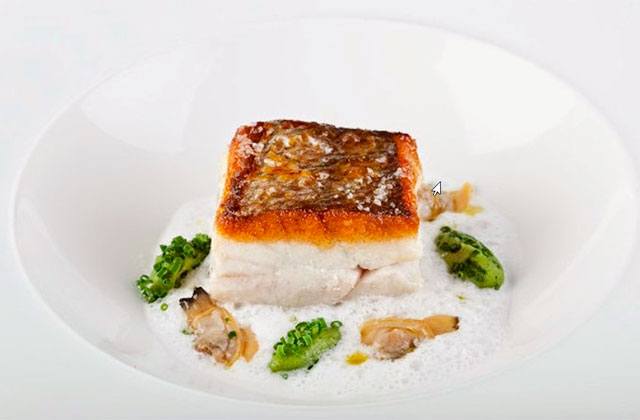 With an exquisite seaside decor and a paper boat symbolizing the "crew" in charge of the kitchen, chef Ángel León has dropped anchor in the Port of Santa Maria. Its salty cuisine brings the best of the sea to the table. We strongly recommend this very special enclave of fine dining where you can enjoy dishes such as clam marinara over breadcrumbs, mackerel cooked in its own fat or cheese and miso.
C/ Puerto Escondido nº6
11500 El Puerto de Santa María, Cádiz
8. Restaurant La Costa, El Ejido (Almería)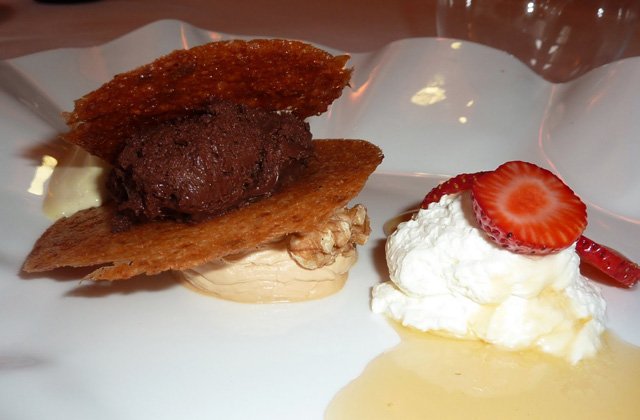 The restaurant La Costa in Almería has a large team of professionals. It includes three separate rooms. The tavern offers tapas, the informal dining area allows you to enjoy creative cuisine, and finally, the tasting room has a selection of popular dishes to try. Among the best-known recipes are the courgette millefeuille of El Ejido with foie gras, porcini and mi-cui or red prawn carpaccio from the Almeria coastline with extra virgin olive oil and olive pulp.
Avda. Bulevar de El Ejido 48
04700 El Ejido
9. Restaurant Alejandro, Roquetas de Mar (Almería)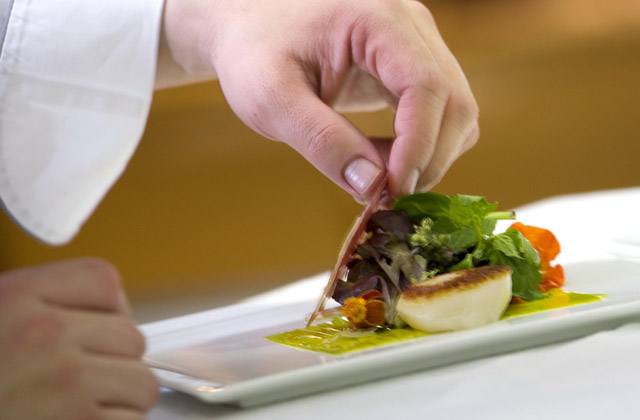 Known only by his first name, chef Alejandro is passionate about the sea and its products, offering simple cuisine based on respect for raw materials and the legacy of the traditional local cuisine. Fowl egg with sea anemones "en ajopollo", razor shells and roasted vegetables with a citrus glaze and migas de pastor or Bresse Pigeon pastilla with almonds are some recipes you can try on this unique route with Michelin star restaurants in Andalucia.
Avda. Antonio Machado, 32 04740 Puerto de Roquetas de Mar, Almería
10. Restaurante Kabuki Raw, Casares (Malaga)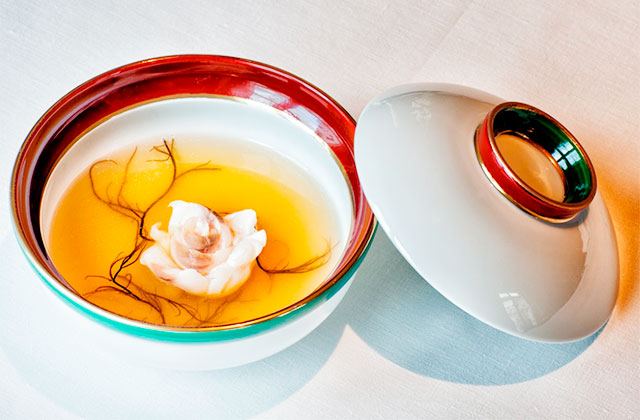 Kabuki Raw is another of the Michelin star restaurants in Andalucia. It belongs to the Kabuki Group and is located at Finca Cortesín, on carretera de Casares, between Marbella and Sotogrande. The first Michelin star was awarded to this restaurant in the 2015 edition of the famous guide, with another such distinction in 2017.
Among the red and black hues of the decor of Kabuki Raw, Chef Luis Olarra develops a fusion cuisine of traditional Malagan dishes and the classic orthodox Japanese dishes that are Kabuki's hallmark.
Carretera de Casares, Km 2.
29690 Casares, Malaga
11. Restaurante Noor, Cordoba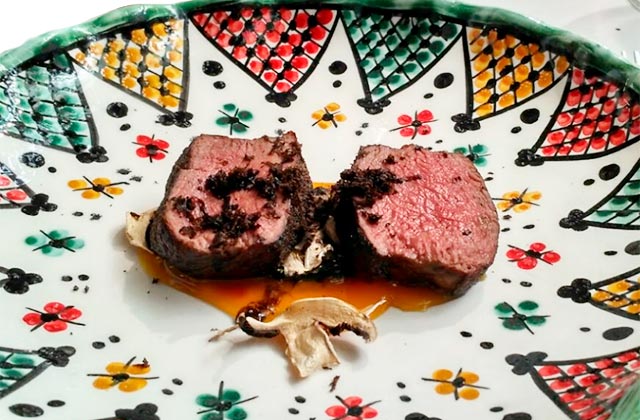 Noor is the personal project of the Cordoban chef Paco Morales. Its fusion between old Al-Andalus cuisine and innovation was essential to obtaining its first Michelin star in 2017. Paco Morales's philosophy at his restaurant is to recover and reinterpret Andalusí cuisine with a state-of-the-art vision and under the premise of haute cuisine. His aim is to offer patrons a full gastronomic experience by innovatively recreating the banquets of the Medina Azahara Palace in the 10th century. None of his proposals include dishes prepared with ingredients from after the discovery of America. Potatoes, peppers, tomatoes and chocolate are not on his menus.
C/ Pablo Ruiz Picasso, Nº8 Esquina pintor Muñoz Lucena
14014 Córdoba
12. Restaurante Sollo, Fuenguirola (Malaga)
This is the restaurant of Chef Diego Gallegos, also known as the "Caviar Chef." In addition to a Michelin star, he won the Chef Revelación Madrid Fusion 2015 award, putting him in with the best restaurants in Andalucia. His philosophy is that of an aquaculture-based sustainable cuisine. He has transformed caviar into a star product by recovering Andalucian sturgeon. He has reinvented traditional Andalucian cuisine by introducing freshwater fish and leaving out pork. He has created new concepts through the use of innovative processes. All his proposals are prepared with regional produce of the highest quality.
Urbanización Reserva del Higuerón. Av. del Higuerón, 48.
29640 Fuengirola, Malaga
13. Restaurante Messina, Marbella (Malaga)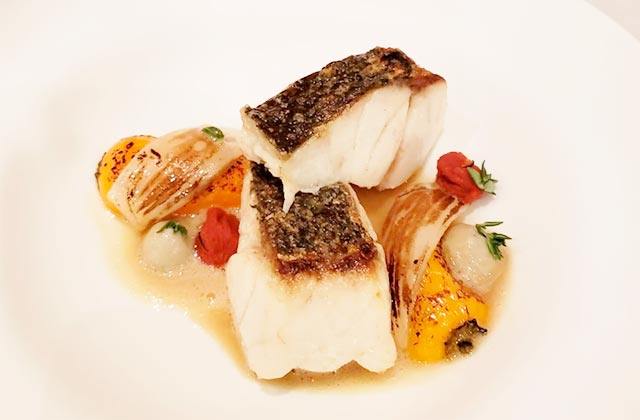 This is the restaurant of Mauricio Giovanini, an Argentine who opened his establishment in Marbella in 2003. He was awarded his first Michelin star in 2016 and obtained this prized distinction again in 2017. This chef's gastronomic proposals are characterised by their natural juices. Mauricio knows that the real flavour is in the liquid part of vegetables. His creations also stand out for their natural thickeners. He prepares them from dried fruit and nuts, and the collagen he extracts from fish and meat. This is how his own gelatines are created.
Restaurante Messina. Av. Severo Ochoa 12
29603 Marbella
14. Restaurante Acanthum, Huelva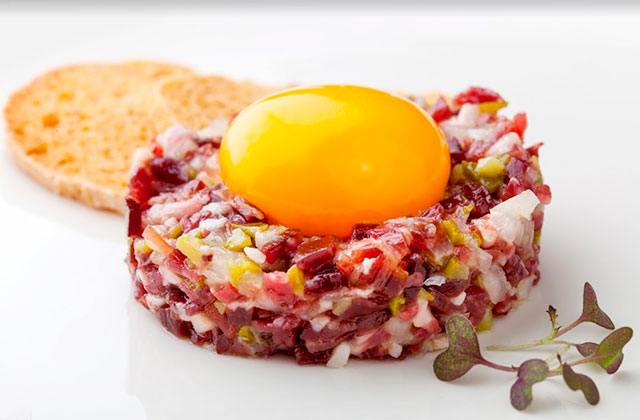 This is the restaurant of Chef Xanty Elías, an expert in and promotor of Huelvan gastronomy, who put Huelva in the Michelin guide. His gastronomic proposal is based on tradition and excellent Huelvan produce from the sea and the land. A 100% Huelvan creative cuisine. A wide range of flavours and textures. A fusion of multiple influences. Tradition, creative innovation and the best produce from the province of Huelva are his hallmarks.
C/ San Salvador, 17
21003 Huelva
ACCOMMODATION
Fuerte Hoteles is always the best option to stay in Andalucia, see its cities and taste the dishes in the best fine dining restaurants with Michelin stars. The chain has branches where you can enjoy the best of each area throughout the region, in addition to its services. With more than 50 years of experience, this is the best guarantee and the starting point for each experience except you want to undertake in the region.