Where to eat? essential beach bars, restaurants and terraces for this summer in Marbella and Estepona
Eating well on the Costa del Sol is a distinguishing feature. The beach bars in Estepona and beach restaurants in Marbella are without a doubt one more attraction offered by the Malagan coastline and it is a true pleasure to enjoy the Mediterranean diet in a privileged setting. Marbella and Estepona are clear examples of two Malagan cities that make the most of their gastronomic corners to delight locals and tourists. Seafood, meat, tapas, exotic foods, traditional dishes or international recipes can be found in both cities. We recommend some places where you can eat well in Marbella and Estepona. Be sure to take note and enjoy the menu offered by both the different beach restaurants in Estepona and the multiple beach bars in Marbella.
RESTAURANTS WITH TERRACE AND BEACH BARS IN MARBELLA
The beach bars in Marbella, thanks to their location, sophistication and savoir faire, are some of the best on the whole of the Costa del Sol. The beach restaurants in Marbella combine the best of a restaurant with the most inviting aspects of an establishment on the beach.
Here we can enjoy the best fish and seafood in the whole of the Mediterranean; they are an indulgence for the most exquisite palates.
Amàre Beach Club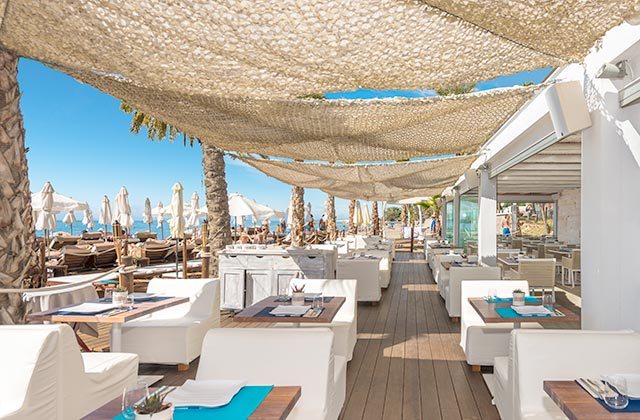 Amare Beach restaurant is the ideal place to spend both the morning and the afternoon. Here you can relax on one of the idyllic Balinese beds and order a range of items from a glass of champagne, one of its famous cocktails or one of the several beers from its international menu. You will also love its spectacular Mediterranean-inspired gastronomic proposal with an international touch, and let's not forget its gourmet starters.
Soleo Marbella

Soleo Marbella beach restaurant is a place where you can enjoy the best gastronomy. A menu of Mediterranean cuisine classics garnished with a contemporary spirit. Paella, ham, fish and meat, all accompanied by the best wines. This magnificent restaurant has a key peculiarity: the Mediterranean Sea is the main dining companion. If you want to try quality dishes while enjoying the sea breeze and Malagan sun, be sure to visit this place that will confirm the good reputation of Spanish cuisine.
Garnacha, Marbella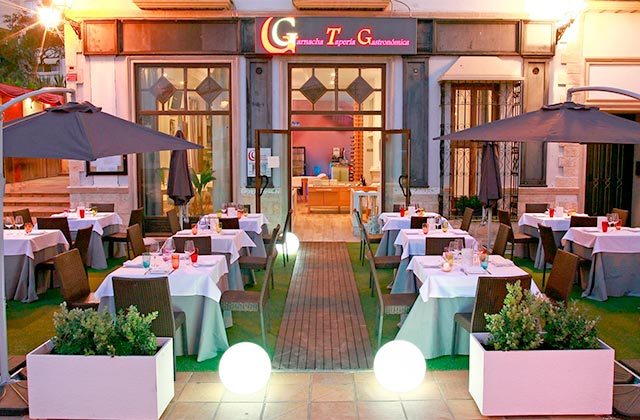 Garnacha is a small charming restaurant in Marbella. This place is one of the most highly rated by TripAdvisor users, and has the trust of Marbella's residents. The wine list is excellent, and you can taste a wide variety of meat dishes. The chestnut cake with rum cream is one of the most prominent pastry specialties. A simple space with capacity for a few people, so you can have intimacy while you give a treat to your palate.
Bodega San Bernabé, Marbella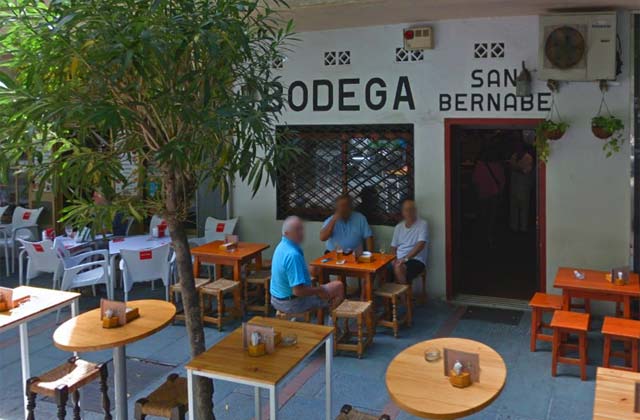 If you want to go out for "tapas", Bodega San Bernabé in Marbella is one of the best options. Ham legs and sausages hang from the ceiling in this delightful corner located in the city center. Its traditional tasca environment is one of its charms, together with the fine wine you can taste. A very recommendable option to try out the fine Spanish cold cuts.
La Sala Banus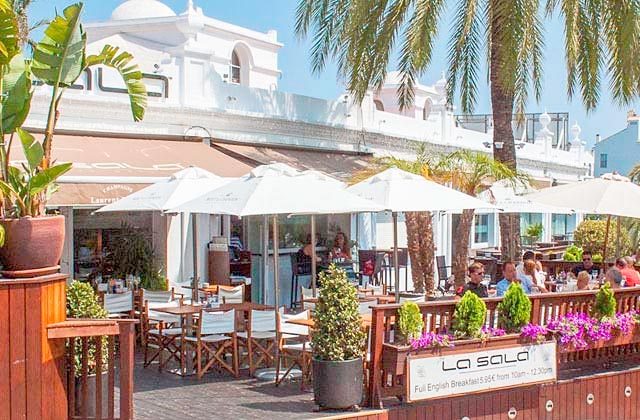 Sala Banús offers a social and gastronomic experience, both during the day and at night. You can enjoy its varied menu of international and Spanish dishes made with the highest quality ingredients. Whether you want to enjoy the outdoor terrace, have a quiet romantic meal, or enjoy a lively atmosphere, La Sala has it all.
The Beach House, Marbella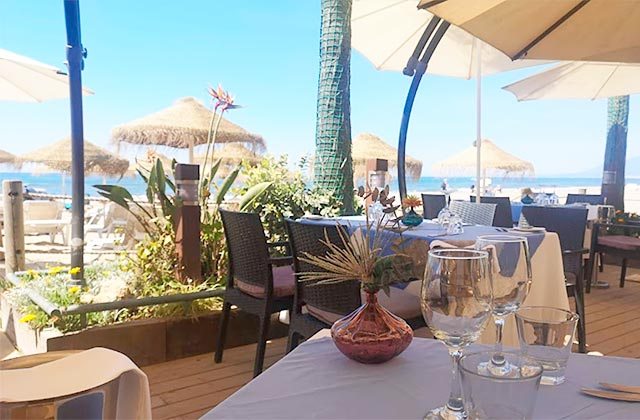 The Beach House is a beach restaurant and club located on one of the Marbella's best beaches, Real de Zaragoza.
As well as the exquisite food served in its restaurant, you can hire deckchairs and hammocks at the club. It also has showers and you can do water sports like rowing and kayaking.
Daytime live music concerts are organised at the weekend with some of the most talented music artists of the area.
The relaxed ambience makes this a great option for young families, groups of friends and couples who what to enjoy a romantic atmosphere.
Aquí Te Quiero Ver, Marbella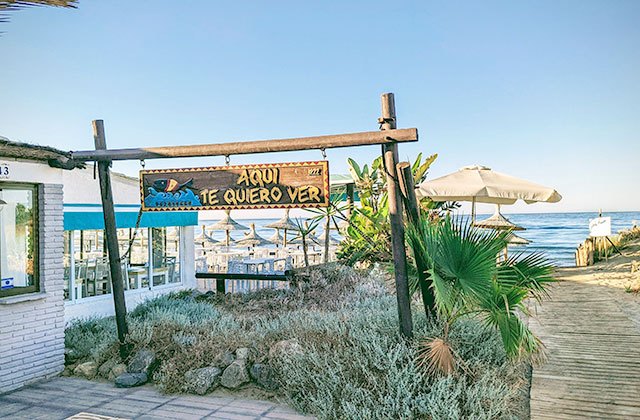 The Aquí Te Quiero Ver restaurant offers everything its diners expect from a chiringuito on Marbella's prettiest beach. It has private parking, disabled access, deckchairs, umbrellas, showers, etc. You will find a lovely Mediterranean restaurant, where you can enjoy the best fish and seafood delivered from the entire Andalusian coast. Be sure to visit!
Copacabana Restaurant, Marbella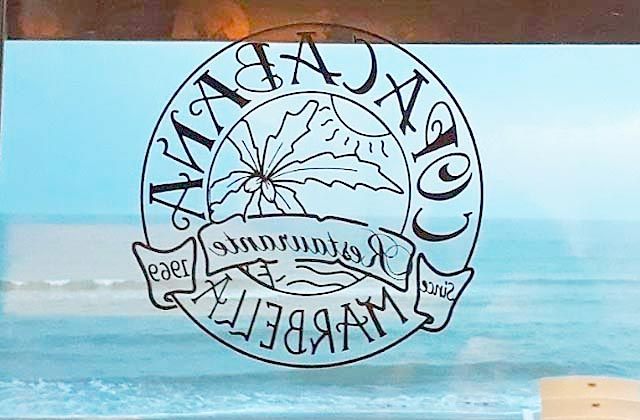 Copacabana Restaurant is located on the beach with an unspoilt view of the sea. This family business par excellence welcomes its Spanish and international clientele, who that enjoys its cuisine, whether it be on the terrace or in the indoor dining room. Copacabana Restaurant offers traditional Mediterranean cuisine which includes: hot and cold starters, salads; a wide range of small plates; fish; mixed paella; shrimp in garlic sauce; grilled sole and sole Meuniere; meats such as chicken cordon bleu and rabbit with garlic; salt fish to order; a variety of deserts; and an extensive Spanish and international list of white and rosé wines, cava and champagne.
Victor's Beach Club, Marbella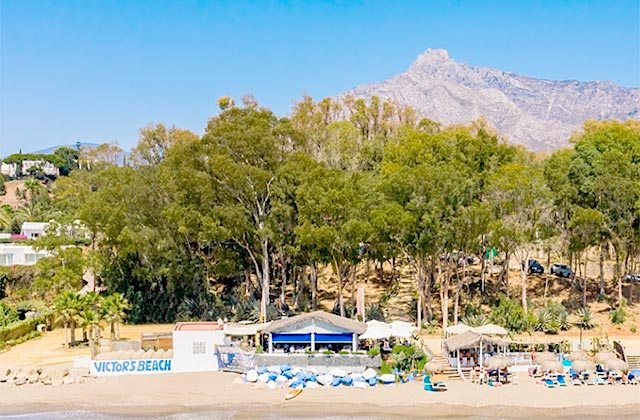 Victor's Beach is located on El Ancón Beach. The road to this beach is near the Rey Abdul Aziz Mosque, along the motorway linking the centre of Marbella with Puerto Banús.
It has a relaxed atmosphere and very good service. It's always full of Spanish and international diners and offers an extensive menu that includes fish and traditional grilled sardines, seafood and Afro-Caribbean cuisine prepared on the barbecue.
Bono Beach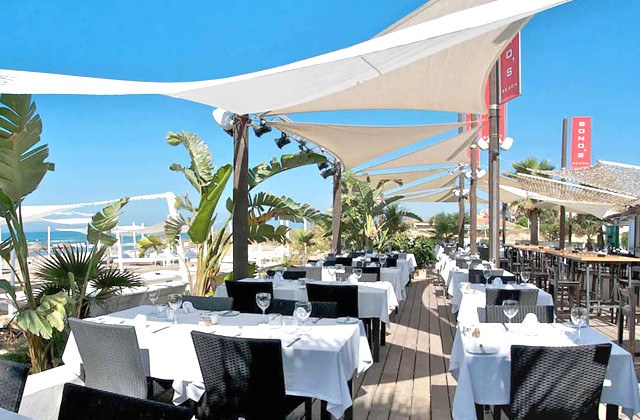 Bono Beach restaurant is an establishment located on Arenal Beach. Its tables, hammocks and Balinese beds await so that you can enjoy its international, refreshing and high-quality culinary proposal, since you can whet your appetite with some freshly caught king prawns or lobster, and then choose from dishes are refreshing as salads, ceviches, tatakis or sushi. Of course, you can also enjoy grilled veal steak or tenderloin that you will love.
This restaurant also has menus for children and celiacs.
La Ola Marbella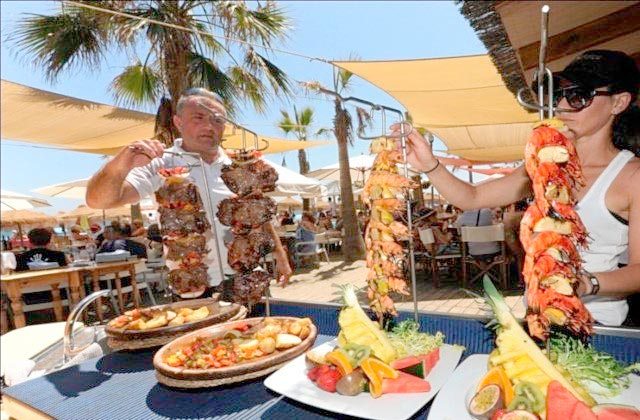 La Ola is the temple that worships fish, fresh seafood and rice dishes, so be sure to visit… This establishment is located at la Fontanilla in Marbella.
This restaurant's menu is basically Mediterranean, so you can enjoy delicious salads and fabulous grilled sardines. As we have said, this place is a temple for fish and rice dishes, so if you decide to come, order one of the skewers or dishes in which these products play a leading role. You won't regret it!
Trocadero Arena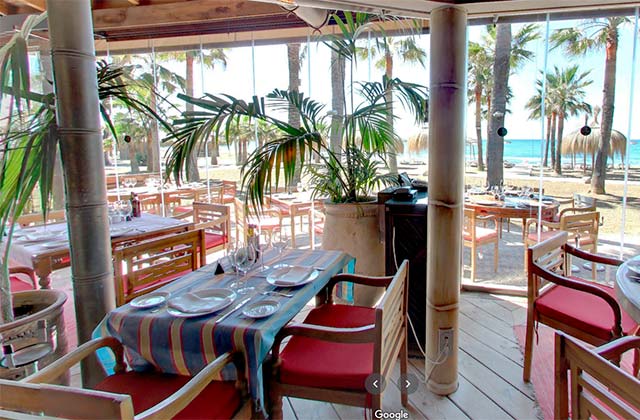 Trocadero Arena is the coolest establishment on the whole of the Costa del Sol. It is a beach club open 365 days a year and divided into different areas depending on what you want to do: enjoy a starter, a succulent meal or one of the best cocktails. Its menu is created under the premise of offering the best Mediterranean cuisine with a touch of fusion cuisine, though it would be culinary sacrilege to forget about the delicious grilled sardines or tasty local seafood.
Marbal-la (Pepe's Beach Bar)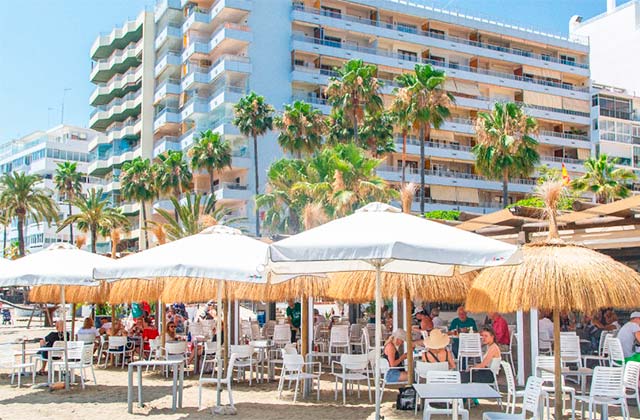 Marbal-la is a true point of reference in Marbella. Its executive chef, Pepe Ravira, heads one of the most famous beach bars on the whole of the Costa del Sol. Coming here and not trying its delicious grilled sardines is sacrilege indeed, since they have a special flavour. All its products are of a supreme quality and they buy them themselves at the port and cook them on a burner with olive wood. Little wonder, then, that during the summer period, their burner cooks over 60 kilos of sardines a day.
ESTRELLA DEL MAR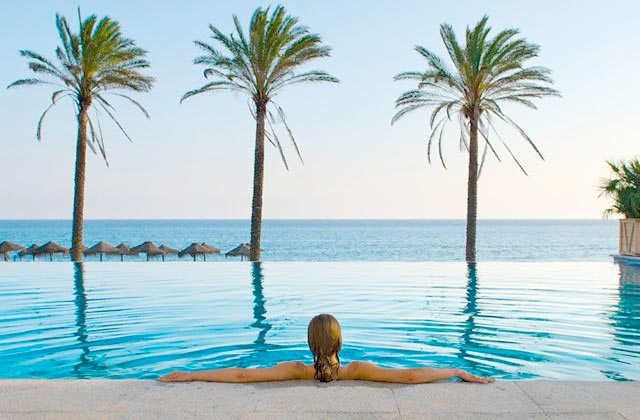 You will find Estrella del Mar at a beach known as Golden Beach, also called Playa del Real Zaragoza (Real Zaragoza's Beach). This is another of Marbella's beach clubs where you can enjoy the best the Mediterranean has to offer.
Soak up the sun, take a refreshing swim, have a delicious appetizer, taste a nice barbecue, order a refreshing cocktail, let yourself be spoiled at the spa or stay in shape at its fitness center. Ask for the Easy Sun Premium hammock service, its list of massages and the "Paintball Nails".
During the afternoon, enjoy the afternoon activities of the beach club, known as "Tardeos", which feature Djs, cocktails and a variety of tapas. After sunset, enjoy the "hora mágica" (magical hour), with its "Spicy Champagne Cocktail", a champagne based cocktail with a spicy and fresh touch.
The Estrella del Mar beach club offers a wide range of possibilities to have a relaxing, refreshing and healthy experience.
BESAYA BEACH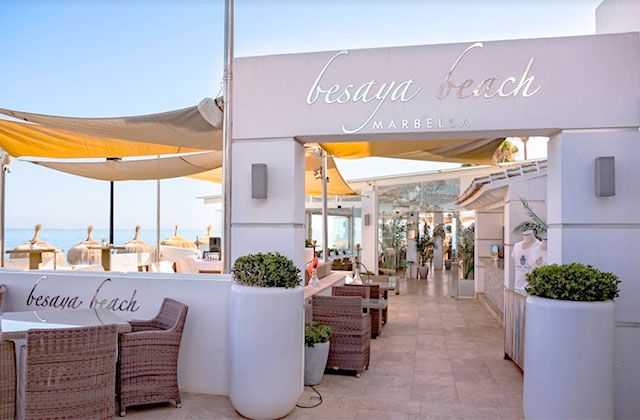 This beach club of Marbella is located at the Coral Beach residential area, near Puerto Banús. A fantastic place to enjoy, at the beachside, an appetizer, a cup of coffee, a cocktail or a delicious meal. Its cuisine is inspired in the Mediterranean tradition and in the Nouvelle cuisine. Everything at Besaya Beach invites you to relax and to feast your senses. It is the result of the perfect combination of design and services aimed at providing comfort and fun.
This beach club offers six different spaces: a snack bar, a restaurant, a gourmet corner, a chill out area with live music from excellent Djs, a cocktail bar and a kitchen. All places designed for you to enjoy the best the Mediterranean Sea has to offer, at different hours of the day.
RESTAURANTS WITH TERRACE AND BEACH BARS IN ESTEPONA
Estepona is an ideal tourist place with great beaches, a pleasant temperature, a unique atmosphere … that's why we introduce you to the best beach restaurants in Estepona where you can sit down and have a drink and get away from the routine … What else can you order from the beach bars of Estepona?
Paseo del Mar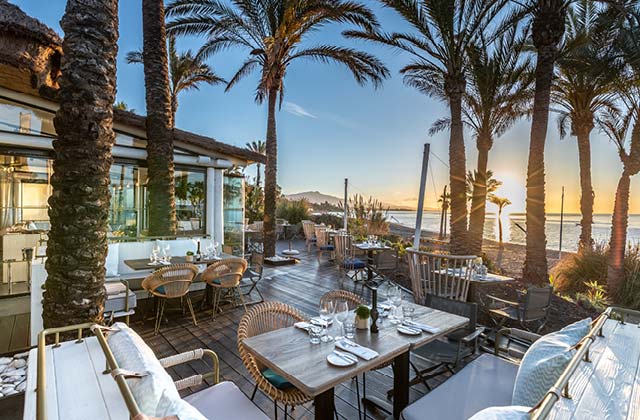 Desde la playa con amor. El Paseo del Mar es el nuevo centro gastronómico de Kempinski Hotel Bahía y se compone de numerosos conceptos culinarios: Black Rose, el bar más enigmático; Baltazár Bar & Grill, un steakhouse con fantásticas vistas a frondosos jardines y piscinas; y Spíler Beach Club, el icónico bar y restaurante junto a la playa.
El Cazador, Estepona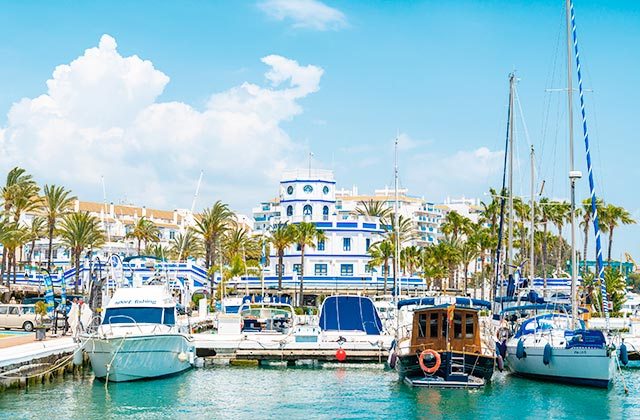 In the middle of Estepona's marina there is El Cazador Restaurant, a very advisable place, especially if you are hungry. Its huge portions will leave you satisfied with good Mediterranean food. Under the sea breeze, you can order sole with champagne sauce, cazador-style entrecot or lamb chops, all of this within a family environment, while you enjoy the quay views.
Lola´s Tapas, Estepona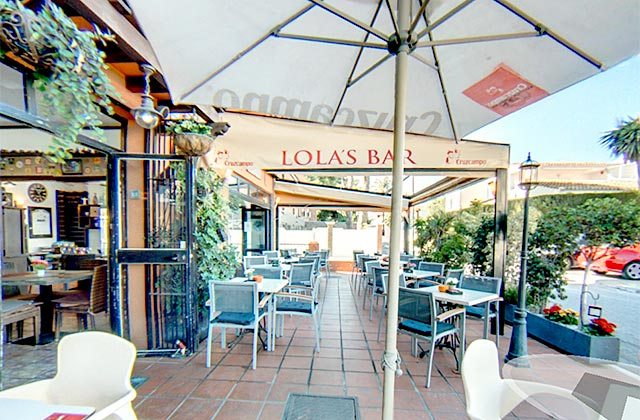 In Estepona, one of the "tapas" restaurants par excellence is Lola´s Tapas. The kind treatment of the owners is what customers like the most, as they let them give advice on the menu's many options. Ham, cheese, grilled snacks and Spanish omelet, are just some of the varieties you can taste in this spot located in the heart of the city's promenade, where you can accompany your lunch or dinner with a delicious house-special cocktail.
El Tejar, Estepona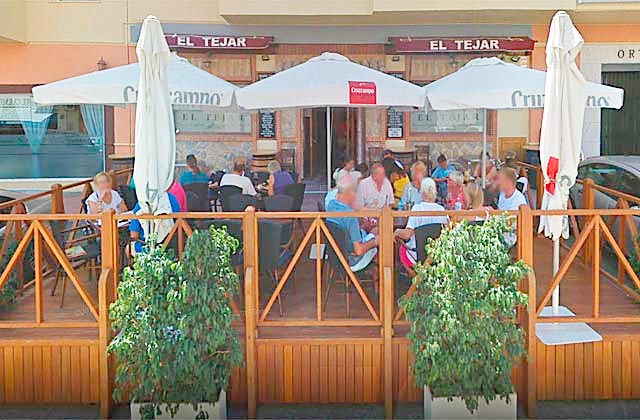 A good "poor man's" potato casserole with egg and chorizo (local sausage) makes anyone satisfied. El Tejar de Estepona restaurant offers you the chance to eat typical town dishes, as well as a broad variety of tapas coming from the North of Spain. The pintxo vasco is the great star in the menu. So, in this restaurant you can combine the nice flavors of the North and South within a pleasant environment, with a customized service. Do not miss trying out its culinary offer while you enjoy a good wine.
Los Rosales, Estepona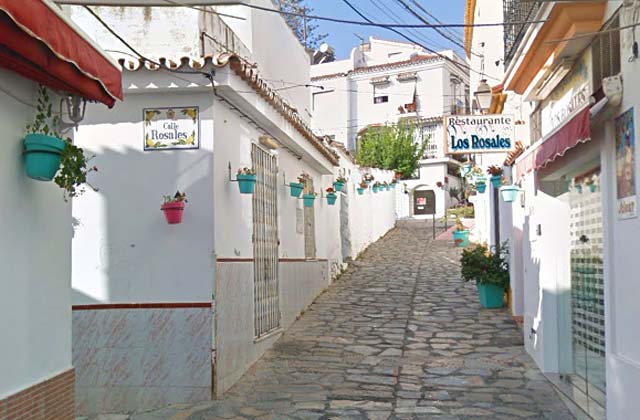 If you are in the mood for high-quality seafood, do not miss Los Rosales Restaurant in Estepona. Grilled prawns, crayfish, wedge clams in garlic and large red shrimps are just some of the options, together with Malaga's fried fish, for a sea-flavored culinary outing. If you travel to Estepona, do not hesitate to visit this spot, where waiters will suggest the day's specials and their freshest products. A recommendable option if you are looking for treat yourself to a sea dish.
Sonora Beach, Estepona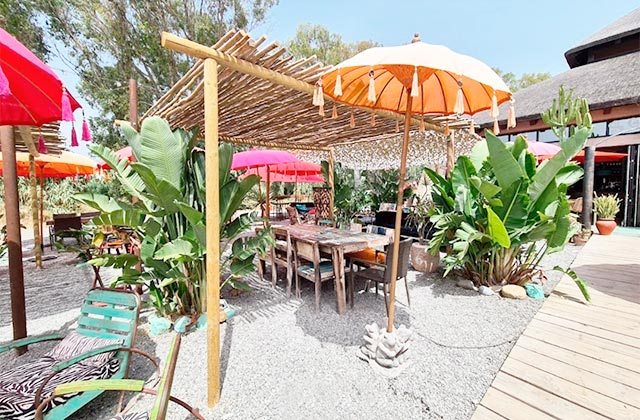 Sonora Beach is located on a beautiful beach between Estepona and Marbella. It is not a typical luxury jet set beach club, nor does it host wild and crazy champagne parties. At Sonora Beach you will find a more relaxed, bohemian atmosphere combining reggae with rock concerts.
Sonora Beach is located right on the beach. Deckchairs and hammocks can be rented by those looking to get a tan. It also has a first class restaurant with a very extensive menu. If you visit Sonora Beach, be sure to pop into its little shop with its own clothing line, Mucholarala, selling high quality clothing and lovingly designed India and Bali inspired jewellery.
The restaurant offers an extensive, original and reasonably priced menu. You can enjoy Spanish specialities, salads, meat and fish dishes, burgers, panini, wraps and stir fries.
Chiringuito El Madero, Estepona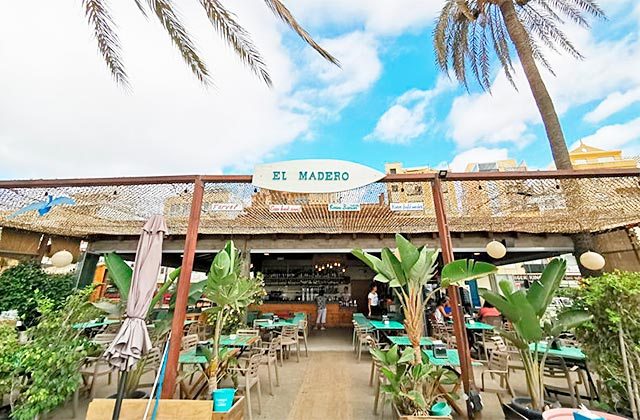 Chiringuito El Madero is a beach restaurant where you can eat traditional Malagan fried fish in Estepona, along with grilled sardines, wild bream, king prawns and calamari, all prepared on our traditional boat. The restaurant distinguishes itself by offering an extensive selection of salads, starters and meat and fish dishes, as well as value for money. It has a spacious terrace, kids play area, hammock service and chill out zone with WiFi.
Salduna, Estepona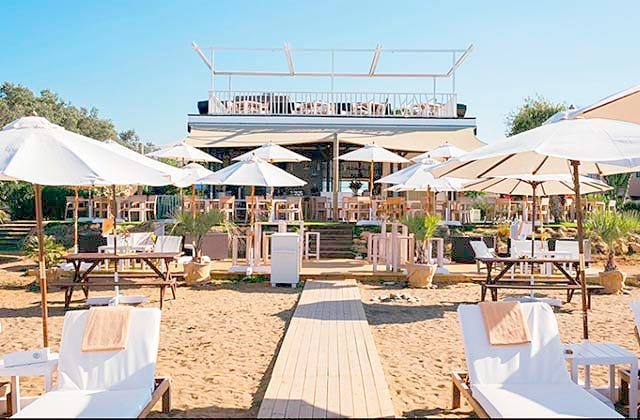 Salduna Beach chill out restaurant is located on the sand of Benamara Beach in Estepona and is where you can enjoy the best sunsets on the Costa del Sol. You can see Africa just before the moon falls from this intimate corner far from the tourist hustle and bustle of Marbella's nightlife.
Salduna Beach restaurant invites you to experience the signature Mediterranean and international cuisine of Chef Gontzal Martín Pereda. Spinach salad, fried baby squid, duck confit on mashed potato with orange sauce and salmon with cava sauce and grilled vegetables are just some of the recommendations from the menu that is based on top quality fresh produce.
Note down these suggestions, all of them are highly rated by TripAdvisor users, and have become must-see spots for good cuisine in Marbella and Estepona. A broad variety for all tastes, depending on what you feel like eating. Do not leave Costa del Sol without enjoying its outstanding gastronomy to the fullest.
Hungry? These are the best Latin American restaurants on Costa del Sol
Marbella eats: where to enjoy the best tapas
The best beach clubs of Marbella and its vicinity
WHERE TO STAY
Without a doubt, the best option to stay in Marbella and Estepona es Fuerte Hoteles. This chain, with over 60 years' experience, offers you an outstanding service, leader in quality. Holidays for two, with the family or friends, any way you decide to travel is perfectly suitable for these hotels where, in these destinations, you can practice countless outdoor activities, and find facilities to practice your favorite sports.  Do not hesitate to stay at El Fuerte Marbella  or Amare Marbella Beach Hotel(Marbella) if you travel to these cities in Costa del Sol.