THINGS TO SEE AND DO IN CHICLANA DE LA FRONTERA
Chiclana de la Frontera is one of the important tourist destinations of the Cadiz coast. Its beaches and its marina are two of the most attractive elements for tourists in Chiclana de la Frontera. It also offers an interesting historical and cultural heritage. Of interest for those who want to do more than just sun and beach tourism.
The list of things to see in Chiclana de la Frontera is long. Buildings of historical artistic interest like the Castle of Sancti Petri. Museums in which to meet characters like the illustrious writer Fernando Quiñones or the famous bullfighter Francisco Montes "Paquiro".
The list of things to do in Chiclana includes bathing in its crystal clear waters, sunbathing on its fine golden sand, contemplating beautiful sunsets, tasting its varied wines … You can also practice outdoor sports such as golf, Natural environment and different nautical and aquatic sports.
What to see in Chiclana de la Frontera
Here we present you a list of places to visit in Chiclana. Buildings and historical places of artistic interest.
Sancti Petri Island and castle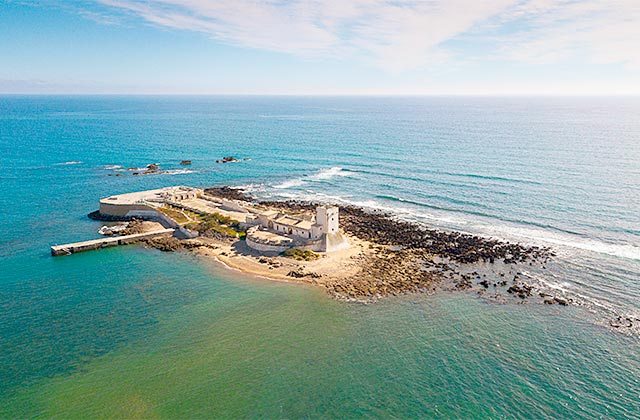 Island located at the mouth of the Caño de Sancti-Petri. They say that here is buried Hercules, the mythical founder of Cadiz. In it is the Castle of Sancti Petri, dating from the 15th century.
Access to the castle is free on Mondays. Guided tours are held from Tuesday to Sunday, in the morning and afternoon.
There are boats and kayaks that you can hire at Sancti Petri Marina, to get to the island.
A recent investigation by the University of Seville found underwater archaeological remains between Sancti Petri and Camposoto. The structures found under the sea could correspond to the Phoenician-Punic temple in honor of Melkart, which was later consecrated to Heracles / Hercules during Greco-Roman times.
Iglesia de San Juan Bautista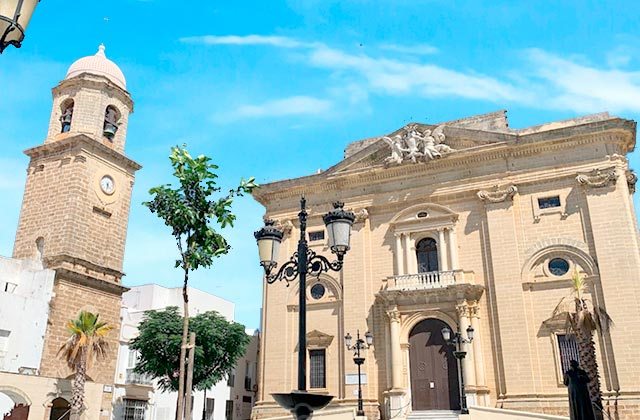 This temple is a clear example of the neoclassical style. It is a Cultural Interest. Inside we can see its altarpiece and canvases of the school of Zurbarán.
La Torre del Reloj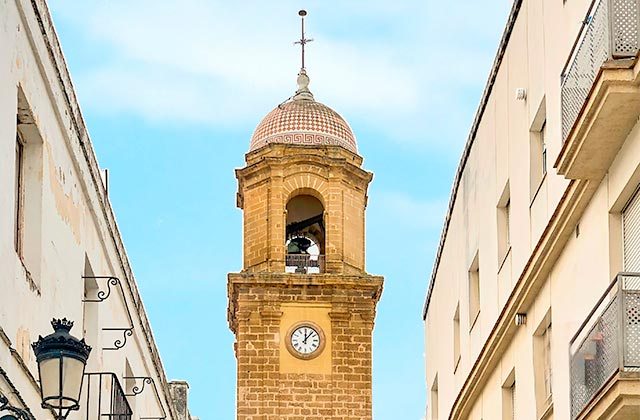 The emblematic building of Chiclana, is popularly known as the Clown of the Clock. It is located in the Plaza Mayor. It was built in the 18th century.
Iglesia y Convento de Jesús Nazareno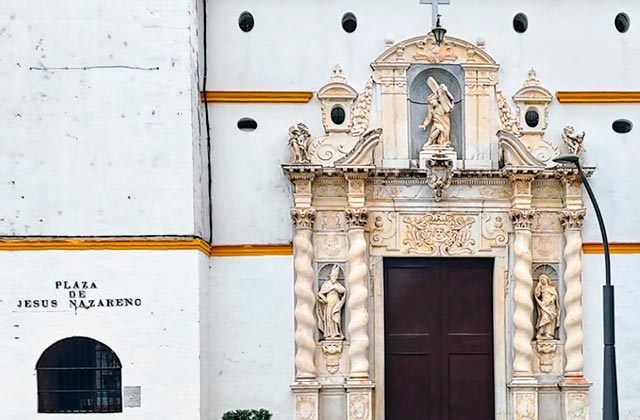 It is a clear example of the baroque style; built in the 17th century, with the benefits obtained from trade with America. The nuns of the convent prepare the famous almond cakes of Chiclana de la Frontera.
Ermita del Santo Cristo de la Vera Cruz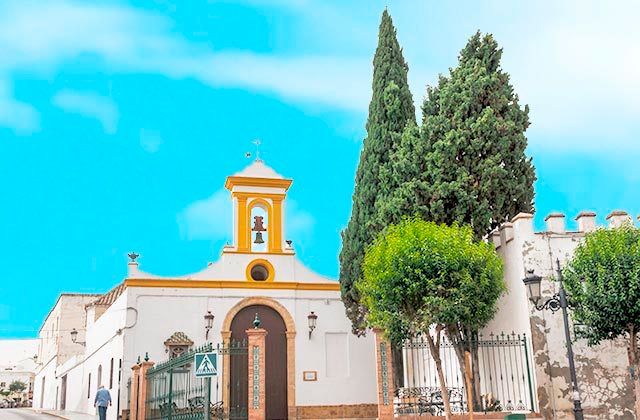 This hermitage is the oldest temple in Chiclana. Seat of the oldest brotherhood of penance in Andalusia. It was built in the 16th century and has undergone several renovations throughout its history. From its simple façade, we can emphasize the lattice atrium and the big cross that presides it.
Iglesia de San Telmo
It was erected on the site of an old hermitage, at the end of the 18th century; inside is the image of the Virgin of Our Lady of the Remedies, the patroness of Chiclana.
Iglesia de San Sebastián
This church was built between the 16th and 17th centuries; it has undergone several extensions and reforms throughout its history. The last one was in the 20th century; today it shows the characteristics of the Neogothic style.
Ermita de Santa Ana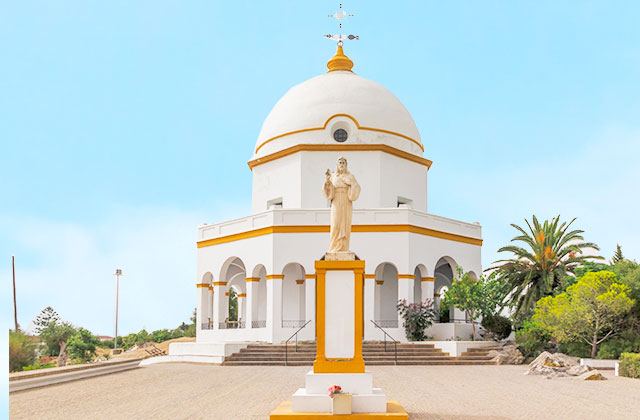 One of the most representative buildings of Chiclana, as it can be seen from the entire region.
Museo de Chiclana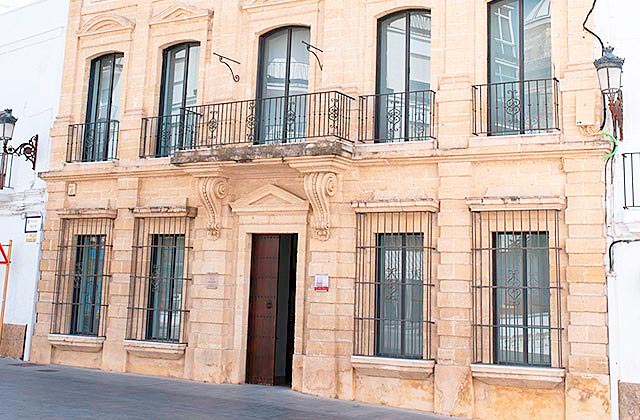 The Chiclana Museum is a beautiful building known as Casa de Briones. The tour through its ten rooms will allow you to experience the Chiclana history and the legacy of the Foundation of Fernando Quiñones.
Museo Municipal Romántico Francisco Montes "Paquiro"
Perfect place for lovers of bullfighting. A space dedicated to one of the leading figures in the world of bullfighting, the famous Francisco Montes "Paquiro", who was born in Chiclana.
Centro de Interpretación del Vino y la Sal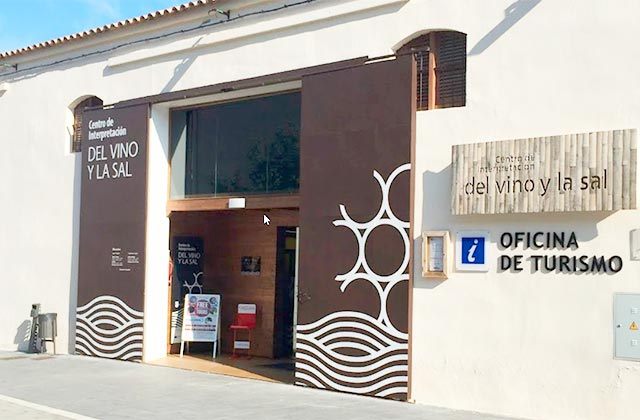 Here you will learn in a very simple way, the process of preparation of the wines and the salt of Chiclana. Two products closely linked to the birth and development of this municipality; Photographs, didactic panels, audiovisual resources and work tools that show the history of the wineries of Chiclana and its salt mines. It also has a shop where you can buy wines and different salts.
What to do in Chiclana de la Frontera
During your visit to Chiclana de la Frontera, you have to try the famous wines; it is one of the typical products of its gastronomy. You will find them in any bar, snack bar or restaurant of the municipality. You can also choose to make the Wineries tour.
Here we present you some of the good restaurants in Chiclana:
Restaurante Popeye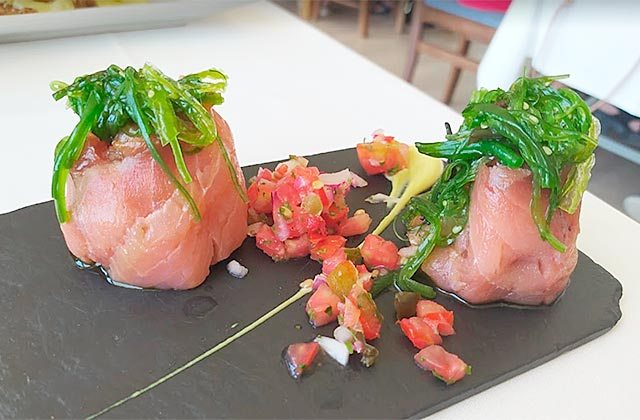 One of the most well-known restaurants in Chiclana; opened to the public for more than 35 years. Its good products and service has made it winner of numerous awards. In its ample hall of the fame, you will see the signatures of the famous personalities who have passed by the Restaurant Popeye. Among them, Vargas Llosa, Juan Echanove, Espartaco, Miguel Ríos and many more.
Chiringuito La Loma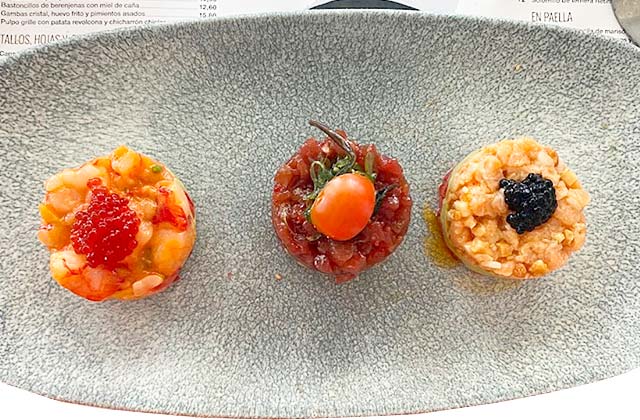 It is a modern, elegant and cozy bar, with a varied menu including fish, seafood, meats, rice dishes and special dishes for the youngest of the family. It also offers its guests additional services such as relaxing massages and rental of Balinese beds, hammocks and umbrellas. It is a perfect place to spend a nice and comfortable beach day.
La Azotea by Aroma de Mar
Calle el Boquerón, 3, 11139 Chiclana De La Frontera
Google Maps
El Fogon de Mariana La Barrosa
Calle el Bogavante, 12, 11139 Chiclana De La Frontera
Google Maps
Feng Shui Sancti Petri
Calle del Salinero, 31, 11130 Chiclana De La Frontera
Google Maps
Mis Paellas
Ctra. de la Barrosa, 623, 11130 Chiclana De La Frontera
Google Maps
Rock & Wheels
Calle Fernando de Magallanes, 15, 11130 Chiclana De La Frontera
Google Maps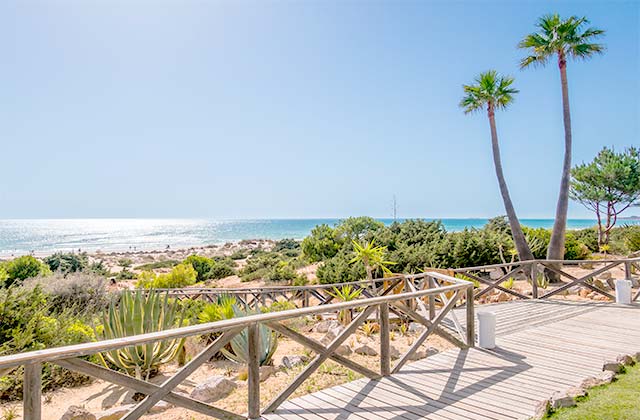 Another interesting thing you can do in Chiclana is to take a walk through its natural surroundings. Here we give you two routes you can take:
The Pinares de La Barrosa route: The starting point is the entrance to the pine forest, located in front of the tourist office of the Novo Sancti Petri estate. The route is about 3 kilometers.
The Salinas Santa Maria de Jesus route: Great to observe the flora and fauna of the salinas and the typical salineras houses. The route has nearly 4 kilometers.
Shopping in Chiclana is another thing you can do during your holidays in this municipality of Cadiz.
Chiclana has three shopping areas, where you will find shops of all kinds:
The Open Shopping Center, which includes the main shopping streets of the city center.
Commercial areas of Playa de la Barrosa
Urbisur Industrial Park: with clothing stores, footwear, accessories and restaurants.
You can also go shopping in the markets of Chiclana de la Frontera.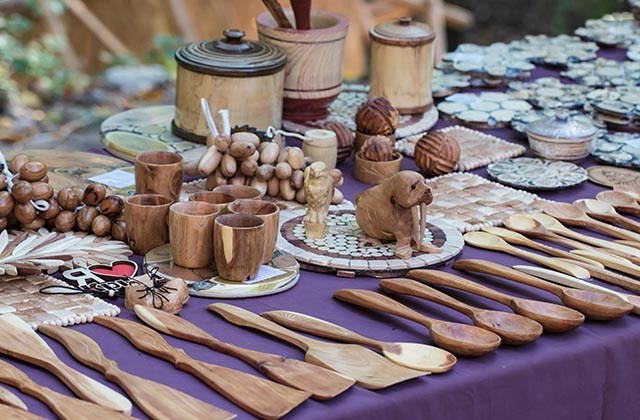 Tuesday market. Weekly market where you can buy dried fruits, pickles, home textiles, and fashion items. Hours: from 9:00 a.m. to 2:00 p.m.
Rastro de los Domingos. Typical second-hand market where you can find almost anything. Ideal for those looking for curious and different things. It stays open all morning. You will find posts distributed to Calle La Plaza and Plaza de las Bodegas.
Supply Market. Perfect to buy fresh produce from the area: fish, meats, vegetables, fruits. You can find different shops and bars in the immediate vicinity.
If you want to buy the genuine oil cakes from Chiclana de la Frontera, visit the Convent of Jesus Nazareno. Their cloistered nuns are experts in the elaboration of this pastry product.
Enjoy the crystal and clear waters and golden sands of Chiclana's beaches is another thing you can do in this coastal town; you can sunbathe and practice water sports. From both you can see the Island of Sancti Petri with its Castle. It also offers beautiful sunsets.
Chiclana has two wonderful beaches of fine golden sand:
The Playa de la Barrosa has two different zones. The urban area of the Paseo Marítimo, and the most unspoilt area, with dunes and pine forests.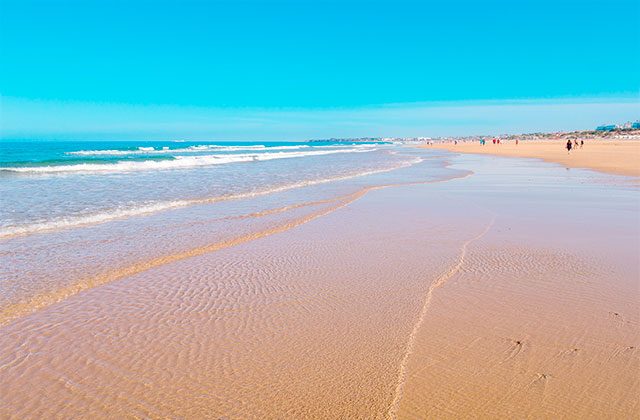 The Sancti Petri Beach also has two areas: the Marina is ideal for water sports enthusiasts.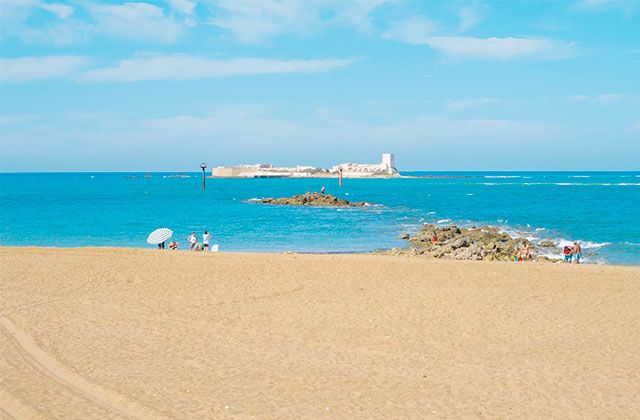 Another of the things you can do in Chiclana is to enjoy flamenco art in one of its flamenco clubs and tablaos. Among them, we find:
Peña Flamenca Chiclanera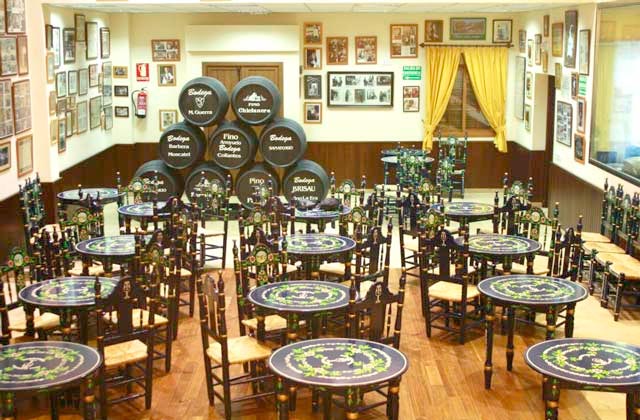 It offers flamenco shows every Saturday. On Fridays, they celebrate the "Entremesa flamenca", a gathering of fans of this Andalusian and Cadiz art. The entrance is free. It opens every day from 22:00 hours. At the bar, you can enjoy a drink with tapas and/or garnishes.
How to get to Chiclana from Conil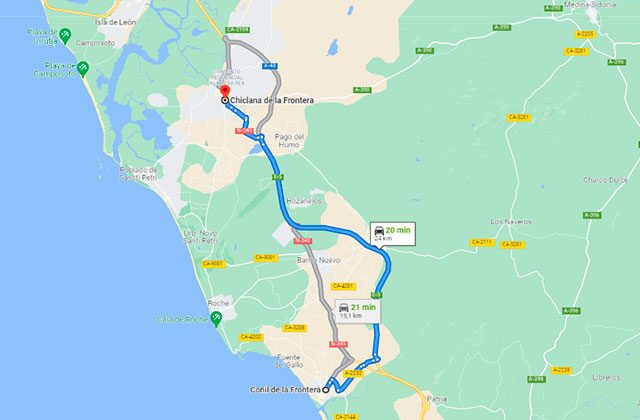 Chiclana de la Frontera is just 30 minutes away from Conil. Depending on the route you choose, you can travel between 19 and 24 kilometers. The shortest route is the A-48.
Villages in Cadiz with a special charm
Cadiz and Huelva white villages
WHERE TO STAY
Fuerte Hoteles is always the best choice to stay in Andalucía, get to know its cities and look for the best shops. The chain has establishments where you can enjoy, besides its services, the best of each point of the region, a good example is  hotel Fuerte Conil Resort which is located in front of one of the most beautiful beaches in Spain, beach La Fontanilla. It stands out for its exclusive Andalucian style, its 25.000 square feet of gardens, 4 outdoors swimming pools, Jacuzzi, tennis court and a complete equipped Spa.