Malaga with foam: a route through its craft beers
While Malaga has always been connected to the world of wine, the craft beer boom has just begun in the province. There are as many types of Malaga beer as brewers, so let us take you on a tour of the top microbreweries in Malaga. We can assure you that after tasting these wonders, you will not want anything else. The vast majority have extensive repertoires that satisfy the most demanding palates.
This is the case with La Gaitanejo, La Axarca, Trinidad, Bonevivant, Málaga Beers, Carma, Murex and Roses, among many others. So, if are you ready to enter this amazing world, do not miss these Malagan temples of beer.
Breweries in Malaga

There is a documentary record from the 19th century of the existence of several breweries in Malaga, which include Antonio Luroth, José Sánchez Rico and Enrique Hesindel. However, we need to travel to the 20th century to see the creation of the most famous ones, since we all know Cerveza Victoria (1928), whose new facilities opened in Málaga in 2017, or Cerveza San Miguel (1966), which established the brand's second brewery in the city. An interesting fact is that, given its location near the airport, it had to partially bury its cellars. The facilities also underwent a complete renovation in the 1980s transforming this brewery into the most modern in Spain.
Micro-breweries in Malaga
1. Birras Deluxe Beer Bar Shop

This brewery offers a great selection of craft beer (over 270 brands) both local and from all over Europe. A small paradise for beer lovers that you will find in the central Plaza de la Merced in Malaga.
2. Hop Scotch

The architects of this project are Javier Toledano and Ana Nuñez, a young couple that has committed with this brewery and that has already more than 200 references of craft beers and 6 taps of different styles. After only one year is a reference brewer in the city, it is not a central brewery but despite this, (located in the area of Guindos, West area) a crowd anxious to try something new within its impressive selection visits it daily, if you want you can always taste its vegan cuisine, characterized by only using vegetable based food leaving aside products from animals, as meat, poultry, fish, milk, eggs and cheese. The place is small but very welcoming, the walls are often decorated with small photographic exhibitions or paintings from local artists, providing that added value that distinguishes it from the others.
3. La botica de la cerveza

In the heart of Calle Victoria is located a small business that makes the delights of many neighbors and tourists around this mythical area of Malaga as is Victoria and its Plaza de la Merced. The architect of such achievement is Miguel Arrabal that in only 2 years has managed to be between the best and most known breweries of the city. His place is decorated with more than 300 references where the national product is always the star. Besides trying delicacies from all over the world, tastings are held and special events for pairing with their dishes are made.
4. Central Beers

Perhaps one of the best decorated breweries of the city and is in the Center of Malaga. Its modern, industrial and cosmopolitan style together with a warm lighting, offers to all its customers a very relaxing environment. Draws the attention its bar occupied by its 15 taps with an information and detailed screen on the type of beer, its prices, names, grade of alcohol, color and style. Similar to other breweries, the menu is very similar, you can find cheese and Iberian cured meats boards, humus, nachos with cheese, burgers and salads.
5. El rincón del cervecero

El rincón del cervecero (the brewer's corner) is a very special place located in the SoHo of Malaga, is wide and whose pedestrian street invites you to sit and enjoy a good beer. David is the owner and is a real passionate of craft beer, we can notice by entering in its brewery, that undisputed hop aroma. If you have the opportunity to chat with David for a while do not let it escape, within its four walls you can drink beer and also learn how they are made with two workshops or courses divided in basic and advanced level, usually on Sunday and there you can buy the kit to make it at home. As good lions, to match its beers has a series of top-quality pork, one of the best of Malaga. David has agreed with some local breweries to withdraw promptly a small draft of beers under its own brand and that will be precisely the future of this brewery. Currently you can taste around 182 references from around the world.
6. Amsterdam Café

Established in 2008 in the university area of Teatinos, is one of the warmest and beautiful of the city, capable of transporting you and make you feel as if you were in a typical Irish pub. Its more than 75 references next to a unique atmosphere, turn it into a really welcoming place ideal for spending a good time around good friends.
7. Cervecería Mapamundi 2011

Open since 2011 in the SoHo of Malaga close to the parking lot of the Plaza de la Marina and Calle Larios. Started as a Belgian brewery but in these past years has adapted to the area and to what their customers want, turning into a much more cosmopolitan brewery. Here what matters is the quality of the beer and the close relationship of its owner, the decoration comes in second. We highlight its 4 taps with well drafted beers of Pilsen, India Pale and different Belgian styles. The food of this place is home-made, from some authentic German sausages to a tasty omelet of potatoes, shoulder of lamb or knuckle.
8. La Madriguera

Located in the heart of the historic center of Malaga, La Madriguera Craft Beer will certainly become your BrewPub of reference. There you will find eight barrel taps where you can taste the best craft beer, especially Malaga beer and some international brands. Drink 'La madriguera' or 'Kernel Panic' while you eat a Madritosta or a capresse salad.
9.
BocaSeca

At BocaSeca you can enjoy an extensive menu featuring over 100 beers from all over the world in a modern, fun environment. BocaSeca is a very particular gastropub, since you can watch all the sport you want on its screens and enjoy educational beer tastings and amazing theme nights.
10. La Fábrica

Cruzcampo started La Fabrica in 2018 in the Soho area of Malaga, a beer creation space where seven varieties of unique beers are made each day. Its restaurant is an open space so that you can see what is being cooked in its kitchen. Plus, you can celebrate any kind of event there, be it family or work.
How beer is produced?

These are the magic ingredients to make this refreshing drink:
Barley malt
Hop
Yeast
Quality water.
Roughly, the barley malt is crushed and mixed with hot water, always respecting temperatures and stipulated time, thus the enzymes act so that the yeast has food prepared for its processing and fermentation. The mix macerates and the beer is created, the Hop is used 3 times in the production process to give that characteristic bitterness, aroma and flavor.
Types of beer

The brewer range is wide and varied, American, Belgian, German, of low or high fermentation and of spontaneous fermentation.
Low fermentation; are known as Lager, light and smooth, depending on its origin can be Pilsen, Munich, Vienna, etc.
High fermentation (Ale): a good example is the brand Chimay, depending on how they have been produced you can find less bitter 'Mild Ale', 'Bitter', translucent and with less hop in its production 'Pale Ale' and the impressive India, Pale Ale, Brown Ale and Old Ale. We must not forget the typical beer of black color, Stout very creamy as well as bitter and finally the light Porter.
BENEFITS OF CRAFT BEER
Most craft beers use malts and hops in their production – two ingredients that are full of health benefits:
Malt is a very nutritious food, a digestive and contains a lot of fibre, so it promotes the regulation of intestinal transit. It also helps to reduce cholesterol, has detox properties, provides plenty of minerals and gives you a dose of energy.
Conversely, hops calm anxiety and have a relaxing effect thanks to their capacity to ease tensions. They also contribute to improving sleep disorders.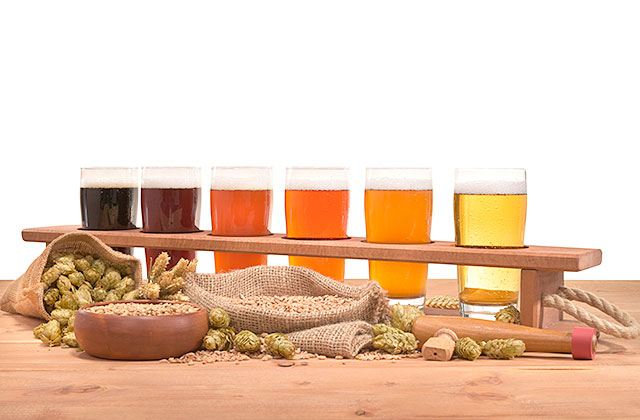 WHY A LOCAL BEER?
More and more people are opting for culinary tourism that combines the possibility of getting to know beautiful places with sampling local specialities. And this sort of tasting includes traditional dishes, local wines and, more recently, craft beers such as those that have proliferated in Cadiz over the last few years. So, if you get away to the south this summer, take the opportunity to try them.
Thirsty? If You Travel To Andalucia, Don't Forget To Try One Of Our 15 Local Beers
Where to stay
Fuerte Hoteles is always the best option to stay in Andalusia, know its cities and rest. The chain has facilities where you can enjoy, in addition to its services, the best of each point of the region. More than 60 years of experience are the best guarantee and an exceptional starting point for each experience you want to undertake.