ANDALUCIAN SUMMER DRINKS
Summer drinks are one of the allies to fight the heat in Andalucia. The high temperatures invite us to take refreshing drinks. Typical summer drinks like sangria. New summer drinks such as the rebujito, a classic during the Andalucian fairs, or the typical clear beer with soda or lemon, more refreshing than beer alone.
White and rosé wines are very fresh and very popular drinks when summer arrives in Andalucia. As well as all kinds of lemonade made with lemon and other fruits such as watermelon, pineapple or raspberry.
Classic and new summer drinks are usually a cocktail of different liquids with or without alcohol, fruits and spices. Cooling mixtures ideal for quenching high temperatures. Summer drinks with or without alcohol. Suitable only for adults or for everybody. Drinks you can make in your own house or order at any bar, restaurant or beach bar in Andalucia.
Alcohol summer drinks
The sangria, the tinto de verano and other traditional cocktails of the Andalucian summer were originally drinks with alcohol. Now you can also create "without alcohol".
Sangría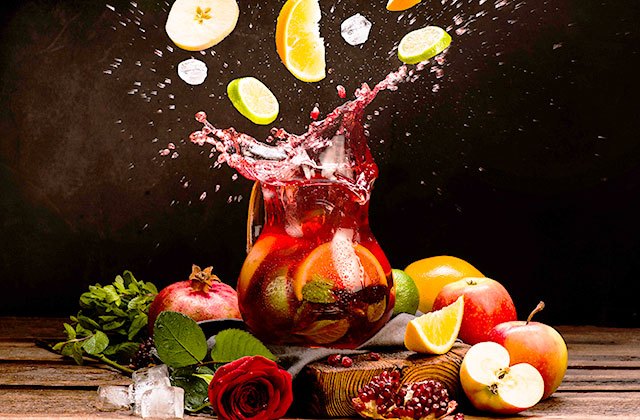 Sangria is one of the typical summer alcohol drinks. A refreshing summer cocktail whose characteristic element is red wine. Depending on the recipe, we will add other alcoholic beverages such as brandy or cognac.
Peach, lemon, orange, sugar, cinnamon and a carbonated drink such as soda are other indispensable elements to elaborate a sangria in the traditional way. Adding other fruits such as pineapple, lemon or orange soda or making sangria with white wine, cava or any other alcoholic beverage depends on the creativity and tastes of the person who prepares it.
As with any other culinary recipe, the quality of the ingredients is essential to achieve a good result
How to make sangria: summer drinks
Tinto de verano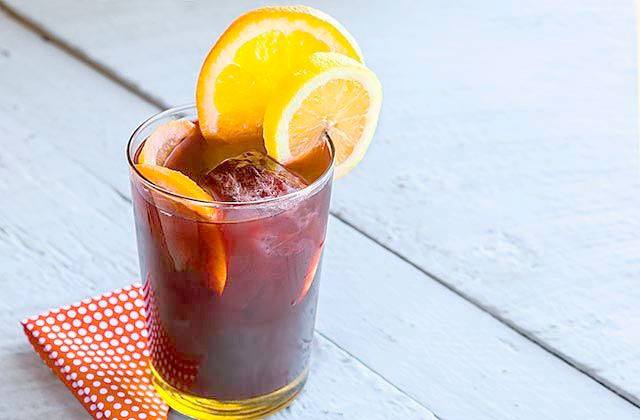 Summer reds, like sangria, are summer drinks that you can buy at any supermarket ready to drink. However, if you want to drink a quality summer red, better order it at a good restaurant, bar or beach bar. They will not use a red wine reserve, but neither a peleón wine. A young or aging wine is enough to produce a quality summer red.
The classic summer red is the one obtained from a balanced mixture of red and soda wine. Although every day are more people who prefer lemon soda instead of soda and add a few slices of orange and / or lemon, along with some good ice cubes.
Shandy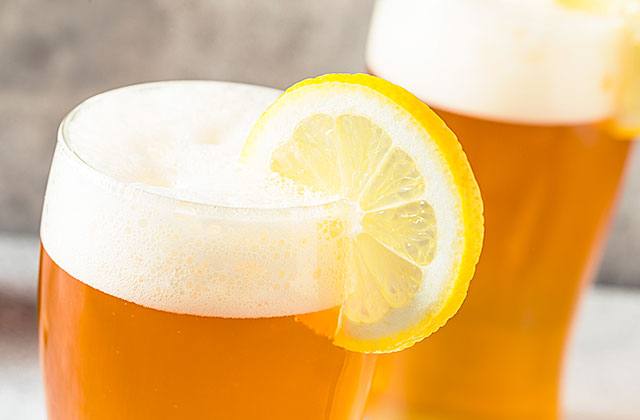 Another way to drink beer in summer is to mix it with soda. The soda clarifies the color of the beer, hence the name of this typical drink of summer. The soda, with a sweeter flavor, also softens the typical bitterness of beer.
In this mix, the change from soda to lemon soda has become an alternative to traditional beer. To avoid possible mistakes, when ordering a beer clear in a restaurant, bar or beach bar, specify if you want it with soda or lemon refreshment.
Thirsty? If you travel to Andalucia, don't forget to try one of our 15 local beers
Málaga with foam: a route through its craft beers
Rebujito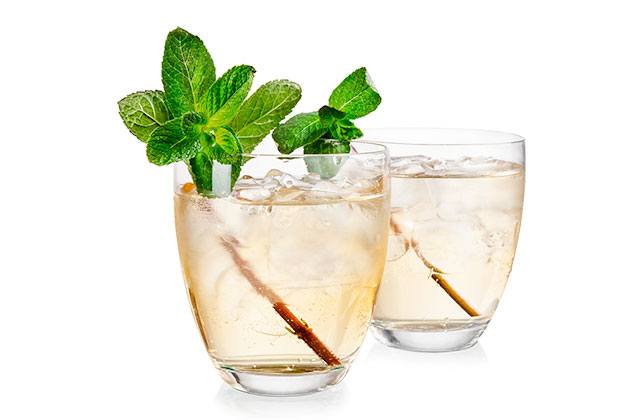 More than a summer drink, the rebujito is a popular drink of the fairs and pilgrimages celebrated during the summer in Andalucia. It is the drink of the youngest during these holidays. Thanks, in part, to the advertising campaign of one of the wineries producing camomile. Although this refreshing drink can be made with either chamomile or fine Sherry wine or white wine. There are places where earth's must is added to the lime /lemon soda to make a special rebujito.
Calimocho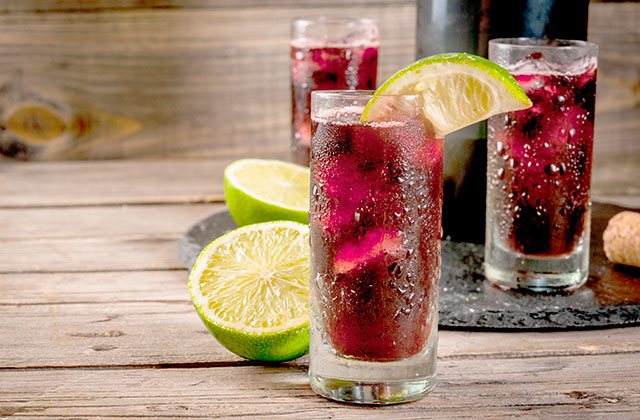 Another of the typical cocktails of the summer with red wine and soda is the very cool calimocho. Unlike the sangria or summer red, where the red wine to must have some quality, for the calimocho must be bad. The worse the red is the better.
The refreshment to make calimocho in the traditional way has to be of cola. In addition, some people say that the worse quality of this soda, the better the calimocho.
This cocktail is served throughout Spain and in other countries. In each place, it has a different name, there are also differences in the type of wine, and other ingredients used to make it.
Soft summer drinks
Soft summer drinks are especially suitable for minors and for those who have to drive after their intake. They are equally refreshing drinks and suitable for all the public.
Lemonade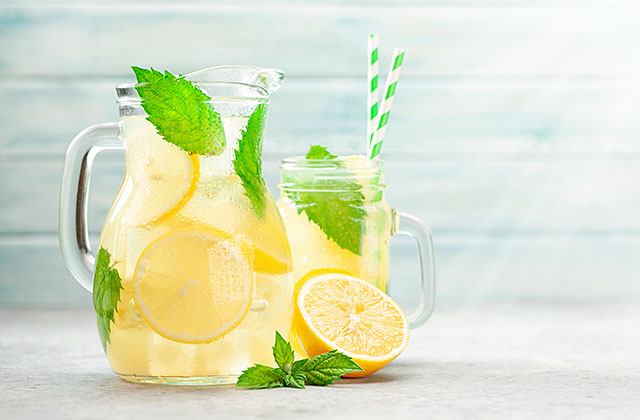 Classic lemonade is one of the oldest summer drinks. One of the homemade lemon soda, which we can now buy ready to drink. But like everything else in life, the raw material with which each lemonade is made, whether homemade or factory, canned or bottled, is essential to obtain an exquisite and healthy lemonade.
Is better to enjoy a lemonade made fresh, with quality lemons, little sugar and no preservatives or coloring.
The traditional lemonade recipe is use to make refreshing drinks with other fruits. Now you can order in many bars and restaurants watermelon, pineapple, raspberry or peach lemonade.
Ice teas or coffees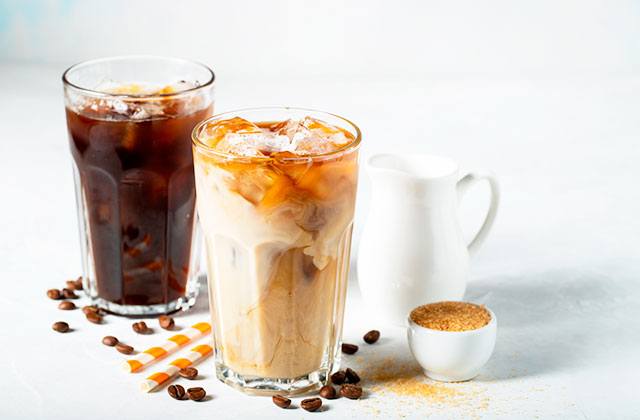 With or without caffeine, iced teas and coffees are also of the most popular summer drinks among adults. Who, in summer, has not waited after lunch to enjoy a refreshing iced coffee or tea?
Iced teas and coffees are perfect for summer evenings.
Granizadas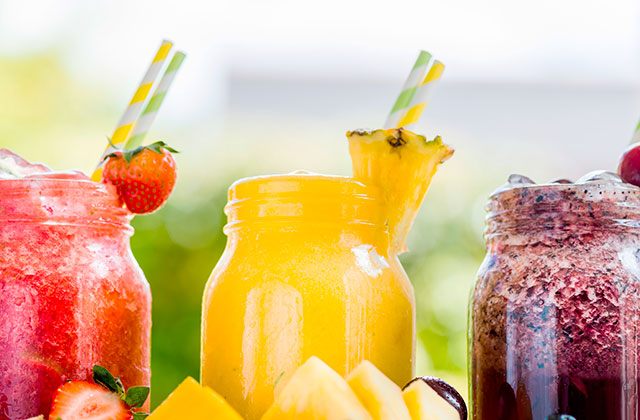 Another summer drink suitable for almost everybody is the hail. In the crushed ice, the most important ingredient is the key of this especially refreshing drink.
The lemon hail is the most classic, along with the coffee. But every day we find new and delicious varieties of hail. Hail of all colors and flavors. To refresh yourself at any time of the hot Andalucian summer day.
Discover 15 places to refresh with the best mojitos in Andalucia
WHERE TO STAY
If you want to drink sangria first hand and make a trip to Andalucia, Fuerte Hoteles offers the best facilities in the most privileged locations in Andalucia: the beach in Conil, Torrox and El Rompido; or in the mountains in Grazalema. The hotels also have a wide range of activities called Fuerte Experiences, where travellers have the opportunity to experience the Andalucian culture first hand through free workshops, where among other activities, the guests are taught how to make sangria.