¿Unique restaurants? Don't miss this top 15 list of the most original bars in Málaga
Malaga is always a gastronomic adventure, whether you try its pastries, its fried fish or its different tapas. But being honest, its restaurants, while delicious, tend to be very similar. We all like enjoying new experiences, new places and new foods, which is why we have a great suggestion for you to try something different on your travels to Málaga province. If you want to get to know restaurants that are out of the ordinary, do not miss the thread of this port and get a pen and paper. Scenarios such as a bus turned into a hamburger joint or being able to eat in the company of one of the most famous TV families like Los Picapiedra are some examples of these new original restaurants that we are going to tell you all about. A handful of suggestions to delight the palate in the least expected places.
Original restaurants and bars in Málaga
1. Restaurant Ebe La Polaca, Marbella
Ebe La Polaca is a restaurant located in a seventeenth-century mansion house in Marbella, where you can try the traditional local cuisine. It is set in the last century and each of its six rooms recreates a different decade. There are spaces for the 40s, 50s, 60s… up to the time of splendour and glamour of Marbella in the 90s. The third floor has a viewpoint which is popular among diners. Here you can eat anything from sandwiches to more elaborate dishes.
Haza del mesón, 6, Marbella, Málaga
2. The Flintstones Restaurant, Torremolinos
El Restaurante de Los Picapiedra (The Flintstones Restaurant) is an excellent choice if you go out to eat with the kids. The famous characters from the cartoon series are very much like the decor. You can sit in a chair that in the style of a dinosaur bone or the stone quarry where Fred Flintstone worked. Everything is decorated perfectly with fake animal skins that those funny cavemen use. And of course their pet, Dino, is also around! There is also a kids' menu based on burgers.
Paseo Colorado, 26, 29620 Torremolinos, Málaga 
3. iFood, Alhaurín de la Torre
If you are looking for a unique place to eat, there is nothing better than a burger restaurant made from a bus. Alhaurín de la Torre is home to iFood, a new fast food concept. Succulent gourmet burgers of all kinds (chicken, turkey, buffalo, vegetarian, pork or veal) are seasoned with sauces of all kinds. A curious and unmissable place for an unusual lunch, especially if travelling with children.
Gasolinera Shell a la entrada de Alhaurín de la Torre por Churriana
4. La Molletería 1976, Málaga
Antequera's traditional bread already has a place in the capital of Málaga. This is la Molletería 1976, after the year a mollete (bread roll) was first recorded. The originality of the site is based on the uniqueness of this white bread, soft and round, whose secret is jealously guarded. Any ingredient included adds to its taste, so whatever you ask for will be amazing. Come to the tastiest unusual restaurant in the province.
Calle Cervantes, 7, Málaga
5. Fonda Casa Pepa, Carratraca
This charming restaurant is located in the town of Carratraca. At first glance it looks like a summer house but walk in and there is a fully equipped inn with a small lounge that retains the photos of those who have lived there. The feeling you get when eating here is like being at grandma's house. The dishes are cooked by hand and if a group of people decide to have lunch at this place, the food served in the same pan it was made in. Guests can help themselves. Prince Charles has been one of the guests of honour in this unique tavern.
Calle de los Baños nº 18, Carratraca, Málaga
6. Venta El Túnel
The inn The Tunnel is an unusual restaurant in Málaga as the food is served "grandma style", i.e. in the pan. Rice with chicken broth is their specialty and people from all parts of the province come to eat here. Loin in butter, migas, tripe and los Montes wine have been the main attraction for its loyal customers for many years. This inn was built on the edge of the road going to Antequera by the very hands of the owners who were farmers.
Carretera de las Pedrizas, Km. 33, 29014 Málaga
7. Rocío Tapas y Sushi
Rocio Tapas y Sushi has a very important feature: it has the help of Masao Kikuchi, one of the best sushi chefs in the world. He had his own restaurant in Hawaii and has cooked for the Emperor of Japan himself. Try the best oriental food in this little tavern where a varied tapas menu is also available. If you go here, you simply must try the miso soup, tuna belly, the misoyaki butterfish or the sakurani octopus.
Calle Francisco de Cossío, 10, 29004 Málaga
8. Real Colegiata de Santa María, Paladares de Andalucía, Antequera
Once a month, the Collegiate Church of Santa Maria Maggiore is the setting for the "Palates of Andalucia", a sensory dinner-show in this amazing place which will bring the history of Andalucia to you. An extraordinary activity in which you will travel in time, which will carry your imagination away and, thanks to sensory stimulation, give you a unique and unforgettable experience. You will be blindfolded and will then try different tastes which harken back to historical periods which are not to be missed.
9. Restaurant La Cocina Chipriota, Fuengirola
This restaurant is an institution in Fuengirola. The Cypriot Kitchen is an unusual establishment, not because of its food but the astrological halo around it. Here you can taste the traditional dishes of this country after which you have the future at your hands. If you order a coffee, when you finish it, you have to turn it upside down and put your hands on top, focusing all your energy on it. The store owner reads the dregs that are left in the cup and will amaze you with his predictions for your future.
Av. Acapulco 14, Fuengirola (Málaga)
10. Picnic, Malaga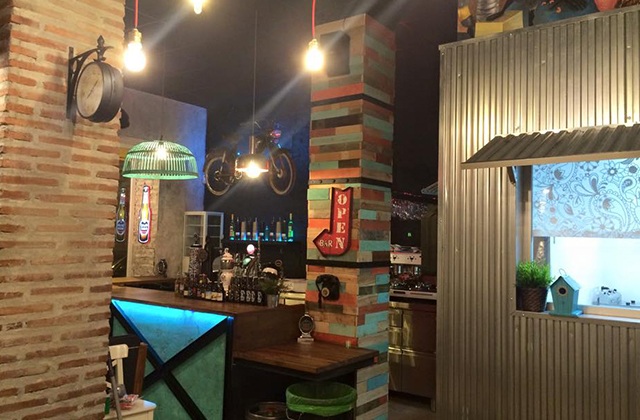 Picnic is an establishment inspired by the traditional US diner. This restaurant, located in the Soho of Malaga, is committed to offering simple, but well-prepared gastronomy. The most curious thing about this place is that this restaurant occupies what was once a brothel and in a very risky, albeit original, way has been able to make use of a large part of the original infrastructure. A caravan has also been installed as a decorative element to "wrap around" the kitchen. Its strong pint is the home-made bread and the Galicia meat burgers, in addition to its exquisite cakes. Don't worry if you are vegan, since there is also a chickpea, vegetable and curry burger.
Calle Barroso, 10, 29001 Málaga
11. Brunchit, Malaga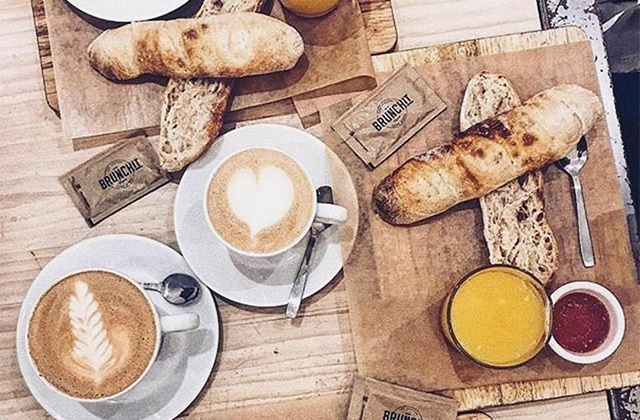 Brunchit is the perfect place if you are into self-care. Its varied juice menu is the best you will find, with apple, beetroot, radish, spinach, among others. It is the only one you will find in this part of Malaga. If you are passionate about Italian cuisine, we recommend you combine one of these juices with a delicious pizza, lasagna or focaccia bread. Its cuisine is imbued with a Mediterranean and healthy philosophy wrapped up in a minimalist and informal air. You won't regret coming.
Calle Carretería, 46, 29008 Málaga
12. Recyclo Bike Café, Malaga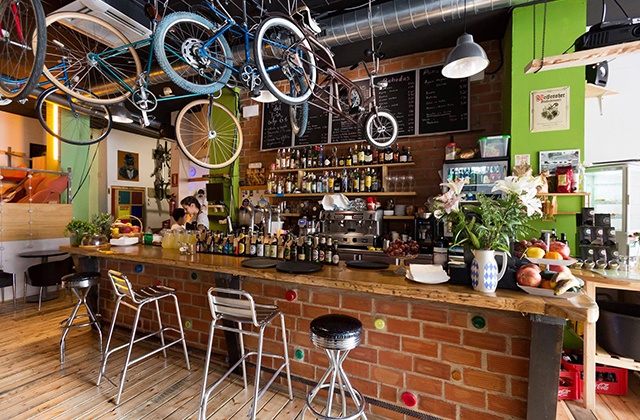 Green juices are trendy and that's a fact, and, as such, are one of the strongest aspects of the culinary proposal of this odd establishment that started out with a very original proposal: combining a love of cycling with gastronomy and culture. Here you can enjoy original salads, burgers, burritos and sandwiches.
The walls are, of course, decorated with bicycles, though local art is also displayed and artisanal markets are sometimes organised.
Plaza Enrique García-Herrera, 16, 29005 Málaga
13. El Apartamento, Malaga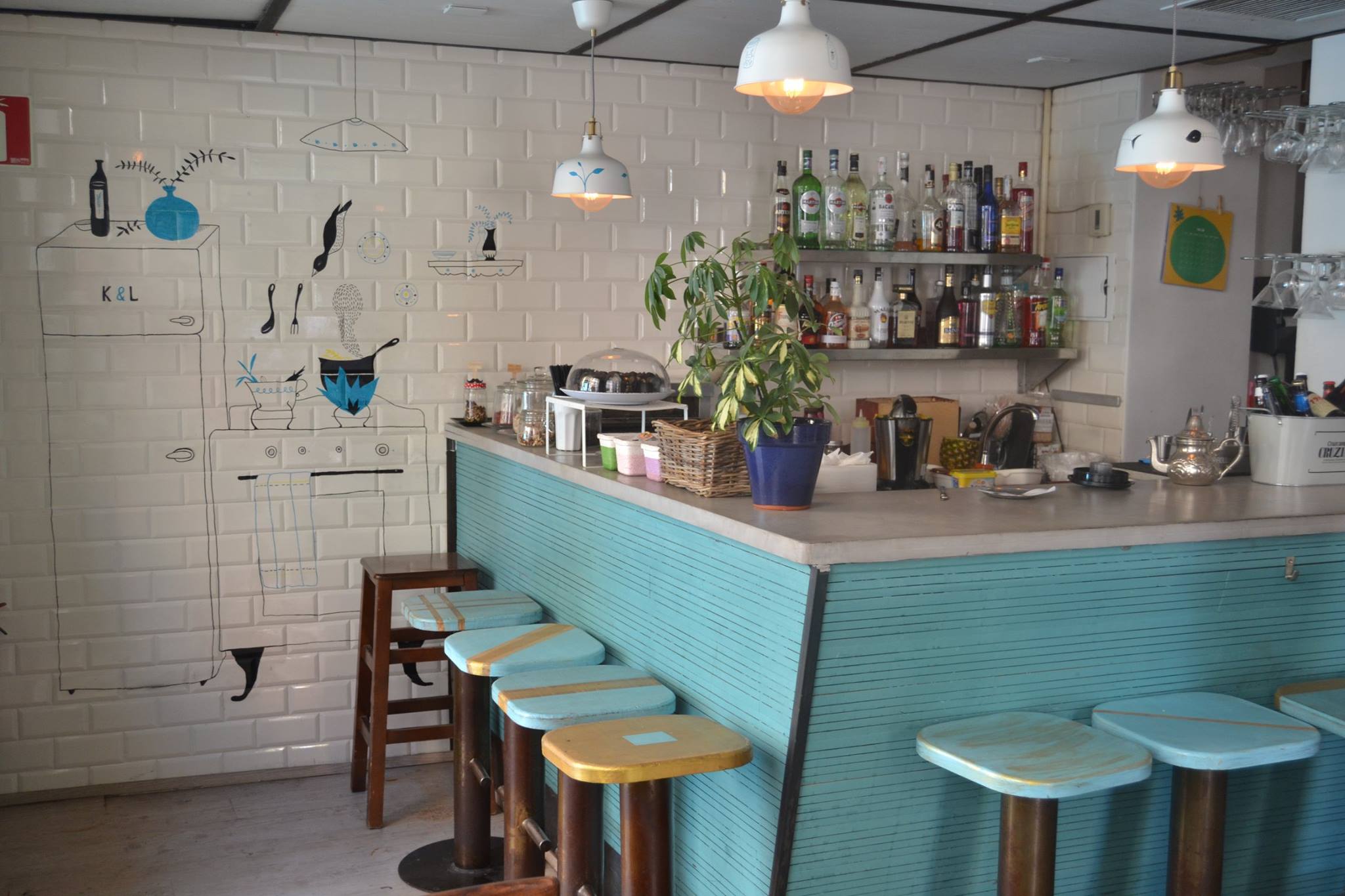 El Apartamento is a restaurant located in the former site of the old Laboratorio. What is original about this establishment is that the waiters greet you in an area with open rafters, a kind of studio inspired by American lofts.
El Apartamento is cosy and inclusive. Its decor is based on recycled materials, with iron and wood in abundance. Its menu focuses on international cuisine and you can choose from dishes such as tuna tataki or moussaka, as well as starters such as croquettes, the traditional Russian salad and delicious nachos.
Calle Carretería, 92, 29008 Málaga
14. Mmm! Cabaret, Malaga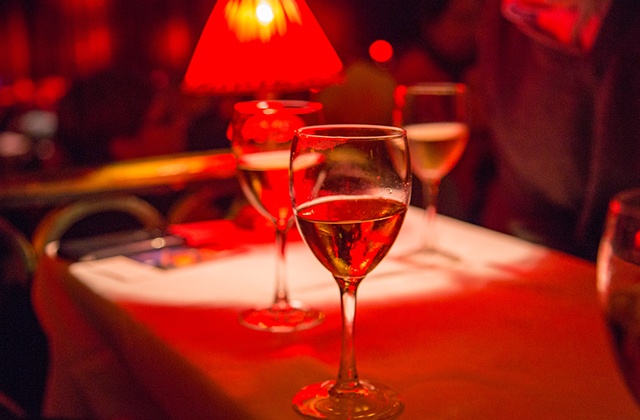 This establishment is Malaga's first restaurant with a cabaret circus show. It specialises in birthday, company dinners and hen and stag dos. If you pay it a visit, you will enjoy a different way of dining, with endless themed shows, and will end up dancing all night in the after-show disco.
Cmo de S. Rafael, 98, 29006 Málaga
15. Molino Blanco Restaurant, Antequera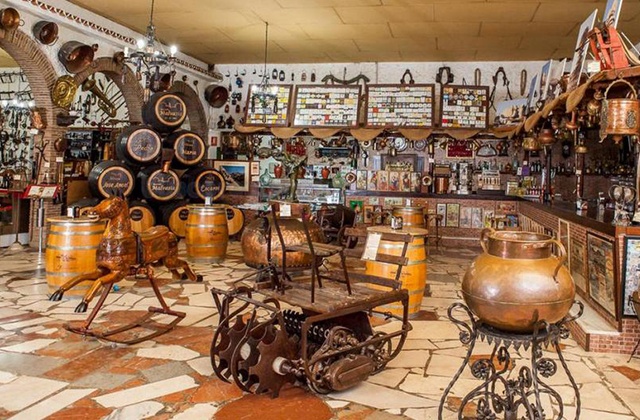 As well as a restaurant, this establishment is a museum of uses and customs. Molino Blanco is located in the beautiful city of Antequera. Here you can enjoy traditional local cuisine. It also has spacious parking for buses, a rest area where you can stop along the way, a traditional menu and a swimming pool with a picnic and snack area. An added bonus of this restaurant is that you can travel back in time by viewing the different pieces displayed in its museum.
Carretera Del Torcal, Km 5 A-7075, 29200 Antequera, Málaga
Don't miss these nine locations if you come to Málaga. Enjoy their peculiarities and choose the one that suits your curiosities.
ACCOMMODATION
The best option for accommodation on the Costa del Sol, to see its cities and enjoy the most unusual restaurants in Málaga, is undoubtedly Fuerte Hoteles. The chain has branches where you can enjoy the best of each area throughout the province, in addition to its services. Its more than 50 years of experience are the best guarantee. Marbella, Estepona, or Torrox are some sites where you can find this amazing accommodation.