The 15 Essential Places To See Flamenco In Andalucia
Flamenco in Andalucia is an art form that is very deep-rooted in the culture, and in which music and dance are the absolute protagonists. So, for travellers wanting to enjoy a short break in our community and experience different activities, what can be better than having a glass of fine wine while listening to the deepest song at the best places to see flamenco in Andalucia? Flamenco venues are the best places to see the best flamenco; spaces where deep song, the accompanying guitar, the momentum of the steps and the clapping and dance of the artists converge.
Here is a tour of the best temples dedicated to flamenco where, in addition to enjoying this art form, you will have the chance to immerse yourself in authentic historic enclaves, learn about the most outstanding gastronomy in Andalucia and enjoy the most authentic nights on earth. Let's begin!
Where to See Flamenco in Andalucia
1. Liceo Flamenco (Málaga)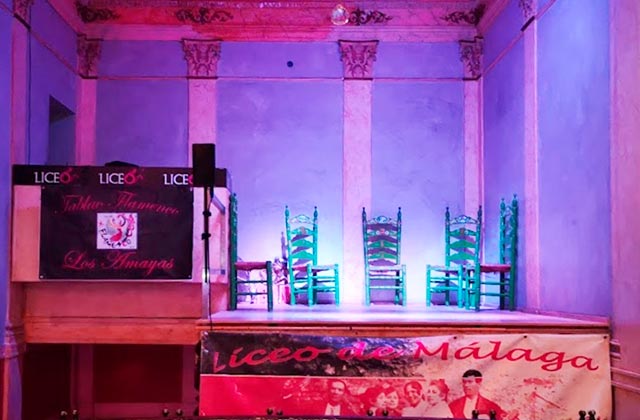 We were certain that we'd travelled to the nineteenth century. The Liceo Flamenco is located in the heart of Malaga on Beatas Street in a former palace that preserves the best parts of the tradition while allowing room for innovation. One of its finest selling points it its effort to revive and present live flamenco to young people, offering the opportunity to witness the art's cultural heritage and promote art and creativity in a professional and enthusiastic way. Its walls are decorated with paintings and  posters of artists sitting at their tables and visitors can sample a wide range of local wines. Additionally, the the Liceo Flamenco hosts exhibitions, wine tastings and flamenco classes including shows "a domicilio", which is something really new.
2. "Los Gallos" Flamenco Show (Sevilla)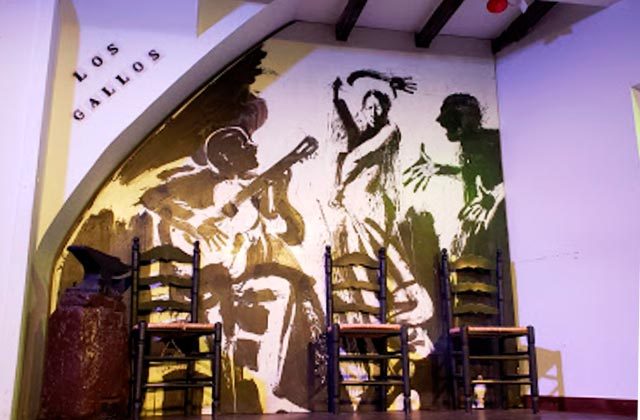 For this, we travel to the city of La Giralda and stop in one of the region's most traditional neighbourhoods: the Barrio de Santa Cruz. There we find"Los Gallos", the oldest flamenco setting in Sevilla with over 45 years of history. The space has been visited by renowned flamenco names, like Paquera de Jerez, the reciter Gabriela Ortega, Antonio Mairena, Fosforito and flamenco dancers, Matilde Coral and Trini España. Currently, the performance space hosts the best of flamenco with internationally renowned and awarded artists. It also has no sound amplification (microphones or speakers) – everything is live! The space's restoration, which occurred a few years ago, kept the space's momentous environment intact, offering visitors the comfort and enjoyment of its historic walls.
3. The Rocío Cave (Granada)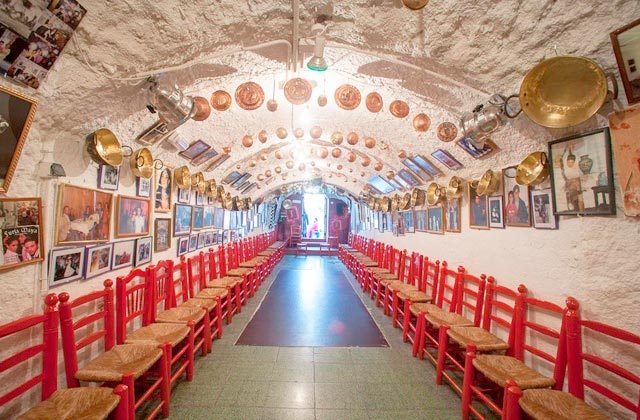 If anything epitomises the legacy of Granada flamenco, it is the long history of one of most artistically lit neighbourhoods: The Sacromonte. If is home to, among other essential locations, the Cueva de la Rocío, or the Rocío Cave, one of the first gypsy zambras. Founded in 1951, the space is the product of the Los Maya flamenco dynasty – one of the art form's finest. In this landmark corner of the city, you can also enjoy stunning views of the Alhambra, sampling a typical menu of the local land before enjoying live flamenco at its purest. The cave holds 150 people and can play host to luncheons, weddings, christenings or even pre-wedding parties. It is decorated with pots and utensils of brass and copper as well as the typical rush-bottomed chairs. Considering Michelle Obama once visited here, who knows who you might expect to meet when you're there.
4. "El Arenal" (Sevilla)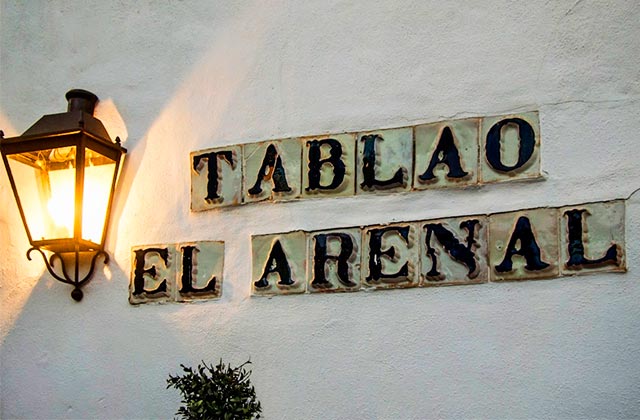 Another one of Sevilla's most traditional spaces is "El Arenal", which takes its name from its location. Founded in 1975 by the great dancer Triana Curro Velez, a disciple of Enrique "El Coto", this space has played host to some of the world's most well-known artists, including Carmen Amaya, Pilar Lopez and Manuela Vargas. El Arenal is considered of the finest spaces on the continent and combines the charm and aesthetic genius of flamenco with an excellent and innovative tapas menu. The space's lighting and decor are one of its attractions.
5. "Pepe Lopez" (Torremolinos , Málaga)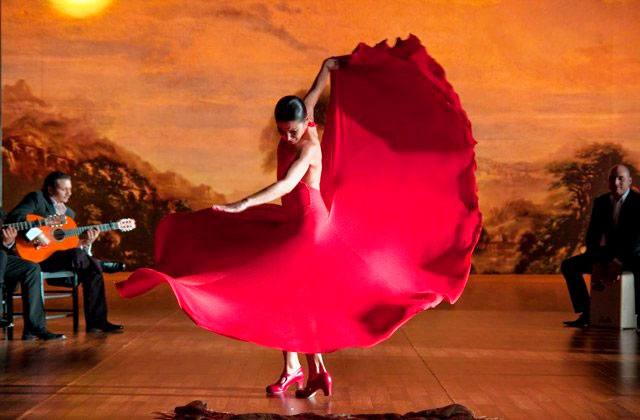 A classic of the Costa del Sol is the "Pepe Lopez", located in the heart of Torremolinos. Its doors opened in 1965, with the name "El Jaleo", and has attracted outstanding artists such as Camarón de la Isla, Manuela Carrasco and Mario Maya. The space is characterised by its excellent technical aspects and curious decoration. All seats (182 of them) are hand-painted with different flamenco motifs. Currently, the space is home to 10 artists all working on way to combine flamenco with classical Spanish dance. This is an interesting place where missing tiles, copper and wood come together to provide a unique, quality experience.
6. The "Cardinal" Flamenco Show ( Córdoba)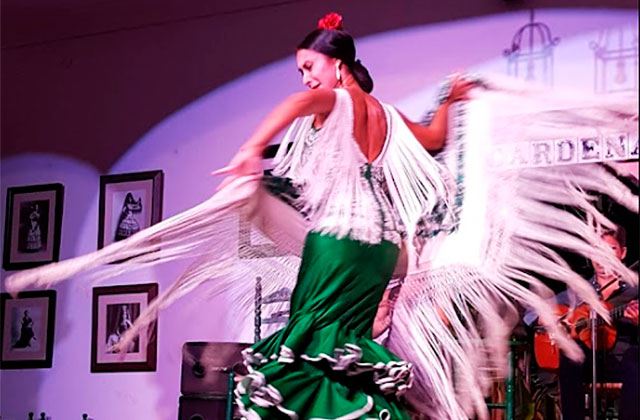 Cordoba, in addition to its many attractions, has one of the most magical flamenco in Andalucia. On the Torrijos – a street between the Mosque and the Roman bridge, one can find the "Cardinal" Flamenco Show, a space with 25 years of experience and has received the "Best Tourism Product Award" by the Cordoba Board of Tourism. The tablao,or flamenco space, is located in a beautiful sixteenth century Mudejar building where have hosted marquee names like Rafael del Pino, Antonio Alcázar or Victoria Palacios, all under the direction of the "Merengue de Córdoba" and an outstanding collection of artists who combine passion and colour to create an unforgettable experience.
7. The "Canastera Mary" Zambra (Granada)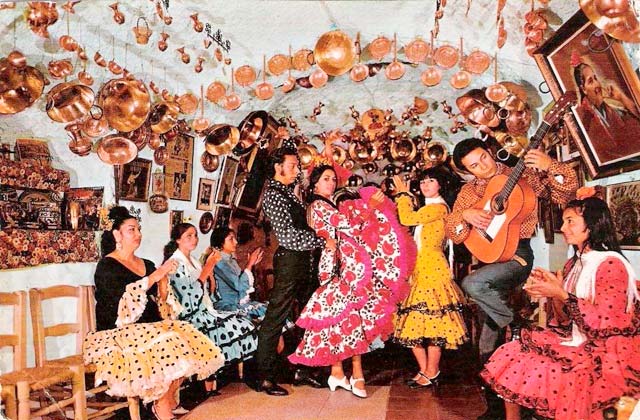 If there is a single flamenco space that can count kings, princes, artists and intellectuals among its guests, it is the "Canastera Mary" Zambra. Opened in 1953, this cave is where the original dancers lived with their children during the day. It is currently one of the most well-preserved and best kept spaces, offering all the flavour of its history through its decoration and quality service. It has received countless awards and hosted the King and Queen of Belgium, the Duke of Windsor, Ernest Hemingway, Ingrid Bergman and King Hussein of Jordan, among many others. If you want to try the  Sacromonte tortilla or Trévelez Beans with ham, the "Mary Canastera" Zambra offers you the opportunity to enjoy these and other dishes as well as the best flamenco atmosphere in the city.
8. The Seville Courtyard (Sevilla)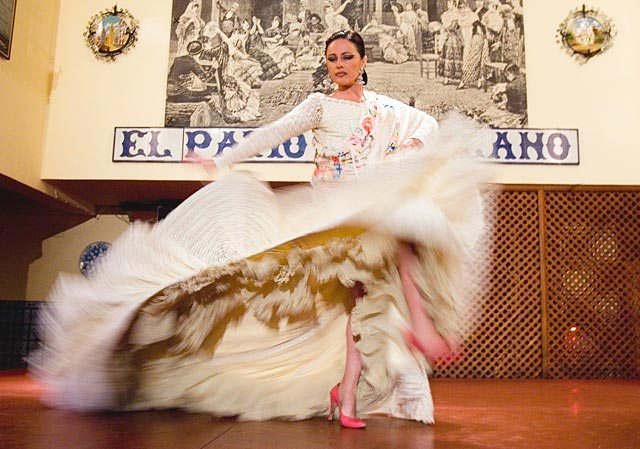 Currently, this interior patio is a true landmark in this city of flamenco, situated on the banks of the Guadalquivir River and home to a spectacle that offers quality, soul and tradition. Although it dates back to 1952, the space settled into its current location in 1973. During that time, some of flamenco's finest singers and dancers have visited and performed. Its efforts have been recognised for more than eight awards and currently offers, in addition to its shows, flamenco classes, workshops and private performances. The decor offers interesting works of art reflecting Andalucian charm.
9. "The Tarantos" Caves (Granada)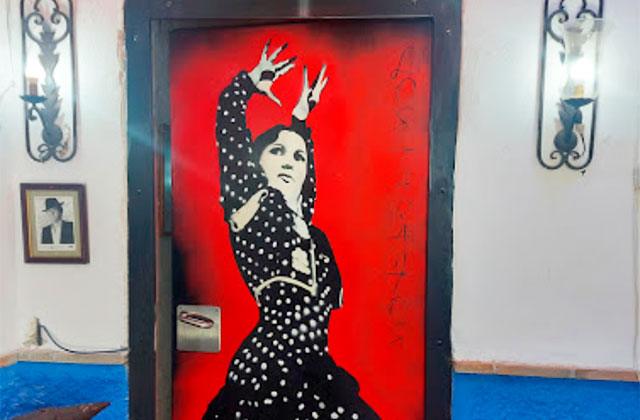 The story of "The Tarantos" goes back, like many others, to a dynasty of great flamenco artists. In the quintessential gypsy quarter of Granada, known as Sacromonte, lies this space. Founded in 1972 by José Martín Quesada and Maya Conception, the space has worked to preserve the purity of flamenco, especially the "granaíno". There you can find a renowned  dancing and singing school that has helped train a long list of nationally and internationally known artists. They offer dishes of Andalucian cuisine and flamenco classes, private parties and opportunities to rent the three caves for celebrations. This is a unique place to get to know the true Gypsy Zambra tradition.
10. The Andalucian Palace (Sevilla)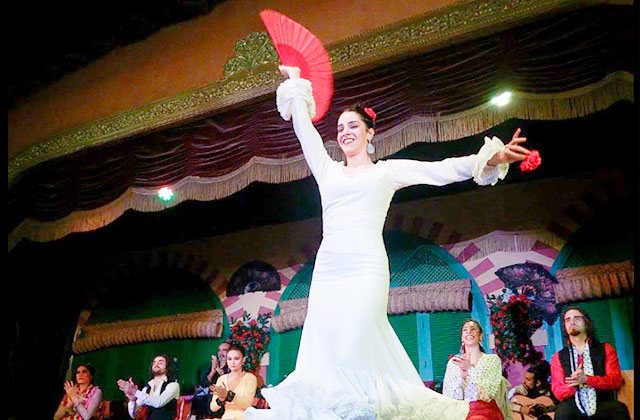 In the neighbourhood of La Macarena in Seville, one can find this space located in a nineteenth century building. The Andalucian Palace is a hidden corner to discover flamenco tradition combined with an innovative adaptation of the Bizet's opera Carmen, among other attractions. Its show has been chosen by Televisión Española to represent and promote flamenco abroad, thanks to its great dancers, singers and guitarists. Soul, passion and strength are present on the large stage, as well as the kitchen where you can taste typical, local dishes. They offer a number of deals and promotions that make it easy to experience a true, Andalucian flamenco palace.
11. La Alboreá, Granada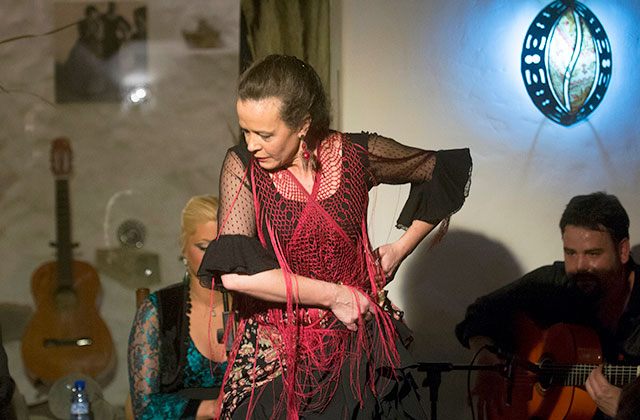 La Alboreá offers an unparalleled show right in the heart of Granada. Dance, guitar and song performed by artists, many of whom are members of well-known families from the Sacromonte neighbourhood, with an extensive and prestigious flamenco career, such as Paco Fernández, Fran Vílchez, Jara Heredia, Alicia Morales, Cristina Aguilera and Rubén Campos. This emblematic place also has a VIP area and several private boxes on the upper floor, where you can enjoy a special dinner of cold cuts and local wine while you let yourself be moved by an unbeatable show.
12. Bar Lola de los Reyes, Seville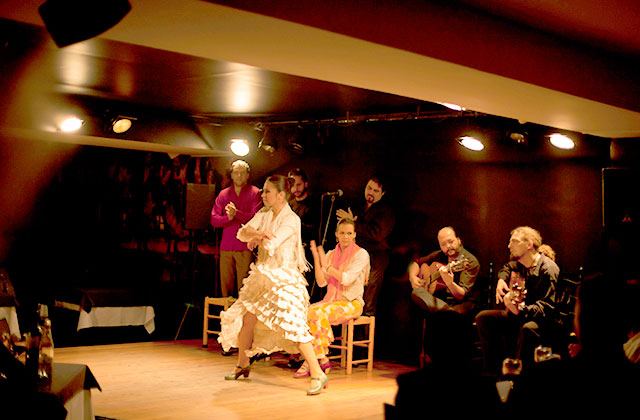 This bar is named after its owner, Lola, an artist who has been singing all her life without stages and microphones, albeit accompanied by a guitarist, another singer and a dancer. This tablao is very famous among locals, especially for its family atmosphere and because it is easy to participate in these bewitching events, since anyone can request a song. And while you are enjoying the visual aspect or taking part in the song and dance, you can have a drink at a reasonable price, and then leave it on the table as you start to dance to one of the many sevillanas that will be played.
13. Tablao Flamenco La Cava, Cadiz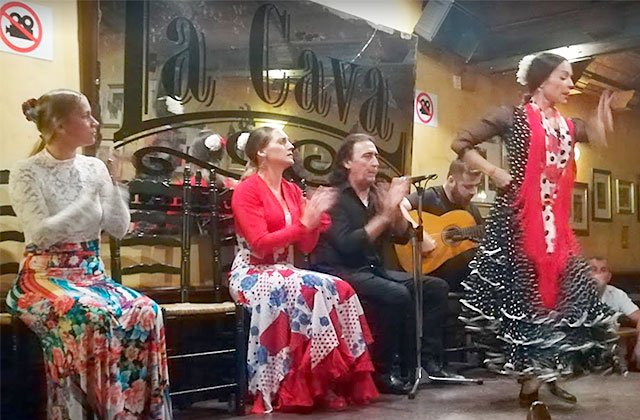 La Cava is a flamenco tavern where you can enjoy the decor that includes over 150 original photographs of the characters who have made their mark on the last 50 years of flamenco's history. Its patrons are made up of the Spanish and foreign tourists who visit Cádiz and locals, who include young and mature students. On Tuesdays and Saturdays there are live performances. A flamenco troupe of the stature of Alejandro Mendoza, Jaime de la Isla or Jesús Barrios "El Canastero", among others, livens up the place until the wee hours.
14. Museo Flamenco Juan Breva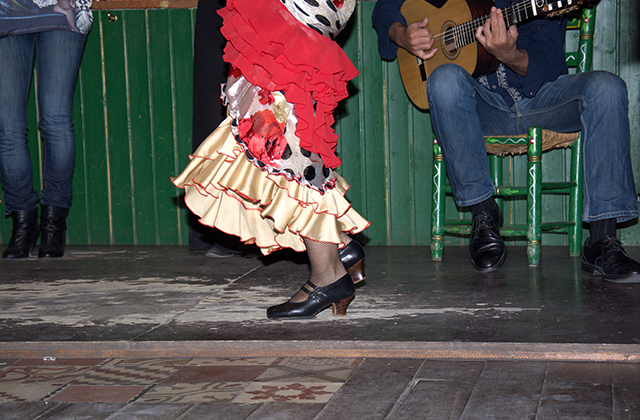 Museo Flamenco Juan Breva is a traditional flamenco tavern with two storeys, where over 5,000 pieces are on show, including a collection of over 2,500 discs, which is one of the most important in Spain with some pieces from the 19th century.  Every Tuesday and Friday, Malagan artists sing, play guitar and dance on their boards. The exception is the first Friday of the month, when the party takes place on Saturday with a Berza flamenco, where people eat and enjoy a flamenco show.
15. Tablao Flamenco Felahmengu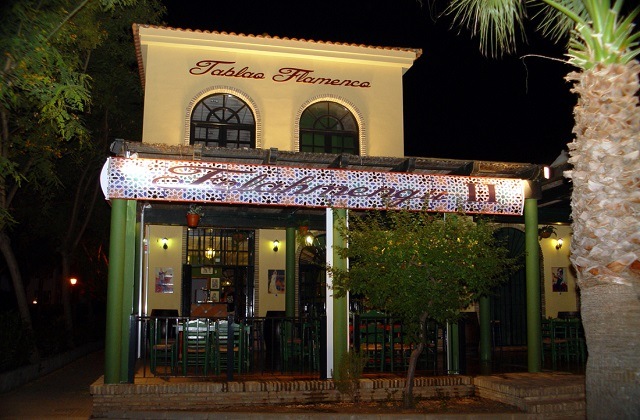 On the Costa de la Luz, the best option to really learn about and enjoy the art of flamenco is Tablao Flamenco Felahmengu. Here you will have the chance to see live flamenco with all its passion and charm. You can enjoy the genius of Antonio Delgado, a professional dancer with over two decades' experience, not to mention the enormous cast of artists: singers, dancers, percussionists and guitarists, who give their all to the music. As well as the best music, you can also enjoy the best gastronomy of the land surrounded by the most authentic Andalucian ambience.
16. Tablao Casa Ana (Granada)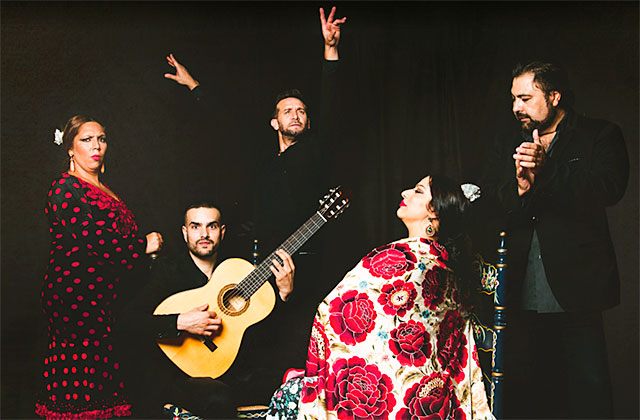 Flamenco Casa Ana is a flamenco tablao located in the city of Granada, Spain. This intimate and cozy space offers an authentic flamenco experience, with live performances every night. Flamenco Casa Ana has become a reference point for flamenco lovers, both locals and tourists. With traditional decor and a warm atmosphere, this tablao is the perfect place to enjoy flamenco music, dance and singing in a unique environment.
WHERE TO STAY
If you wish to discover Andalucía, don't hesitate to stay at the best hotels. Without a doubt, the best option is Fuerte Hoteles. The chain has facilities where, apart from the regular services, you can enjoy the best of each spot in the Andalucian geography. Its over 60 years' experience is the best warranty so you can devote your time to discovering these unusual corners. Marbella, Conil, Grazalema, El Rompido or Torrox are some of the places where you can find amazing accommodation facilities near the spots we have recommended for you.