Basic guide for attending the San Bernabé Fair in Marbella
The Feria de San Bernabé is one of the most relevant festivities, with the greatest "packaging", and tradition of Marbella which is celebrated every year in June. San Bernabé is one of the most anticipated and most colourful events on Costa del Sol. This festival together with Carmen in July is one of the most awaited and deeply rooted festivities felt by citizens in Marbella. The fair in Marbella is one of the festivals with the greatest Andalusian flavour, where flamenco dresses are a very important part of the celebration. Both locals and foreigners mingle to enjoy dancing, music, good wine and delicious cuisine, for a whole week. Living first-hand the parties of San Bernabé in Marbella is the ideal occasion to enjoy the face "more traditional" of the town, the most ideal to get an idea of the Marbella of yesteryear, before the tourist boom.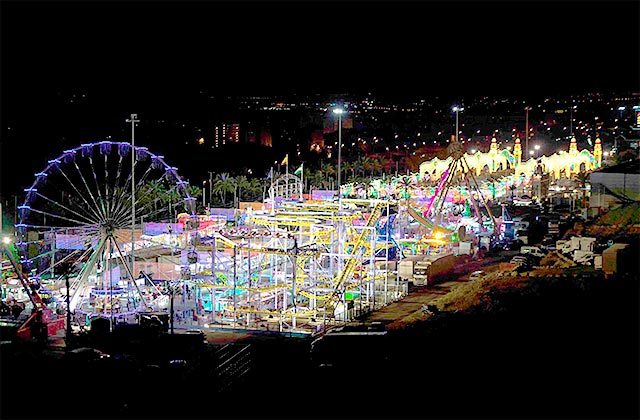 The 2022 Marbella Fair
This 2022, the Marbella Fair will take place between June 7 and 12, but it is June 5, when the traditional Pilgrimage of San Bernabé is celebrated, a party that usually begins early in the morning, with the launching of rockets announcing the departure from his Brotherhood House of the patron, after this they usually offer a free tasting of churros with chocolate to all attendees.
The procession has the following itinerary: Romero de San Bernabé Brotherhood House, Trapiche Avenue, Mayorazgo Avenue, José Luis Morales Street, Pinsapo Street, Calvario Street, Cánovas del Castillo Avenue, Camino del Pinar, Buchinger Street, ending in Pinar de Nagüeles. After this the mass of pilgrims is celebrated from the Ermita del San Bernabé. And it is already at noon when the playful / festive activities begin in Pinar de Nagüeles, here you can enjoy dances, a popular paella offered by the City Council and to finish it is also celebrated the dance contest of the Flemish schools.
2022 Marbella Fair's program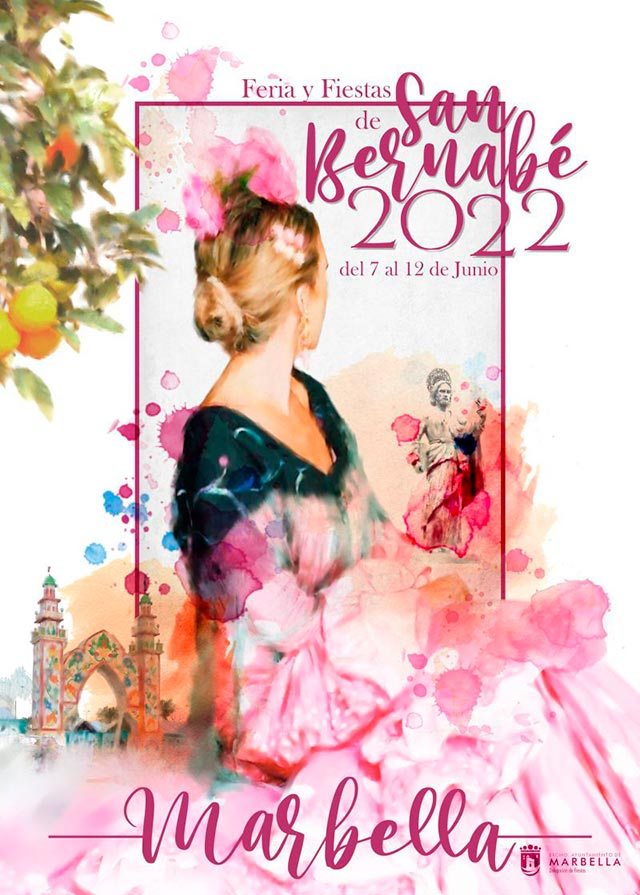 The Fair and Fiestas of San Bernabé 2022, in Marbella, take place from June 12 to 19. This is the program of events:
Sunday June 5
8:30 a.m. Free tasting of churros with chocolate. Next to the Casa Hermandad Romeros de San Bernabé.
9:00 a.m. Procession in Pilgrimage. From the Casa Hermandad to the Emita del Santo Patron, in the Nagüelles Park.
12:00 p.m. Mass of the Romeros. In the Hermitage of the Patron Saint, Nagüelles Park. Next, dance with the Duo Arenal.
1:30 p.m. Dance Academies Contest, in the Nagüelles Park. With the academies of Hnas. Maldonado, Eli García, Sandra Vázquez, Carina Parra, Cristina Ropero and Gema Piña.
2:00 p.m. folk paella.
Tuesday June 7
8:30 p.m. Inauguration of the Arch of the Fair, in the Fairgrounds.
10:00 p.m. Opening ceremony and Proclamation of the Fair and Festivities of San Bernabé, in the Francisco Cuevas Blanco Park (Terrazas del Puerto Deportivo)

Proclamation by Los del Río.
Coronation and imposition of bands on the Queens and Ladies, Miss Congeniality and her ladies. Election of the Popular Queen among those present.
Fireworks session.
Wednesday June 8
1:00 p.m. Inauguration of the Day Fair, in the arch of the Alameda Park
3:00 p.m. Fair live from Radio Television Marbella from Paseo de la Alameda.
5:00 p.m. Opening of fairground attractions.
7:00 p.m. to 9:00 p.m. Day without noise. Two hours without music in the attractions of the fair, for people with extreme sensitivity to loud sounds.
Thursday June 9
1:00 p.m. Opening of bars on Paseo de la Alameda and Avenida del Mar.
3:00 p.m.: Fair live from Radio Television Marbella. From the Paseo de la Alameda.
5:00 p.m. Performance of dance academies, in the Parque de la Represa.
7:00 p.m. to 12:00 a.m. Children's Day. Popular prices at fairground attractions.
Friday June 10
12:00 p.m. Pealing of bells and launching of rockets, to the chords of the National and Andalusian anthems. In the city Hall.
Parade of Giants and Big Heads.
12:30 p.m. FIFLAMC (Flemish Fitness). On the Alameda promenade.
1:00 p.m. Opening of bars on the Paseo de La Alameda and Avenida del Mar.
3:00 p.m. Fair live from Radio Television Marbella from Paseo de la Alameda.
5:00 p.m. Performance by the dance academies in Parque de la Represa.
7:00 p.m. Opening of attractions in the Fairgrounds.
7:00 p.m. to 9:00 p.m. Day without noise. Two hours without music on the fairground attractions.
9:00 p.m. Contest of Dance Academies 'Paquita Jesús'. In the church square.
11:00 p.m. Concert of 'Don't Pises Me I'm Wearing Flip Flops' and 'Mojinos Escozíos'. Fairground at night. Free entrance.
Saturday June 11
10:00 a.m. Religious Civic Procession to the Cross of Humilladero. Departure from Plaza de los Naranjos and tour of the Historic District.
10:30 a.m. Award of Medals. In Malaga street.
11:00 a.m. Solemn Mass and Procession in honor of San Bernabé. In the Parish of Our Lady of the Incarnation.
1:00 p.m. Opening of the bars on Paseo de la Alameda and Avenida del Mar.
3:00 p.m. Fair live from Radio Television Marbella from Paseo de la Alameda.
4:00 p.m. Performance of the Dance Academies. In the Dam Park
7:00 p.m. Opening of the Fairground attractions.
11:00 p.m. concert by Ana Guerra and Cepeda. At the Fairgrounds.
Sunday June 12
11:00 a.m. III Historical recreation of the entry of King Ferdinand the Catholic into Marbella on June 11, 1485. In the Plaza de la Iglesia.
12:00 p.m. Cool off in San Bernabé. On Pablo Ráez Boulevard.
12:00 p.m. Performance of the Dance Academies. In the Dam Park.
1:00 p.m. Opening of bars in Parque de la Alameda and Avenida del Mar.
1:00 p.m. Day of the Active Participation Center for the Elderly of Los Landscapes. Performances by Solera de Jerez, Coto CPA Los Paisajes, and Ballroom Dances by Cochi and José Antonio.
3:00 p.m. Fair live from Radio Television Marbella from Paseo de la Alameda.
5:00 p.m. Performance by the Karina Parra and Maldonado Sisters Dance Academies. In the Dam Park.
8:00 p.m. Concert by Juanlu Montoya and Antoñito Molina. On Ramón y Cajal avenue, Paseo de la Alameda area. Free entrance.
Queens and Ladies of The San Bernabé Fair
In Marbella, during those days, different activities are developed, at the Fair during the day and night. A few weeks before the Fair opens, the traditional contest to choose the Queens and the Ladies of the San Bernabé Festival takes place.
In this edition the winner is Noelia Bermúdez Fernández, who will be the Junior Queen and will be accompanied by Rocío Ruiz Tomé, Carla Rodríguez Coronil, Amy Pérez Martin y María Pilar Conde Gómez as ladies.
How to get there
During daytime, the Fair takes place in Parque de la Alameda and on Avenida del Mar.
At night, the Fair will no longer take in land of the third phase of La Cañada, now it has been decided to move it to a nearby plot, south of the highway, in the Arroyo Segundo area. The road that gives access to the Cañada tunnel will also be used, from the roundabout that exists to the south of the Arroyo Primero sports center.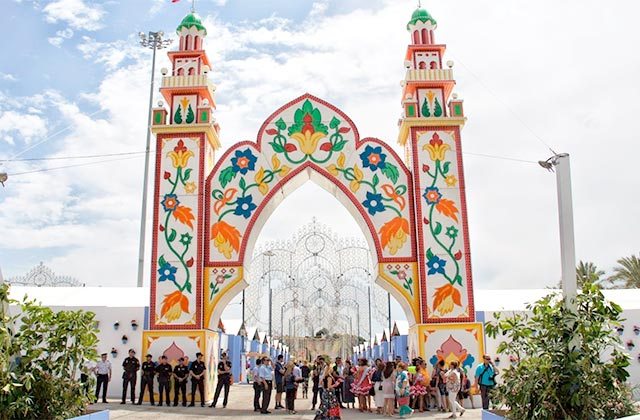 1. Free bus
Transport services for the movement of citizens and visitors, from different points of our city to the fairground at night(the Canadian phase III).
Opening hours: from 5 to 11 June, will be 18.00-03.00 hours except in the following cases:
Wednesday,

June

6,

17.00-03.00

hours

special

service.

Special

night

service

for

Friday

7th,

Saturday

8

and

Sunday, 

June

 9

.
These days will have a bus service that will expand the completion of your journey up to 6.00 hours.
From 6:00 p.m. to 03:00 a.m., the City Council of Marbella also puts into operation a train that departs from Parque Comercial La Cañada and from Av.José Manuel Vallés (next to the Valle Azul building.)
Parking and mini-train
You can opt to leave your car at the Albarizas, where the Town Hall has provided a mini-train service as far as El Real that is also free and that has a pick-up point in the vicinity where avenida José Manuel Vallés ends. From La Cañada to the feria site, access is by foot or by the public transport means provided only.
Opening hours:
From 6:00 to 3:00
From 5:00 pm to 3:00 pm (Thursday, June 6)
History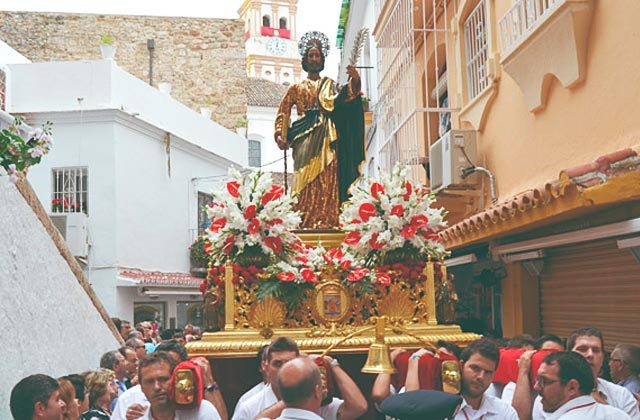 The San Bernabé fiestas pay homage year after year to the Patron Saint of Marbella. Leisure, fun, the coming together of locals and a good atmosphere take over the city on these fiesta days. San Bernabé Day is also Carmen Day, one of the more important times of the year for Marbella.
These fiestas commemorate the Reconquest of Marbella by the Catholic Monarchs in 1485. During this week of the Fair, locals, as well as tourists and visitors, have the chance to enjoy traditional and colourful Andalusian fiestas.
The Fair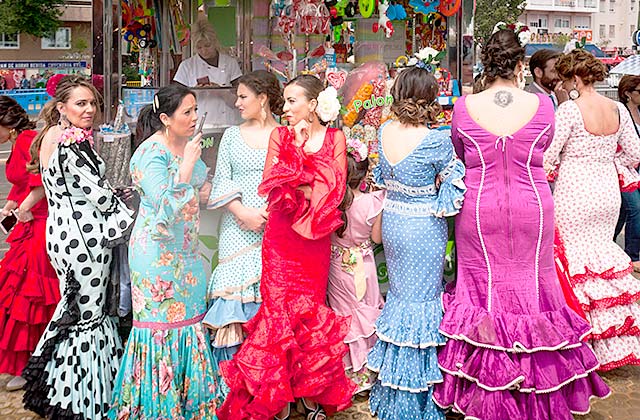 For one week, booths and cachorros take over Marbella and the old quarter and fair site display colourful flags. People wear traditional dress and both tourists and locals enjoy the picturesque charm of traditional Andalusian fiestas. The programming is varied and fun, and includes shows, processions, processions carrying the Virgin, events and performances of all kinds.
The large amount of people who come to this event creates a great atmosphere, with the streets full of life and colour and everyone having fun, but on the other hand, a couple of little things should be taken into account in order to enjoy the fair as much as possible: June is usually pretty hot so it is best to have a hat and bottle of water to hand. As always, when there are many people, there can be pickpockets. These are isolated and infrequent cases, but not carrying much money and paying attention are two simple precautions that can be very useful.
Sampling the tapas booths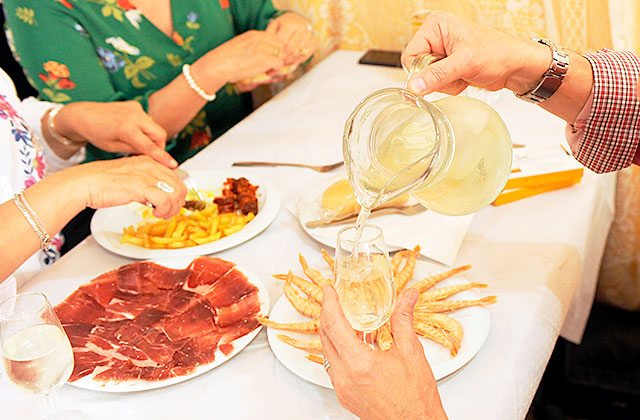 All that dancing will make you hungry and thirsty and, if the rest of the year we tend to eat traditional Andalusian and Mediterranean cuisine, this is even more pronounced during the San Bernabé Fair. Horse riders and people proudly wearing Gitana dress are now as popular as Spanish omelette, fried fish and churros with hot chocolate when the fair is over.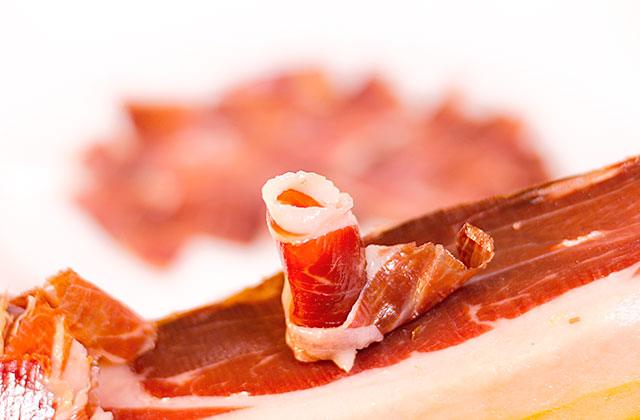 Bear in mind, too, that people do not have a meal at the Feria, but rather snack and for this the Iberian pork products are the best choice. But everyone knows that there are two culinary stars: ham and cheese. We eat with our hands and you should try the Costa del Sol's seafood delicacies.
Dinner is done well at the Fair. Everyone enjoys El Real, the booths and meeting up with friends, and the customary small sandwiches are savoured, especially by the little ones. The adults, for their part, can try a wide range of small sandwiches accompanied by fried peppers.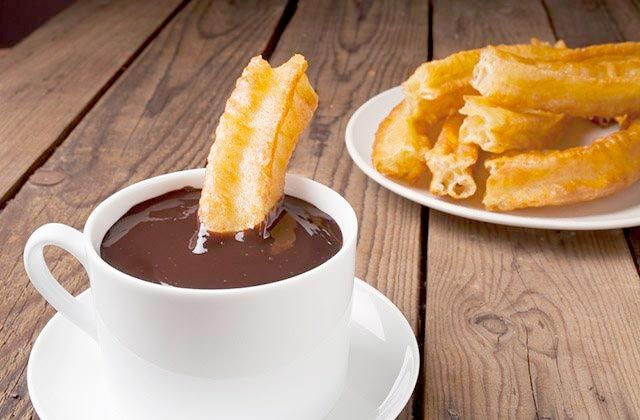 Eating is a serious business at the Fair that stretches far into the night. When the lights go off and the day begins, people say goodbye over churros with hot chocolate or delicious fritters. They never go hungry.
Drinks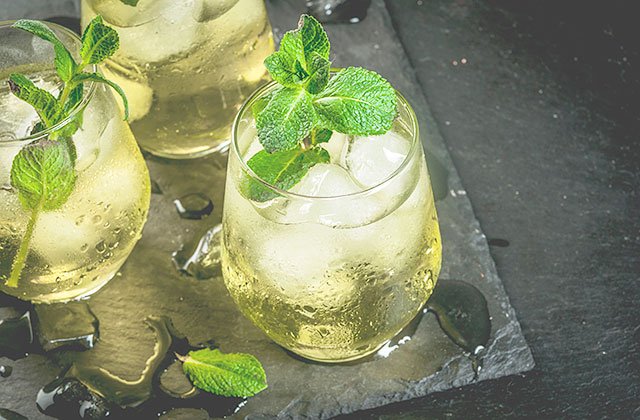 All this is washed down with a refreshing drink, since this time of year is usually pretty hot in Marbella. The most traditional way to cool down is with a glass of beer or manzanilla or fino sherry. You can also try a traditional drink: rebujito, which is made with fino sherry and Seven Up. Whatever method you choose, remember to drink in moderation so you can enjoy the Fair with all your senses sharpened.
CURIOSITIES AND TIPS TO ENJOY THE SAN BERNABÉ FAIR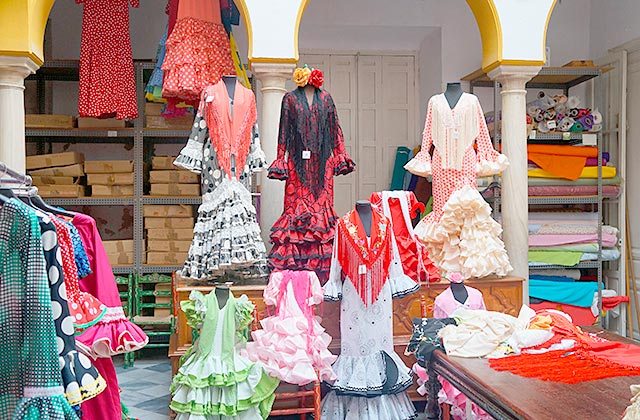 Those who have visited the Fair of San Bernabé are aware that all Marbella´s citizens are the best ambassadors of this festivity. But for those who still do not know what Cartojal is, what verdiales are and how they sound or have not yet taken a waffle with chocolate to regain strength, pay attention, because now we are going to put some guidelines to take into account if you want to enjoy San Bernabé to the fullest:
To check the celebrations program
We recommend you to check at our section for the 2019 Fair Program to know first-hand what activities have been prepared for this year, since this way you can know beforehand what you want to see and where it is.
The perfect 'Outfit' for the fair
It is true that each type of event requires its particular 'protocol', but at the Fair of San Bernabé we can say that there are no limits. Each one can go as he/she likes and as comfortable as he/she  feels, therefore, the most normal thing is to see the light clothing assistants (with comfortable and soft clothes), so as not to pass more heat than strictly necessary.
The power of Hydration!
Keep in mind that at this time of the year is really hot, so the most important thing to avoid a heat stroke is to hydrate well and drink fluids. And since we are in Feria and we won't always be drinking water, in this fair you can also take a delicious red wine with lemon, a very cold beer (it must be a "Victoria, 'malagueña and exquisite"), soft drinks and especially a very special drink that is the queen of all the fairs, Cartaojal.  
Cartojal
The Cartojal is the most popular drink in the fair, it is a sweet wine that is taken very cool and always ends up in the suitcase of the tourists who try it. As a tip, we will tell you that it is necessary to take with moderation, although the heat makes you want to drink once and again. The problem comes when alcohol takes over you.
Don't forget Marbella!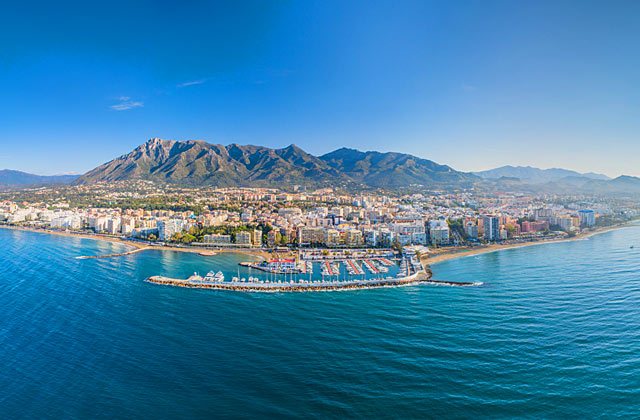 There is a lot more to see in Marbella aside from the San Bernabé Fair. Bear in mind that on these days the city is empty as everyone goes to the Fair, so it can be the perfect time to enjoy Marbella's monuments or get lost in the city's streets.
The 23 festivals you can't miss in Andalucía
The fifteen festivals you cannot miss in Andalucia
Where to park in Marbella without dying in the process
30 things to see and to do in Marbella
We hope that this post has opened the desire to come to enjoy Marbella of your big week and that, if you decide to come, enjoy the most of this holiday and do not hesitate to take a glass of Cartaojal to our health
WHERE TO STAY
If you decide to come to Marbella, make sure you stay at Fuerte Hoteles. Fuerte Marbella is a true symbol for the city and has over 50 years' experience. The establishment has 263 rooms, all soundproof and equipped with air conditioning, satellite TV, free WiFi, safe and private bathroom with amenities and a hairdryer, among other services. It is also surrounded by gardens, with unbeatable sea views and two outdoor pools.