Discover every corner of San Pedro de Alcantara, the other unknown jewel next to Marbella
San Pedro de Alcantara is an urban area that belongs to Marbella, in the south of Andalusia, but its aesthetic and idiosyncrasies differs prominently from the coastal city. We would you to visit this privileged enclave in the province of Malaga and tell you about all the different things you can do and see here. The locals are friendly, approachable and hospitable and will make you feel all the time like you're at home. A perfect destination to enjoy the sea, good food and a very important cultural heritage. Don't miss this opportunity and come and visit.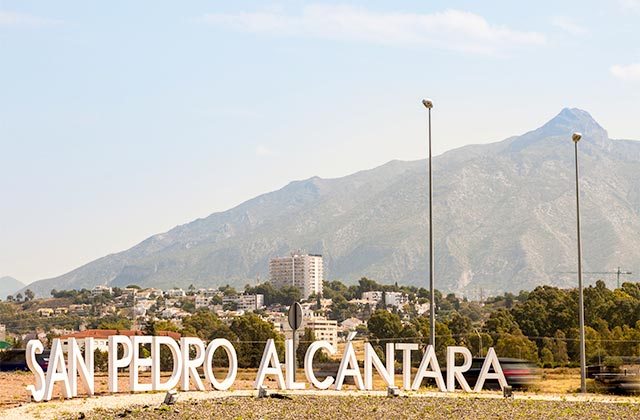 MONUMENT OF SAN PEDRO
San Pedro de Alcantara has several places of interest to visit. If you like history do not miss the vestiges of this unique destination:
Basilica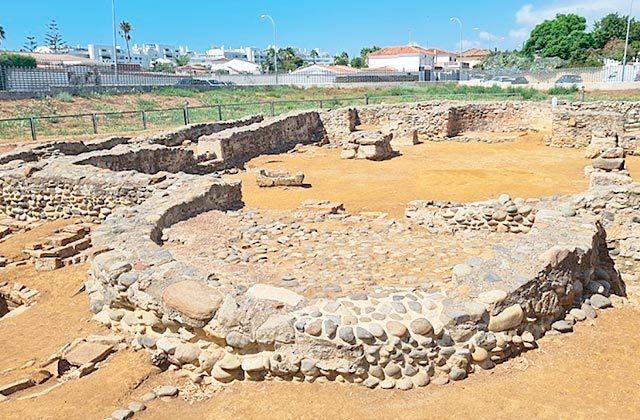 The early Christian basilica of San Pedro de Alcantara is one of the oldest examples of Christian churches in the Iberian Peninsula and dates approximately from the sixth century. Here a blending of cultures took place, among the Romans, the Visigoths and the Byzantines. The building itself has a rectangular plan with three bodies, one central, the most important place of worship and two access side courts, which were separated from the main body by a row of columns with arches. You will be immediately surprised by the fact that there are two apses at the ends. The structure of the basilica, which now only keeps its remains, still gives account of its glorious past. An example is the impressive baptismal font and a group of tombs that are scattered around, among other important details.
Roman Villa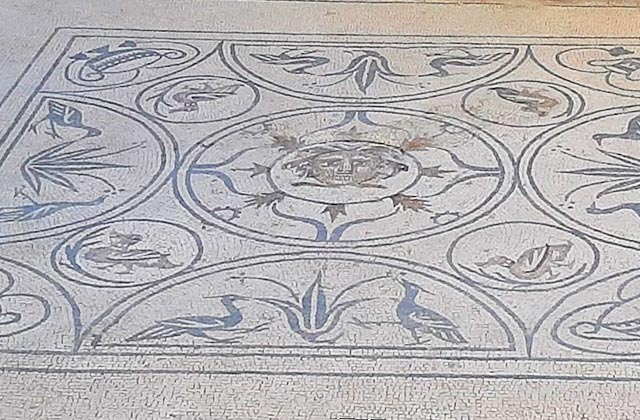 In the Roman Villa you will find a series of mosaics made of cubic stones mostly with two colours, white and black. Within the limitations that entailed the exclusive use of the dicromia, the realism is quite accomplished and will surprise you. The Roman villa of Rio Verde was built in the late first century as a country estate where a number of agricultural activities, particularly the manufacturing of garum developed. This food was a paste whose composition included various fish, particularly the mackerel. Garum was part of many Roman recipes and its price was quite high in Rome.
Termas de la Boveda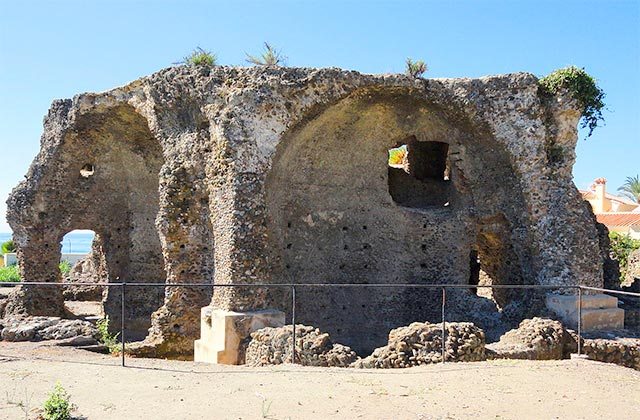 Las Termas de la Bóveda de San Pedro is the first traditional spa in Costa del Sol. In addition to its hygienic use, the baths were, above all, a social meeting place and Inside there was a relaxed, supportive environment, suitable for all kinds of meetings. It features a series of baths with different temperatures: hot (caldarium), warm (tepidarium), cold (frigidarium), distributed around a central relaxation area.
BOULEVARD OF SAN PEDRO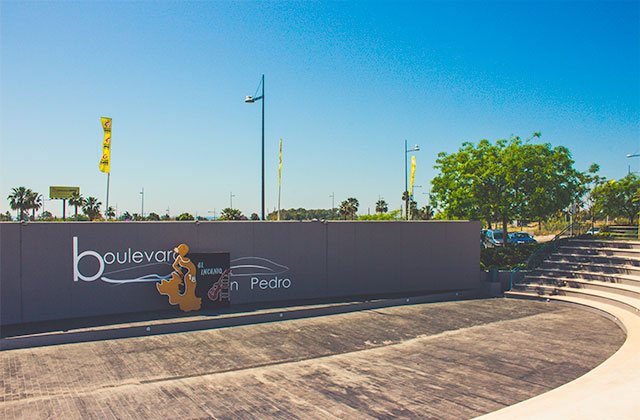 The Boulevard of San Pedro de Alcantara has been recently built and is an ideal starting point for anyone who wants to walk and enjoy the town's mild climate. Water, herbs and Mediterranean plants are the protagonists of this space. Here you can frequently find cultural events of all kinds. If you have
children, this is a great opportunity for them to enjoy the immense playground made specially for them. This area falls within the concept of Smart City and has WIFI in case you want to connect to the Internet at some point. An interesting place that adds a touch of modernity to the city.
Old town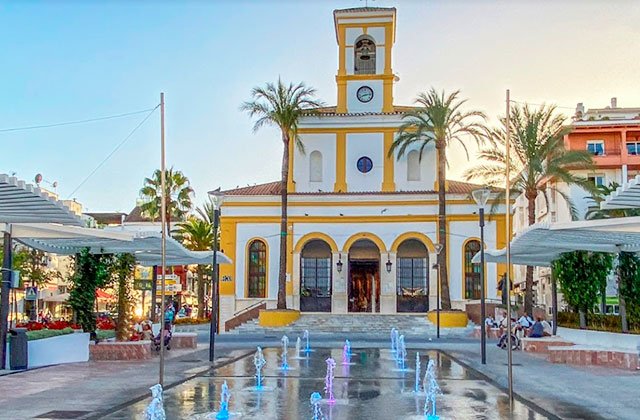 If you go to San Pedro de Alcantara we suggest you take a walk through the historic centre. If you do so, you can enjoy the typical coastal architecture besides finding places of great beauty such as the Plaza de la Iglesia. Here you can see the temple that dates back to 1869, its construction ordered by the Marquis del Duero. Opposite there is a fountain that refreshes the atmosphere and several cafés and bars around where you can stop and have a rest.
THE COAST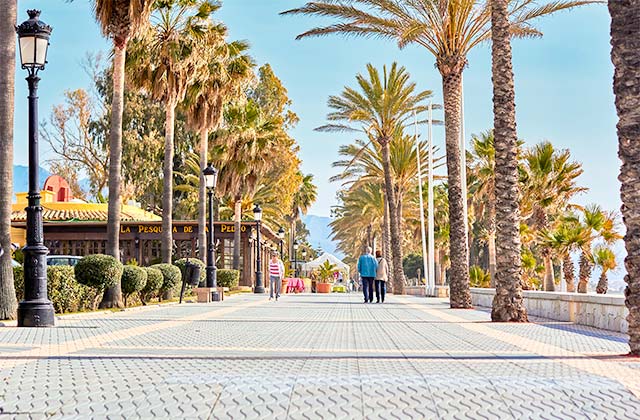 The beaches of San Pedro de Alcantara are the quietest of Marbella. In this sense, Linda Vista and Guadalmina beaches are less crowded. The other two from the area, Cortijo Blanco and San Pedro beach, are characterized by a wide promenade and the large number of bars they own. Take a swim in the Mediterranean Sea and enjoy the charm of the seaside while having a summer red wine and an espeto at one of these establishments.
GASTRONOMY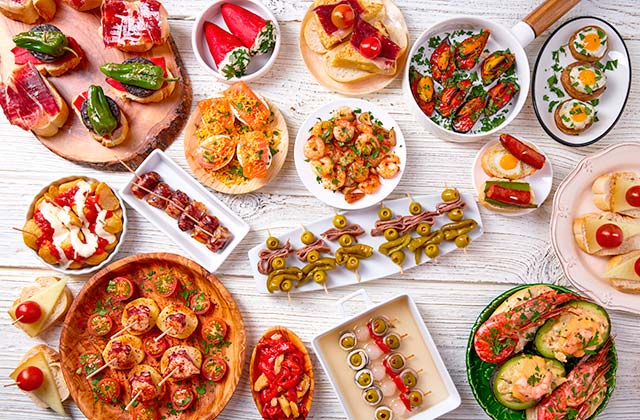 Given its proximity to the sea, San Pedro de Alcantara has a large variety of fish dishes. It is ideal for tapas and there are many specialized food shops that will serve it. Best of all is the setting, with terraces filled with people and the city never sleeping and alive. A plate of ham with a good wine is always a great Spanish choice.
Restaurante El Comercio
C. Andalucía, 13, 29670 Marbella, Málaga
+34 952 853 644
Alfredo Bar Restaurante
C. Andalucía, 10, 29670 San Pedro Alcántara, Málaga
+34 952 786 165
Savor, Restaurante y Tapas
C. Andalucía, 6, Local 4, 29670 San Pedro Alcántara, Málaga
La Bodega del Cantinero
C. Andalucía, 10, 29670 San Pedro Alcántara, Málaga
Trattoria L'Impronta
Urbanización Nueva Alcántara Edificio San Pedro del Mar, Av. Salamanca, 14, 29670 San Pedro Alcántara, Málaga
G-Wine
Av. Mar Mediterráneo, 10, 29670 Marbella, Málaga
+34 697 281 203
Marbella beaches, a paradise for beach lovers in the Costa del Sol
The charm of the Málaga interior: the prettiest towns in the province
WHERE TO STAY
If you decide to come to Marbella stay at Fuerte Marbella. This complex has an exceptional location in the centre of town and the first line on the beach, only a few steps away from the historic centre, in an area full of shops and restaurants with terraces. Fuerte Marbella is a symbol for the city with more than 60 years of experience at your service. The hotel has 263 rooms, all soundproofed and equipped with air conditioning, satellite TV, wireless Internet access and private bathroom with free amenities and hair-dryer, among other services. It is also surrounded by gardens, with superb sea views and 2 outdoor pools.