Exquisite cuisine from Malaga. We show you some original places to eat well and at a good price
Malaga is not only a place to enjoy the sun and beach, nor is it only a place of immense historical heritage or unparalleled natural landscapes. But good food lovers also have a more important reason to spend time around here. If you get away and decide to pay a visit to Málaga, do not hesitate to treat your palate. Here are some original Malaga restaurants to eat cheaply and well in a unique setting.
Fonda Casa Pepa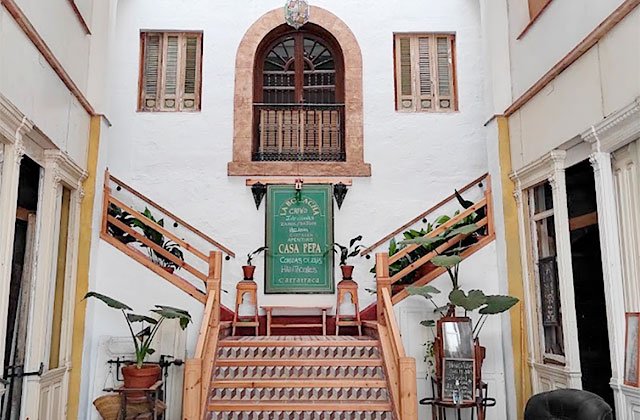 This charming restaurant is located in the town of Carratraca. At first glance it looks like a house in the village but the moment you walk in you realise it has been adapted as an inn, with a small lounge that still keeps the photos of those who had lived there. The feeling you get when you eat there is like being in a grandmother's house. The dishes are traditional and if a group of people decide to have lunch at this place, the food is served in the same pot it is cooked in, so that you can eat all you want. Prince Charles has been one of the guests of honour in this unique tavern.
Chiringuito el Ayo Nerja

There is nothing like eating paella in Chiringuito el Ayo de Nerja. This is well known establishment in town for its close relationship with the famous television series "Verano Azul". Its star, "Chanquete", used to eat here, and although it's been more than 30 years since that happened, the place looks just the same. A place to remember and enjoy good food at the foot of the Mediterranean Sea.
Santa Clara Ventorrillo Sale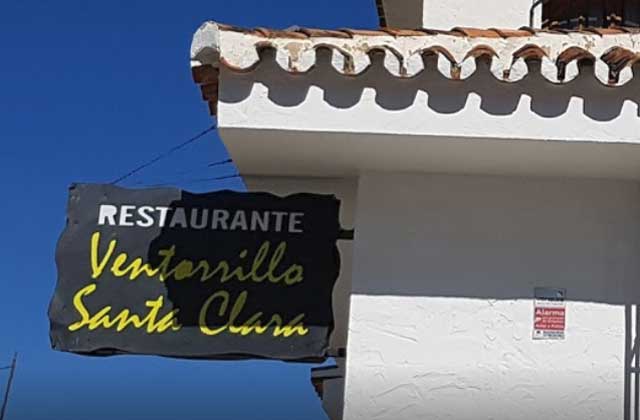 If you come to Málaga you cannot leave without trying the typical "Montes dish". An explosive combination of sausage, eggs, pepper and potatoes you can have with an excellent sweet wine from the province. Huge amounts of food that would fill the hungriest person of all. A simple dish to prepare that retains that homey feel that is so beloved in the Málaga area.
El Pimpi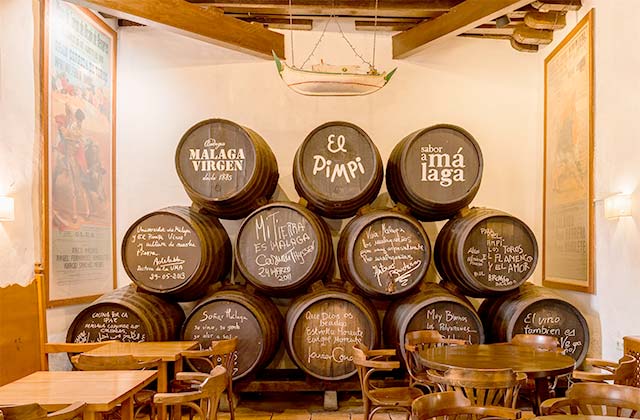 El Pimpi is one of the most famous and significant establishments in Málaga. Located in the heart of the city, it gives off an aura of tradition and manners pleasing residents and visitors alike. A place with the purest Andalusian style where flamenco and wine are the protagonists. All major figures visiting the capital of Costa del Sol come to this unique space that has carved out an important place in the dining area routes.
La Tranca
La Tranca is a brewery that serves tapas in the centre of Málaga. The aesthetics of the place is typical of a tavern where there's always a good atmosphere in the air. Among the tastiest dishes you can try we find Argentine empanadas, lomo de orza, Creole sausage and a delicious Almagro cheese. Its warm hospitality makes this place a must if you want to eat well in a nice setting.
El Colilla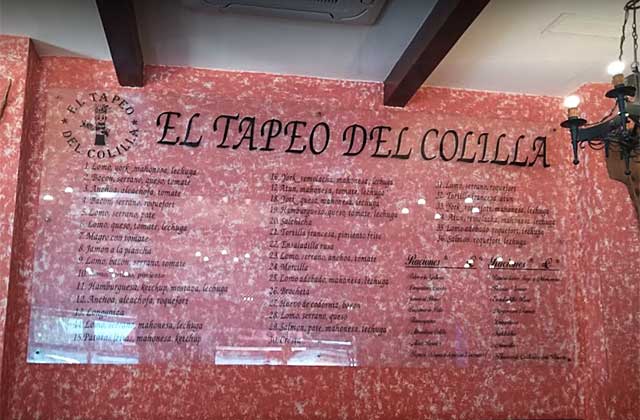 This restaurant is your best option if you are really into tapas. This establishment has pioneered the Granadian concept of tapas, i.e. free tapas with every drink. For every beer you can choose from over 45 cuisine specialities, and very affordable prices. A superb lunch in a true Spanish style place.
El Pimpi Florida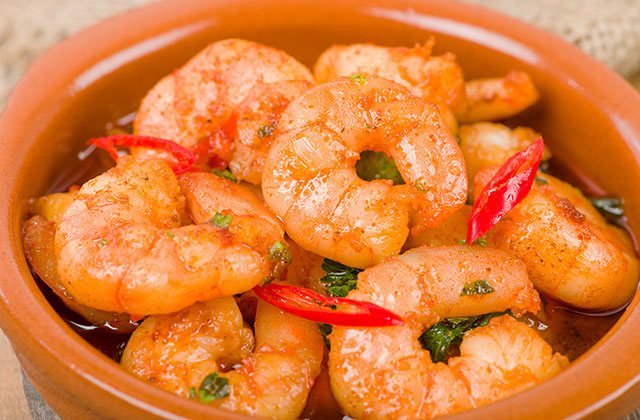 This place is a popular establishment among young people who want to have tapas in Malaga. Space is very limited, only a bar and a hallway, but that's no impediment to receive people from all over the world until it gets completely full. The prawn dish is their star dish, just as the most famous Spanish songs. Towards the end of the night, it is not unusual to see one of the guests being lifted in the air among the participants and being carried on.
La Butibamba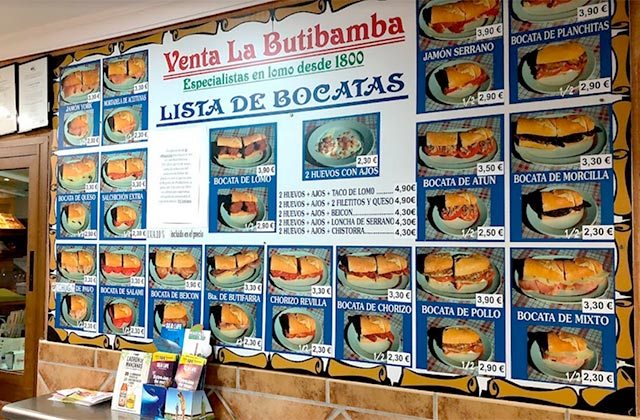 One of the best marinated loins is cooked in La Butibamba, in la Cala de Mijas. This restaurant has become famous throughout the province so we advise you to book a table in advance. Your main course will always be accompanied by potatoes, chorizo, pepper and two eggs, one of the tastiest that you can try. If you go to this restaurant forget about the diet because it's almost impossible to resist the appeal of your food.
Bellavista Restaurant

As the name suggests, the best thing this place offers are the spectacular views from Costa del Sol. This is a pizzeria where you can also find delicious pasta dishes. The evening is livened up by a live musician that combines songs of all time with voice impersonations of celebrity singers. We specially recommended you visit this place at night, so that you can better enjoy the picture offered by its windows under the moonlight.
El Tintero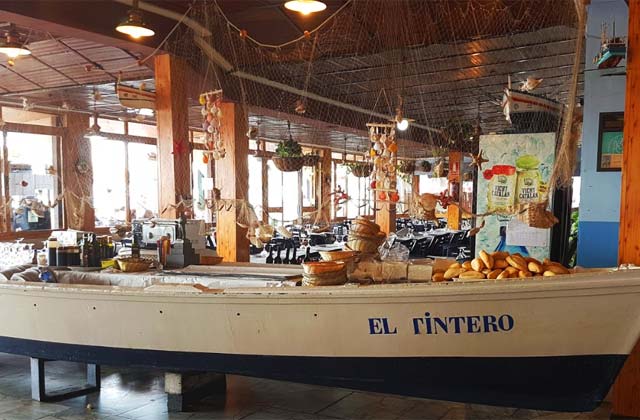 This establishment is the perfect place to enjoy a "fried fish". At the foot of the beach, the bar is located in the El Palo area, and is a meeting point for those who want to taste the essence of the Mediterranean Sea. Something special about this site is the fact that the waiters offer the dishes up for auction, so these go around the bar and who wants it keeps it. If you are travelling to Málaga do not forget to give your palate this sailor whim.
Kipfer and Lover

It attracted attention six years ago for its hip dining proposal. Today it remains one of the recommendations of the entire alternative route that the centre prides itself on. Housed in a vintage and recycled setting, it is always a surprise when you visit. Theatre, performance, exhibitions and acoustics are the accompaniments to this gastro bar that moved barely a year ago from calle Comedias to San Juan de Letrán, a stone's throw from the Microtheatre Hall and Cervantes Hall. The artistic setting bleeds into the area. No wonder, then, that culture and gastronomy are the foundation of this original space designed for having fun, both with its activities and the cuisine. Its menu includes a variety of dishes from guacamole to tuna tartar.
Palodú Gastrobar

Mussel croquettes, ceviche tacos, octopus with cream of potato and truffle and cannelloni of salmon and avocado are just some of the mouth-watering dishes you can enjoy at this gastrobar located on Teatinos. This bar has a relaxing ambience, where you can enjoy different surf and turf dishes prepared with the best seasonal produce.
Malagan and country wines are the perfect pairing for its dishes. The mushroom and duck risotto is highly recommended, or the traditional flamenquín Palodú. If you want to share, you can opt for mijilla, pechá or hartá, which is what they call the tapa, half portion or full portion.
Palodú has two spaces: an indoor space with just six tables and a bar, and a pleasant terrace for enjoying the warmest nights.
Señor Lobo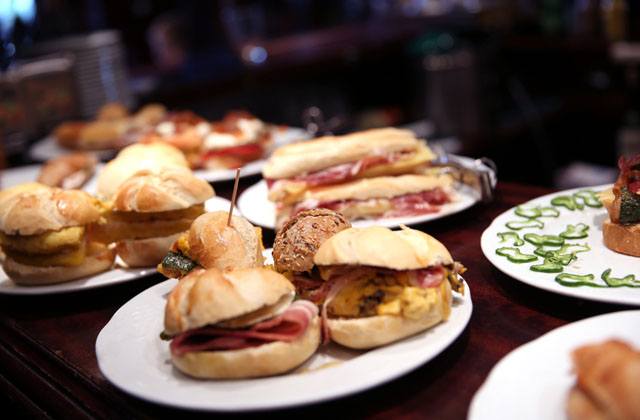 The sign at the entrance reads: "Our mission is to satisfy the modern without disparaging the contemporary." That is one of the many sayings Señor Lobo greets its diners with at its Soho premises, where the walls are full of messages and the menu is served on nostalgic folders. Its hamburgers have become popular in the centre with original names such as "London" (with hummus, onion, feta cheese and apple) or "spicy pedant" (with guacamole, red pepper, cheddar and red chili pepper). The hasselback potatoes side is the perfect complement. Though anyone not wishing to eat to excess can also opt for one of the salads. The "Cinderella," with grilled courgette, cheese, spinach and apple, or the "Galactus" with lettuce (salmon, mustard, dill, sesame and mixed greens) are delicious.
Yerbagüena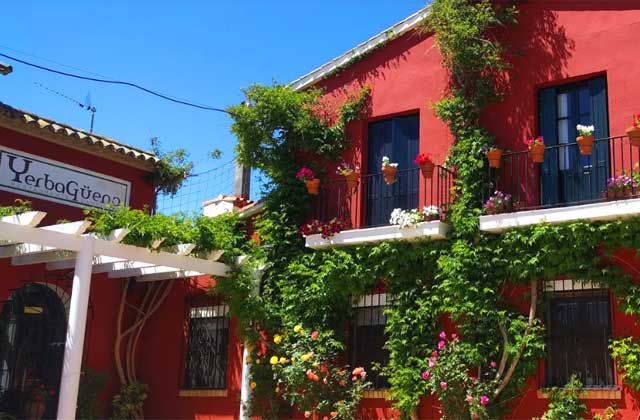 Yerbagüena is located in the locality of Campillos and surrounded by a rural setting. It has affordable haute cuisine and offers the best dishes of Andalusian gastronomy with an innovative Mediterranean touch. Tradition, imagination and quality come together in the kitchen at Yerbagüena. You will enjoy a unique gastronomic experience. Be sure to visit!
Arte de Cozina

Arte de Cozina can be found in the Malagan locality of Antequera. This restaurant is dedicated to restoring ancestral recipes and traditions of Malagan gastronomy. With the best Andalusian seasonal produce, Arte de Cozina offers a wide variety of dishes which you will truly enjoy. Porra, chilled almond soup, gazpacho, zarangollo, chef's croquettes, casseroles, stews, meat and fish comprise an exceptional menu that will win you over. Savour age-old recipes at Arte de Cozina; you won't regret it.
Calèndula Tapas

As part of the increasingly varied gastronomic offer of the charming white town, Caléndula Tapas has consolidated its position as one of the best rated and most visited restaurants in Torremolinos. Its success is based on a menu offering tapas and contemporary dishes that work at rather moderate prices.
Highly recommended is the traditional porra antequerana, with boiled egg and Iberian ham, or the more adventurous porra de naranja or the refreshing tuna and avocado tartar, one of the most requested dishes from Calèndula Tapas' extensive menu. And meat lovers should try the pork belly with mango and peach chutney or fillet of duck breast with cranberry sauce. It also has a good selection of modern wines that can be ordered by the glass. Booking essential.
Casa Lola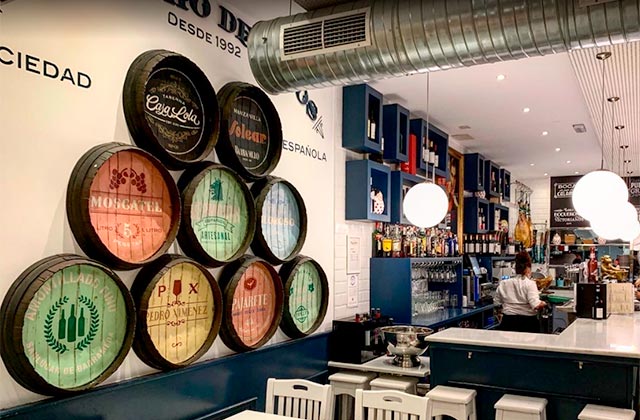 This charming restaurant is located in the centre of Málaga. Very near the Picasso Museum and the Church of Santiago on calle Granada, Casa Lola stands out both for its retro bull themed decor and an original wall covered in food-related expressions (born with a silver spoon in your mouth, I don't care what people say as long as I get what I want, etc.) as well as its home-made vermouth, well-poured, perfect temperature draught beer, Iberian produce served on old cold meat paper, mounds of anchovy and condensed milk, Majorcan sausage with blue cheese and pringá de puchero. Excellent value for money.
Bar del Mercado del Carmen

This must surely be one of the best kept secrets in town. Far from the fashion of eating in modern (or reformed) market bars and restaurants, this bar with its traditional charm has been providing the best value for money for years. This is just a small sample: the paella has mussels, clams, cockles, prawns, king prawns and fish. Like eating at home… or better. The menu is also varied and the waiters sing out the menu and recommend the fish of the day. It is located very near the bus and train station, next to the Church of Carmen, which is also worth visiting.
Do not forget these 20 places if you come to Málaga. Enjoy everything the cities of this province have to offer, and take the best memories of its unique cuisine with you. These are charming places and affordable to all budgets that will not leave you indifferent.
¿Unique restaurants? Don't miss this top 15 list of the most original bars in Málaga
Where to eat? Essential beach bars, restaurants and terraces for this summer in Marbella and Estepona
Hungry? These are the best latin american restaurants on Costa del Sol
Where to stay
The best place to stay on the Costa del Sol and enjoy the restaurants of Pedregalejo or Palo is Fuerte Group. The chain has branches where you can enjoy the best of each area throughout Andalusia, in addition to its services. Its more than 60 years of experience are the best guarantee. Marbella or Torrox are some sites where you can find this amazing accommodation.