Ten Andalucian Patios You Cannot Miss
One feature that stands out in the Andalucian urban landscape is undoubtedly the region's beautiful patios. Inherited from the Roman and Muslim cultures, these dream spaces have are found throughout Southern Spain, adorned with pots and, in many cases, fountains as decorations. The patio is no longer just a space to cool off on hot summer afternoons. It has become a tradition that has been maintained over centuries. For that reason, there are contests and tours of these special spaces in support of conservation. Take note of our list of the top ten destinations in Andalucia where you can enjoy these famous patios.
Curiosities about patios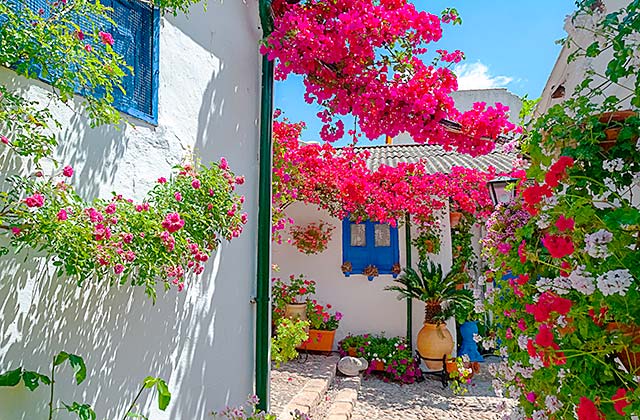 Origins: Andalucian patios have their roots in the Arab era when they were created as a private space inside houses to escape the heat and noise of the street.
Design: Andalusian patios usually have a unique architectural style, with arches, fountains, gardens, and porches. The materials used are mainly tiles, ceramics, wood, and wrought iron.
Courtyard competitions: In the city of Córdoba, an annual patio competition is held, where homeowners open their patios for the public to enjoy.
Symbol of identity: Andalusian patios are a symbol of identity for Andalusia and a display of its rich history and culture.
Cultural heritage: Andalusian patios are considered a cultural and architectural heritage of Spain, and many have been declared historical monuments.
Uses: In addition to being a private space, Andalusian patios are used to house plants and flowers, as a meeting place, and for celebrations and parties.
Overall, Andalucian patios are an integral part of Andalusian culture and architecture and are appreciated by both local residents and tourists who visit the region.
1. Conil's Route of Patios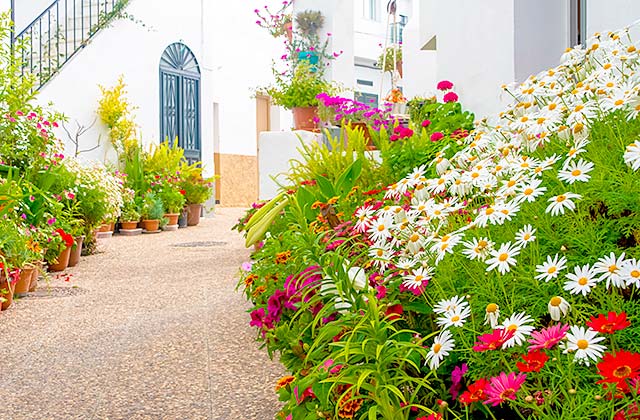 One of the most interesting and enriching patio tours in Andalucia can be found in Conil de la Frontera. Each Friday afternoon, these guided tours allow visitors to delve into how the daily lives of Andalucians are organised. In addition to catching glimpse of the decorative pots, where the geranium is always queen, a tour guide will narrate a story of local manners and characteristics of local life. The great thing about this opportunity is that you can delve into homes that, under usual circumstances, you would not be able to enter. Lasting about an hour, this stroll is sure to captivate you completely.
2. The Patio House Tejerinas In Estepona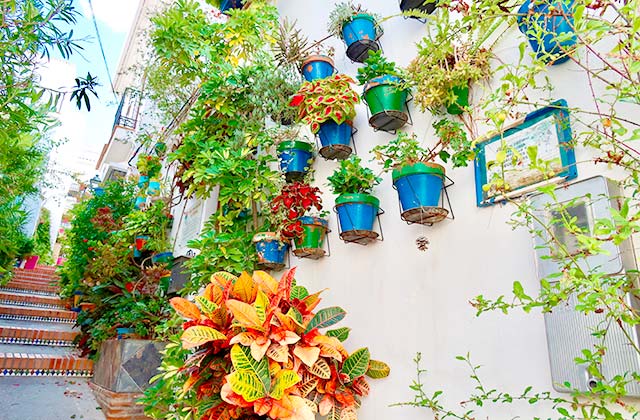 Estepona is considered the "Garden of the Costa del Sol" and is considered an enormous patio itself. The pots hanging from the white walls of the houses hold flowers cascading down from their containers, all helping to create a general aesthetic. Each street utilises a colour and assorted pots, adorned with polka dots. One particular patio that cannot be missed is the Tejerinas House, a former 19th century palace that retains a spacious courtyard with closed arcades, multicoloured plants and fountains that cool the air on hot summer afternoons.
3. Patios of Córdoba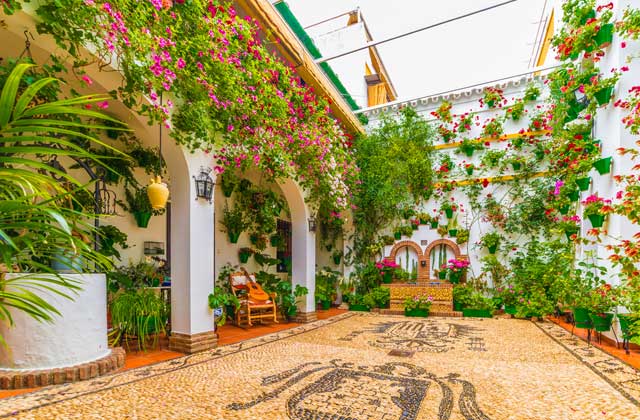 During the month of May, the patios of Cordoba are the absolute stars of Andalucian aesthetic. The region's typical architecture usually sees a house built around a central patio filled with pots that help cool the atmosphere. Here you will find cobblestone floors with mosaic and wells for drinking water. Do not hesitate to come and visit Cordoba's unique patios that are enlivened during the fifth month of the year by flamenco song and dance performances, as well as a contest that awards the town's finest patios.
4. The Marbella Old Town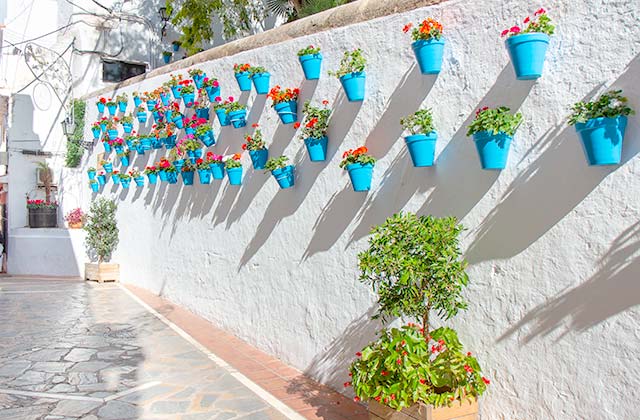 The old town of Marbella is a setting that evokes the Andalucian patios that have come to characterise this region. This entirely pedestrian site is a must-visit if you want to return home with the best memory possible of the spirit and plastic of the south. As you stroll through the streets, you will find yourself inundated with pots hanging from the facades of the local houses. There are also places where you can sit and have a drink while you watch the sunset – a truly Andalucian way to feel at home. The highlight of the visit is undoubtedly the Plaza de los Naranjos where the smell of orange blossom permeates your senses with the most traditional smell from the Andalucian landscape
5. Patios Of Chipiona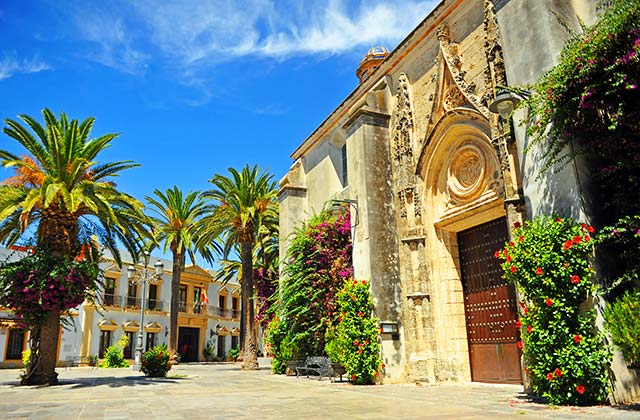 During the month of May, the Cadiz fishing village of Chipiona opens its doors of its houses to show the world its Andalucian patios. Kept with care and affection, these wonderful corners are home to vegetation of all kinds and, in many cases, symbols of religious tradition. Tiles of the Virgen de Regla and the Virgin del Rocio are some of the examples you can find. If you plan on visiting the Cadiz province this month, do not miss out on the chance to stop by Chipiona to witness the local residents' care and presentation.
6. Patios of San Roque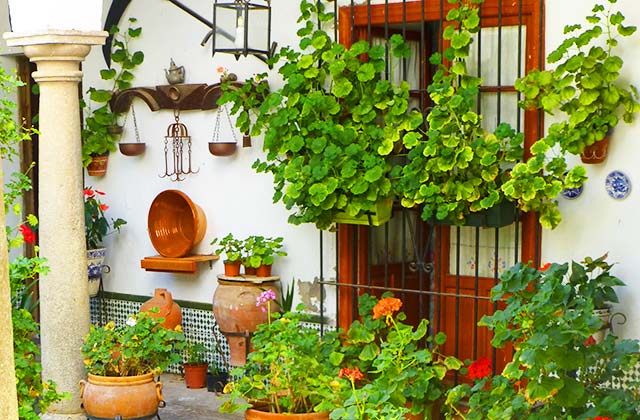 Another example of an Andalusian patio route can be found in the town of San Roque. Its narrow streets, overlooking the Mediterranean Sea and the neighbouring Atlantic Ocean, are lined with planted pots. To help promote the care of theses settings that have come to characterise the city, this year the town convened the First Andalusian Patio Competition, which can be enjoyed until the end of May. The local neighbours put on their finest outfits to decorate the spaces with typical pots and religious images, as well as folkloric elements, jugs, and wicker chairs to sit in for a cool off.
7. Patios de Rota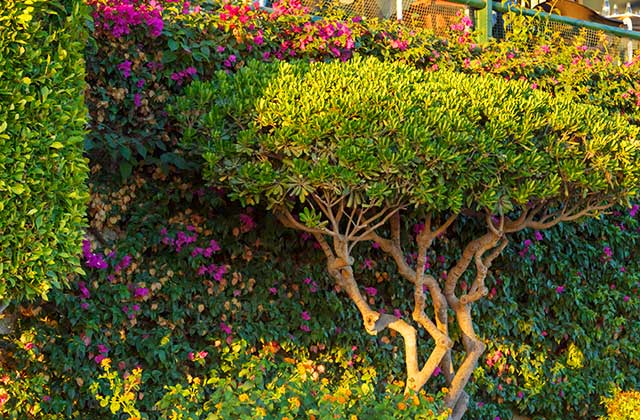 Residents of Rota open their doors each May for an annual Andalucian patio contest. If you approach this enclave facing the Atlantic, do not hesitate to seek out this most unique space in each home. One can traditionally find old ladies dining al fresco on their patios, practicing crochet or carefully watering their beloved plants. The patio if the most important part of the house, receiving the majority of the care and being the centre of all family meetings. If you visit Rota, be sure to dig a bit deeper into this quintessential Andalucian maritime village.
8. Patios of Frigiliana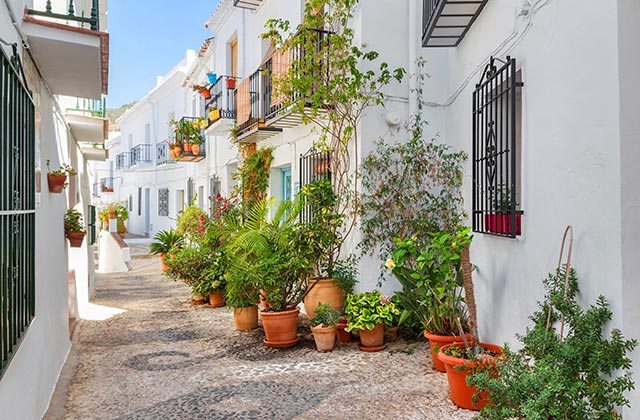 The Moorish town of Frigiliana, near Nerja and Torrox, face the Mediterranean Sea. If you would like to see a true mixture of the cultures that have inhabited this land in the past, do not miss out on the chance to visit the whitewashed streets of this Malaga town. In addition to the walls, one can find pots of flowers at the base of each house. Keep your eyes peeled for hidden corners that hold patios, some of which may have been re-purposed as bars. This Malaga town offers a pleasant visit where you can witness Andalucia's multicultural past firsthand, represented in many cases, by its beautiful patios.
9. Patios of Ronda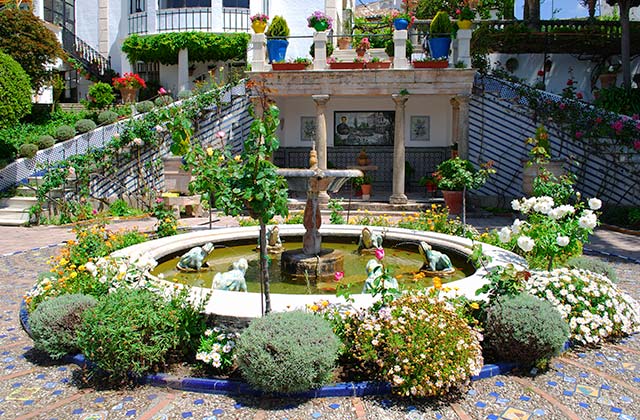 Ronda is a monument unto itself. Its rich heritage owes much to the care and conservation of its most unique patios. In Ronda, one can find numerous examples of homes and palaces of great architectural beauty. La Casa del Rey Moro is an 18th century palace, where one can find the Forestier Gardens and the XIV century Mina de Ronda incline. Impressive Islamic work can also be found, including the Casa del Gigante, a former Moorish palace from the XIII century. Another interesting structure is the house of Don Bosco, where you can enjoy a splendid panoramic view, as well as the Palace of Mondragón, which highlights Moorish style and magnificent patios.
10. Patios of Moguer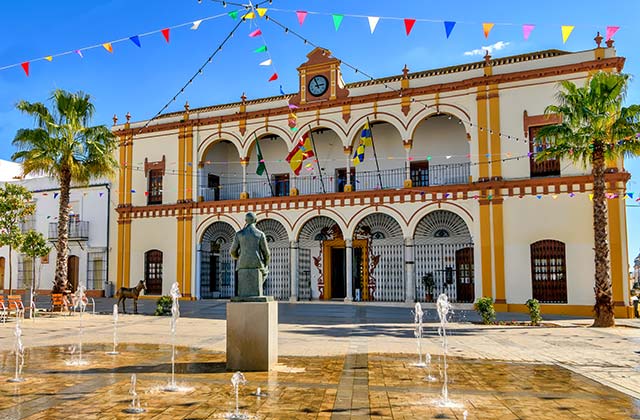 In the Columbian city of Moguer, one can find the courtyards and gardens of a former convent. Whereas, if you visit the town of Huelva, you cannot miss the courtyards of the museum dedicated to the writer Juan Ramon Jimenez, who was often inspired by them in his work. The central courtyard of the house is covered with an overburden of coloured glass, marking the central axis of the house from where the rooms are distributed. If you visit Huelva, you can visit this unique enclave, which will allow an exploration of the depths of Andalucian literature.
May is the perfect time to visit Andalucia, especially if you want to explore the region's one of a kind yards. The pots are full of flowers and the paths offer fresh well water and the power of history that has come to make these patios so very interesting to visit. Take our advice and do not miss out on the chance to see these Andalucian treasures.
The best and most original gardens of Andalusia
10 places in Andalucia where it should always be spring: visit them
ACCOMMODATION
If you want to experience the charm of the Andalucian patios, don't forget to choose a quality accommodation.For this, remember Fuerte Hoteles as the best option to help you plan a perfect getaway. Marbella, Conil, Grazalema , El Rompido or Torrox are all enclaves where you can find these amazing accommodations that will allow you to find these dreamy corners of typical Andalucian architecture.