What to do in Estepona: route through the historic quarter and marina
If you're planning to visit the Costa del Sol, you can't miss Estepona. This place is known for its beauty and authenticity, with its typical Andalucian architecture that blends perfectly with modernity. Estepona's center has a relaxed and welcoming atmosphere, with pedestrian streets filled with shops, restaurants, and bars. Additionally, it offers a variety of charming squares and historical buildings. Without a doubt, a visit to this municipality will leave you enchanted by its charm and Spanish culture.
Are you ready to explore it?
Curiosities about Estepona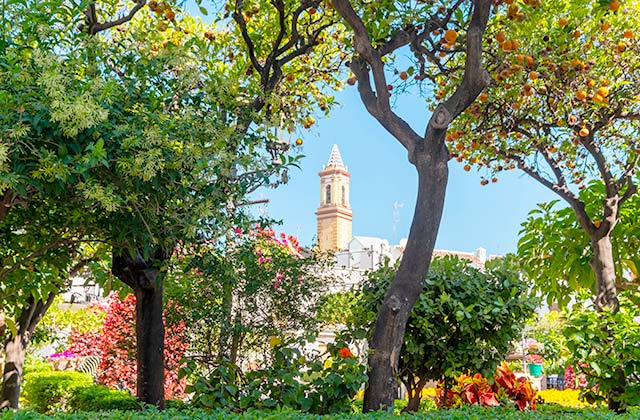 City of Flowers: Estepona is known for its streets adorned with pots and planters filled with flowers, giving it a colorful and picturesque look.
Artistic Murals: The city features numerous artistic murals on its walls, created by local and international artists as part of an urban beautification project.
Beaches and Marina: Estepona has beautiful beaches and a marina (Puerto Deportivo) with yachts and boats, offering sea views and gastronomic options.
Orchidarium: The city is home to the Orchidarium, one of the largest orchid gardens in Europe, with a wide collection of species from around the world.
Old Town: Estepona's old town retains its authentic Andalusian atmosphere, with narrow streets, white houses, flower-filled balconies, as well as shops and restaurants.
The Church Clock: The Church Clock is located in the Plaza de San Francisco, an iconic structure and an important landmark in Estepona.
Barrio de la Villa
The oldest neighbourhood that is home to the most important monuments, as described below.
St. Louis Castle

St. Louis Castle is an ancient fortress whose construction was ordered by Queen Isabel I of Castile in the early 16th century. Only the ruins of its walls remain today. It is located on Calle Villa in the centre and nearby you can see Plaza Blas Infante, where the old Town Hall once stood, which is now housed in the Puerto Sol offices in the middle of the port. The building, known in days gone by as 'The House of the Wells,' is rectangular and covered by a half-barrel vaulted ceiling dating from 1944.
Clock Tower

The Clock Tower is located in the heart of Estepona's historic centre, on Plaza del Reloj, between the Estepona Archaeological Museum, St. Louis Castle, Plaza de Abastos and the impressive Church of Los Remedios.
It is the tower of the ancient Church of Los Remedios, built in the 16th century. After the 1755 earthquake, the church sustained serious damage, and was later razed to the ground, leaving just the tower. In the 18th century, a Neoclassical bell-tower was added, decorated with garlands, volutes and bucraniums. The Watch Tower stands over the square of the same name, bearing witness to the festive and musical events that take place there.
Parish Church of Saint Mary of Los Remedios

This 18th century church was used from 1725 to 1766 as a convent for the Franciscan Friars of the Third Order. It was abandoned in 1835 by the friars as a result of the Disentailment Law.
At the main entrance you can see a curious mix of Rococo stylistic features and others that appear to come from Spanish American colonial architecture. Its interior is spread out over three naves with vaulted ceilings and a dome over the crossing, and images from several platforms that are carried during Holy Week processions can be seen.
Its great tower with four bodies, the last of which was built in bicolour tile, can be seen from any point of the town.
Estepona Archaeological Museum

Estepona Archaeological Museum is located in a building constructed in the 19th century on top of a well belonging to a Muslim era tower. It was home to the Town Hall from 1853, when it was acquired by the municipal government, until 2011.
The rich legacy you can see within its walls comes, on the one hand, from private collections and, on the other, from archaeological interventions made in recent decades. The oldest exposed remains date back to Paleolithic times and consist of a series of stone carved utensils. You can also see evidence of Neolithic times and the Copper and Bronze Ages, such as pottery, stone carved utensils and polished stone axes.
Murals Route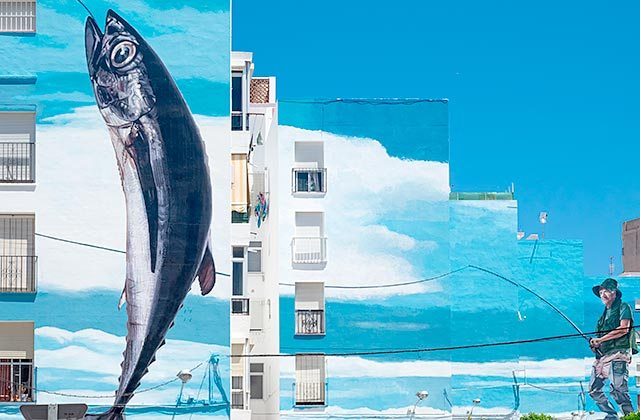 You can walk through different neighbourhoods and areas, whose buildings are home to high quality, original works of art and, in so doing, discover a new way of enjoying art. A tour of the different and spectacular artistic murals is a different and ecological way of visiting Estepona.
Up to a total of 50 murals adorn the façades of the buildings in some neighbourhoods, which were painted by different artists and in different styles and sizes. Here's some information about the main and most original ones.
Route of Artistic Murals: paintings to turn Estepona into a museum city
Marina and Fishing Port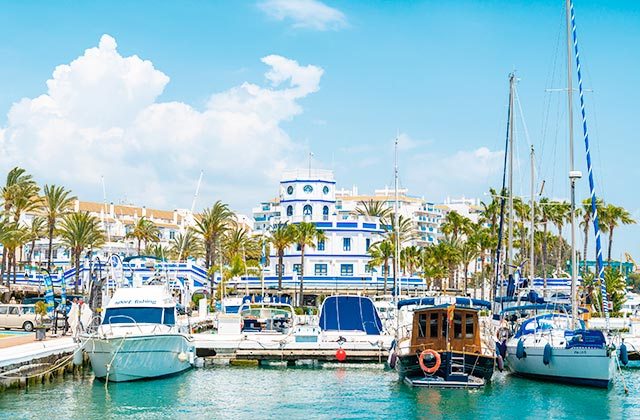 Estepona Port is located just five minutes from the city centre. It is a small, but attractive port, where you can enjoy some wonderful view and the pleasant aroma of the sea. It is a fishing port and marina, so does not have a passenger transport service.
The port has 16.5 feet of draft on the seawall and 443 moorings. For a while it was being extended, but this project has been suspended.
Aside from enjoying the views of its coast and boats, you can also make the most of it and have a drink in one of its pubs, cafés or restaurants. It is an ideal place for relaxing and enjoying the sea breeze.
Punta Doncella Lighthouse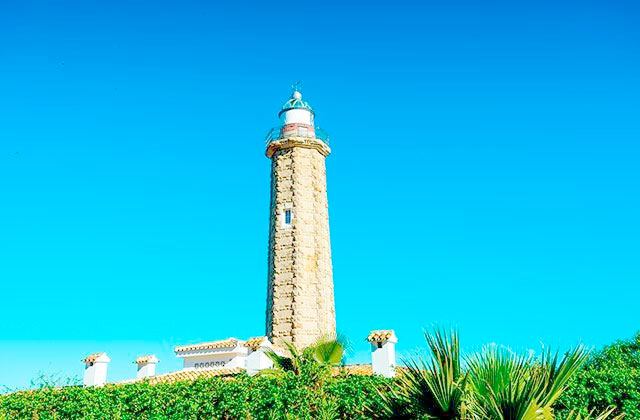 This is a 72-feet high air and sea traffic lighthouse that is located between the promenade and marina.
The stone tower is octagonal and the signal it transmits is automatic and controlled by a computerised remote control system. Works are currently being done to build a park and continue the path around it.
Its coast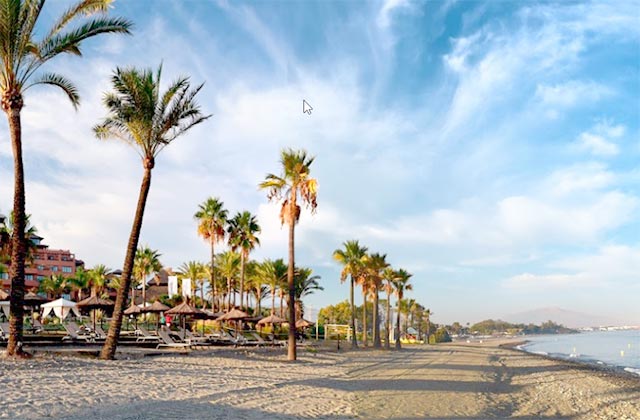 Estepona's extensive 13.5-mile coastline makes it an ideal destination for swimming and fishing in its waters. If I had to choose a beach, I'd choose the one at the west end of the port, El Cristo Beach.
It's a lovely cove with fine sand that is ideal for visiting with children, since it has a low tide that comes up to your knees even when you're well into the sea, and there are no stones. It has a number of chiringuitos and hammock areas, though it you're looking for peace and quiet, the beach does get very busy in summer at the weekend, so you may want to head to another of the beaches I recommend, El Padrón Beach.
This is an ideal place for the more discerning or those who want to enjoy a pleasant, quiet day. From here you can also make out one of the seven watchtowers that remain along the entire coast. They were built between the 15th and 16th centuries and formed part of the defence system that remained until the 19th century. Other quiet beaches away from the centre are: Arroyo Vaquero (Natural Coast Nudist Beach), Baños, Guadalmansa, Saladillo, Salavieja and Velerín. If you return to the town, you'll find a longer, busier beach, La Rada Beach, next to the centre.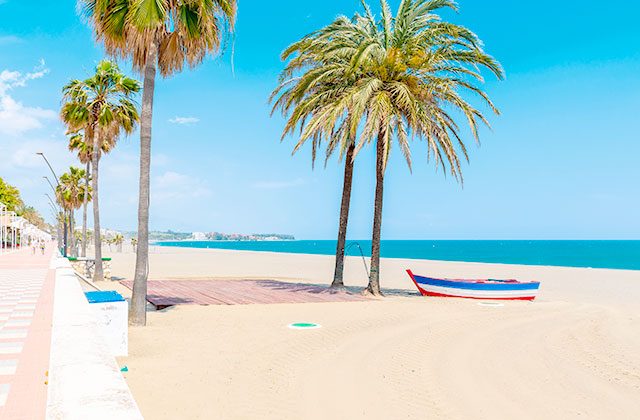 Its size means you can easily find a place by the sea, though depending on the zone, there are a lot of stones in the swimming area. It has showers, lifeguards, changing areas and disabled access.
The promenade runs parallel to the entire beach, and is home to chiringuitos and kids' leisure areas. When dusk starts to fall, you can enjoy amazing views from Punta de la Plata, one of the borders of La Rada, or from the Port.
This concludes my summary of the best things to see. As night falls, the time comes to recommend some places to continue your now nocturnal outing, without letting the setting of the sun get in the way of your enjoyment of this town.
28 things you cannot miss in Estepona
Tapas route Estepona. The best bars for having a beer and a glass of wine
Fancy the beach? Be sure to visit Estepona and swim at the best beaches
Estepona monuments and other places of interest
Where to stay
If you decide to come to Estepona, do not hesitate to stay at Fuerte Hoteles. El Fuerte Marbella a historic establishment on the Costa del Sol, now transformed to 5 stars, is the Marbella hotel that best combines casual luxury, an exclusive and welcoming atmosphere and the sheer comfort offered by its location on the city centre's beachfront, which offers stunning sea views right across Marbella's seafront promenade.